This one is informal....
My thoughts:
1. SPY:
I believe the move to the top of the channel - remember the target number was 1400, the overshoot number in my book was 1403-1404 & we hit 1407.50 - has been fulfilled and that the market was pushed up on NO volume. I believe we will be subject to a little overnight catch-up and hit 1410-1411 (Vachi/MTS & Wave Studies). Ultimately, the market will come back to pivot which is the middle BB 1390. So, THE PLAN is to hold the spy puts to 1390-1393 and I will be holding WITHOUT stops. We are up +67 in 3 sessions. We DO NOT buy long into this tomorrow, we wait patiently for our 1390-1393. That covers our index trade. I am validated in this by my charts, as well as the traders I generally observe taking major hedges on Friday. We are looking at a 20 point move down which will equivalent to about -$1.50-2.00 in spy, so we go back to $138ish which is the 38.2% fib from the most recent high, and a nice normal shallow retracement in order to get the rest of the gang long. Our spy puts will do well in this scenario (Dec 140's just for the flip).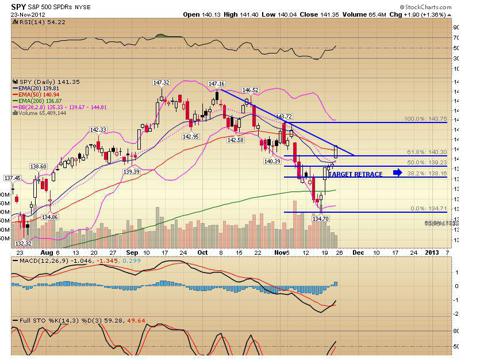 2. AAPL:
Along with the indices, AAPL is extended. As channel checks appear to be solid and that AAPL is again the hot Christmas gift, we can be prepared to hold these back to at least $575-580 if not $600.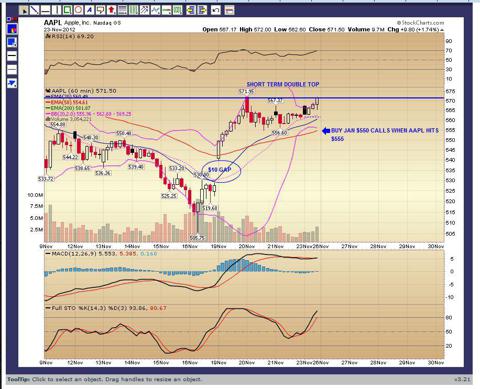 3. V:
This has been on a stellar run, and looks to be starting to walk the upper band. It is overbought right now, and with the "impending" trip down to /ES 1393-1393, we want to sell bull put spreads, and buy a call at the same time. See the chart for details.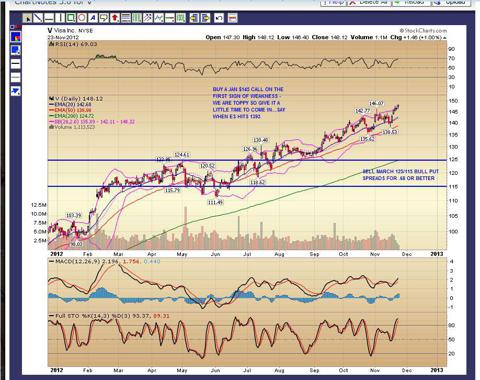 5. HDB:
Currently is #1 stock on IBD meaning it should have nice follow-through momentum. Take this one in common. I've been watching this for weeks….this stock is a buy up to $41.50 NO HIGHER, then we let it ride. Once Extended cover it with a call. I believe it has $4 or so upside.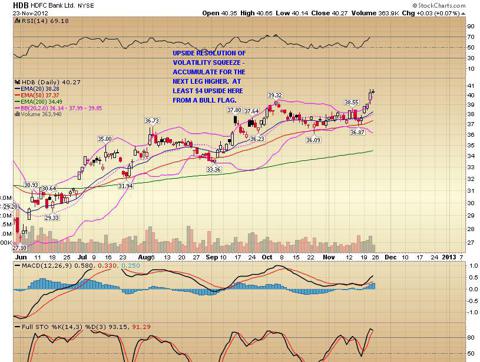 6. KORS: Another IBD darling, it has already made its correction, and we should sell naked puts for Dec $45. AND, purchase Jan $50 calls for $3.00 or less (remember we are doing all moves on pullback to 1390-1393.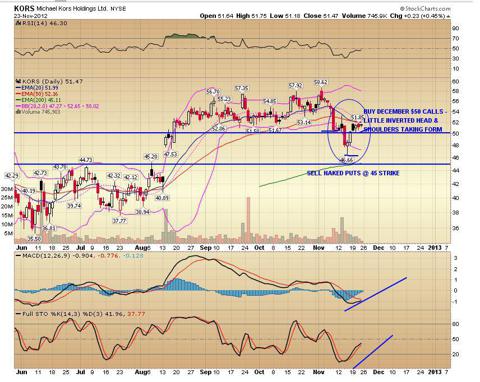 Suz
@suzyq76022
Proud member of: www.mrtopstep.com/op/
Disclosure: I have no positions in any stocks mentioned, but may initiate a long position in KORS, HDB over the next 72 hours.
Additional disclosure: I am short SPY, long V common, AAPL call spreads and bull put spreads.Disclaimer: MSCM and/or I may or may not have a position in this stock which may or may not be exited without advance notice. Data is provided for informational and educational purposes only and is not offered as investment advice. Timing of transactions can be critical to the success of a position. MSCM, its employees or owners shall not be liable for any errors or delay in the content, or for any action taken in reliance on any content provided within. Opinions expressed here are the sole opinions of the author and not representative of any firm view.