Eli Lilly & Co. is down today on the news that the study comparing its back pain treatment with a bone strengthening medicine found no difference between the two in achieving its primary endpoint.
Let's take a look at the chart: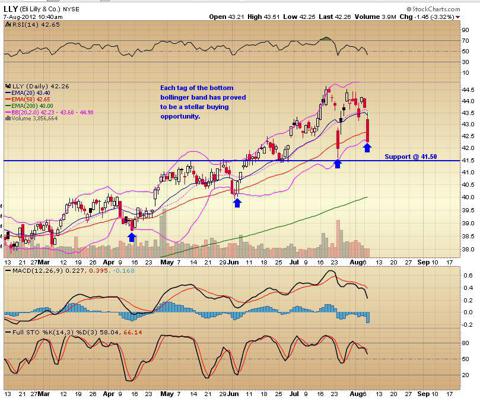 This chart shows a valid, tested support level, but more importantly it shows an important pattern - each tag of the lower bollinger band has been a splendid buying opportunity.
LLY is a dividend paying stock, and goes ex-dividend on August 13, 2012 with a stated dividend of .49. As a dividend stock, it has a "floor" of sorts so it should not become a chunky monkey trade.
I like the stock and hold it in common as a covered call position for the reasons stated above.
There are several ways to trade this stock:
Common is currently $42.41. Opening an ITM covered call position, where you buy the common and simultaneously sell the October $42 call for $1.70 or better should produce a return of 4.5% if flat or called plus you get to keep the dividend income.
Another option (pardon the pun) is to sell to open a bull put spread. I find this attractive because as an options trader I want to sell volatility. Volatility is what makes options move. In looking at the chart, I see the 200ema is right around $40. This stock has not touched the 200ema since November 2011, therefore it should act as a safe support. I like the September 40/35 bull put spread for a net credit of .60 or better. To execute this order you would sell to open the September 40 put and buy to open the September 35 put. The month was chosen because the trade will expire before LLY earnings on October 18, 2012.
Alternately, you could sell cash backed puts (naked puts or short puts). A benefit to this is you get to pick the price at which you want to own the stock. If it does not come to your price, you just keep the premium. If your put goes into the money and you get assigned, your cost basis would be the strike price less the premium received. For this type of trade I like the September 40 puts naked for a net credit of .60 or better which would give you a cost basis of $39.40 if assigned.
One stock, 3 different trading ideas. If you like these articles click follow!
Suz
Suz@MSCM.net
@SuzyQ76022
Disclosure: I am long LLY.
Additional disclosure: Disclaimer: MSCM and/or I have a position in this stock which may or may not be exited without advance notice. Data is provided for informational and educational purposes only and is not offered as investment advice. Timing of transactions can be critical to the success of a position. MSCM, its employees or owners shall not be liable for any errors or delay in the content, or for any action taken in reliance on any content provided within. Opinions expressed here are the sole opinions of the author and not representative of any firm view.