Risky assets have had a amazing run the past weeks on government interventions, US elections and strong corporate earnings lead by the amazing Apple story. High beta instruments: AUD, CAD, Commodities, European high beta names, NASDAQ, Dow Jones, bank stocks, have all enjoyed a great rally this summer. However, all the good news seems to be priced in now with US stocks at multi years high and QEternity finally on the table. Complacency is in the market and risky assets have now an asymmetric risk/reward profile.Moreover, macro headwinds could arise again:
• US : fiscal cliff (worst case scenario could erase 4% of growth, elections, US debt ceiling), effectiveness of QEternity
• EU: ongoing EU debt concerns (Spanish rates have risen the past days btw), German politics…
• Asia: Chinese growth, China/Japan tensions
• Global: renewed concerned in Muslim countries, Syria civil war, Iran-Israel tensions
Conclusion: many of you have piled into corporate bonds and are underweight equities (except if you joined the crowd the past weeks) and have gone down the rating's ladder for yield seeking purpose. In my view this crowded asset class could be very vulnerable if the above macro headwinds start hitting the wires.
Portfolio ideas to hedge market risk: BUY put options on HYG US, Buy put options on Nasdaq, buy put options on EUROSTOXX 50, buy very cheap volatility
Vix index at 13.88 = too much complacency!!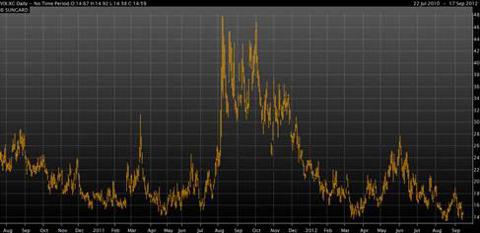 Click to enlarge
European high yield bonds : spectacular rise!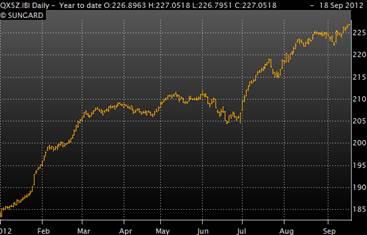 HYG US : investors seeking for high yield!!