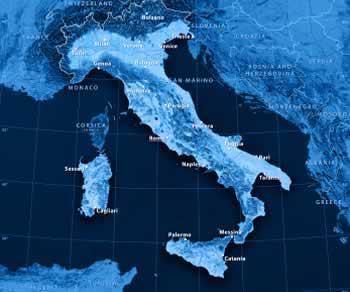 How dramatically Italy's natural gas proven reserves are shrinking is shocking, but not surprising. Growing, at least maintaining, proven reserves to a large extent is a function of drilling new oil and gas wells, something that has occurred far too infrequently in Italy since the European Union was formed in 1993.
In 2002, Italy had 8 trillion cubic feet (tcf) (227 billion cubic meters (bcm)) of proven natural gas reserves. Since then, Italy's proven reserves have declined by more than 70% to less than 2.5 tct (70 bcm).
By comparison, in the U.S. proven natural gas reserves rose in 2010 to the highest amount ever recorded 284 tcf (7.7 tcm). Proven reserves are continuing to grow in the U.S. due in part to an expanding application of new technologies, such as horizontal drilling.
Recoverable Reserves
Italy produces approximately 280 bcf (8 bcm) of natural gas per year, so if nothing is done to increase proven reserves, Italy, in theory, could exhaust its recoverable reserves in less than 10 years.
(click to enlarge)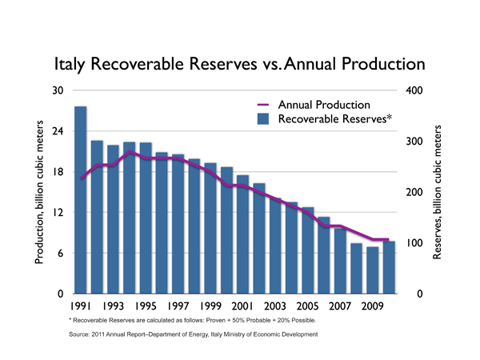 Click to enlarge
New Wells
The way to increase proven reserves or "prove them up" is by drilling new wells. And that's not happening in Italy today.
Between 2000 and 2010, 441 wells were drilled in Italy, and only 76 those holes were exploratory wells. By comparison, 441,943 wells were drilled in the U.S. in that same time period. U.S. exploration and production companies drilled more than 2,200 exploratory wells in 2011 alone and are forecasted to do so again in 2012. In Italy, one exploratory well was drilled in 2011, and so far in 2012 only two exploratory wells have been dried.
(click to enlarge)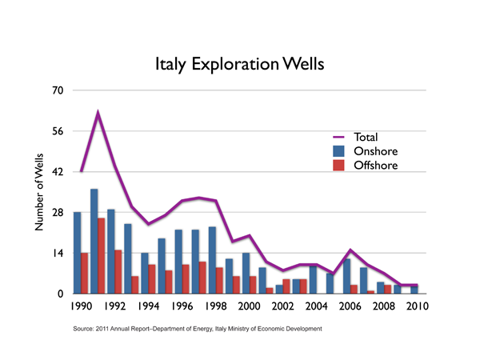 Click to enlarge
*(As a side note, think of all the people employed in the U.S. oil and gas business because of this drilling activity compared to Italy, a country desperately seeking ways to create new jobs.)*
This lack of drilling is not because of limited viable geological prospects in Italy has a great number of significant geological structures both onshore and offshore that merit investigation, but rather the result of government policies and regulations that have impeded or eliminated opportunities to drill.
Conclusion
Can Italy turn it around and begin increasing its proven reserves again? Well, the current Italy government is certainly trying. A new national energy policy being proposed calls for doubling the hydrocarbon output in Italy by 2020. Part of this plan calls for streamlining the permitting process for the granting of exploration, drilling, and production permits.
By Steve Moore
Publishing Assistance from IR Smartt Inc.
Social Media for Investor Relations
---
References
Department of Energy
Italian Ministry of Economic Development
Independent Producers Association of America
Oil & Gas Journal
U.S. Energy Informatoin Administration
Disclosure: I have no positions in any stocks mentioned, and no plans to initiate any positions within the next 72 hours.