Recently, as reported by Business Insider, both Goldman Sachs and JP Morgan came up with year-end predictions for the SP500 and a list of stocks attractive from a fundamental (valuation) point of view. They provided end-of-year targets for them as well.
We thought it may be interesting to compare the findings of their fundamental approach to price targets obtained from pure technical analysis tools, and see how they compare to each other. For purposes of this comparison we'll use Hurst channels. The benefit of Hurst channels is twofold: first, they do a great job of defining the trend and projecting the future trading range with high accuracy and confidence; and second, by using the OddsTrader app, you can access the benefits of this powerful tool with just a tap of your finger. There's no need for building complicated valuation models loaded with subjective growth and other assumptions.
But let's proceed with the comparison.
Both Tom Lee (NYSE:JPM) and David Kostin (NYSE:GS) have a year-end target for the SPX in the 1750 - 1775 range. This seems to be in line with the lower OT channel target of 1780: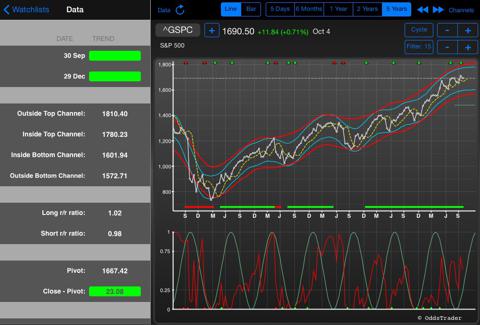 Next, we take a look at the individual stocks in their recommended lists, and compare their targets with Oddstrader's channel targets.
Here's what we get: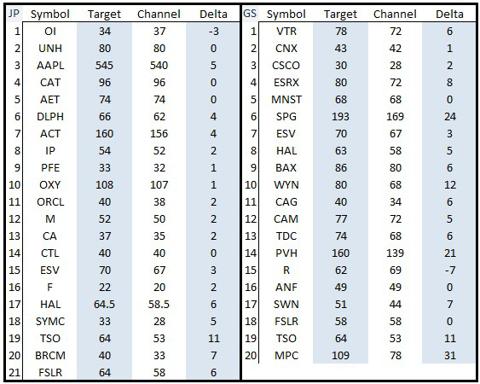 Without going into the merits of the individual recommendations, there are two observations that come to mind:
First, with the exception of the stocks, JPM is most bullish on (bottom of their list), their targets are usually within $1 or $2 from Hurst channel targets; while stocks on GS's recommended list have targets usually diverging more than twice as much from channel targets, both to the upside and the downside.
Second, most of JPM's stocks are already in an uptrend (more likely to meet their upside targets), while most of GS's stocks are currently in a downtrend.
In summary, while both GS's and JPM's strategists have a similar projection for the SP500, GS seems to be recommending to their clients a portfolio of stocks with a lot more aggressive and speculative targets.
In any case, it will be interesting to revisit the results at the end of 2013.
Disclosure: I have no positions in any stocks mentioned, and no plans to initiate any positions within the next 72 hours.