BY THE START of New York dealing on Friday, the gold price in Dollars stood 2.4% higher for the week and nearly 29% higher from this time last year.

So like George Soros said again this week, it's got to be a bubble, right? Gold is the "ultimate bubble" in fact...even if he is playing it with $645m in the SPDR Gold Trust (NYSEARCA:GLD).

Well, no - not yet, at least. "Unambiguously...gold price developments do not resemble the statistical characteristics of past bubbles, including those of the US housing market, the Nasdaq technology bubble, and the Japanese Nikkei equity market bubble," says a new research paper from research and advocacy group the World Gold Council.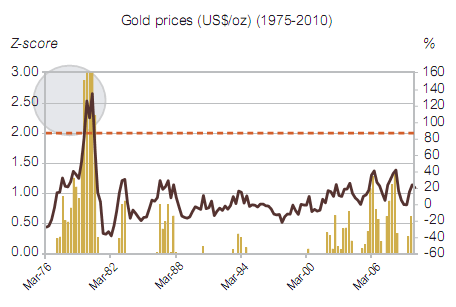 Citing the statistical "z-score" – which shows gold avoiding out-sized moves since its 1980 top (unlike the Nasdaq, Nikkei and US housing...all of which have also shown bubblicious z-scores since 2005 alone) – "The gold price is [also] consistent with its long-run average level compared with a range of different assets, including equity indices and hard assets like oil," says the WGC.

Last night, we here at BullionVault made the same point to the BBC World Service. Our take on Soros' comments hit the cutting-room floor, but the 9-minute broadcast is worth hearing, if only to gauge the continued glut of media coverage against the much more modest levels of investor interest.

Because if gold really were a bubble today, then applying that label wouldn't be the only question journalists had. And that z-score would be sharply higher, too.
Disclosure:
Long physical gold bullion