Apple (NASDAQ:AAPL) had a good day today; it was up 1.7%
while the market S&P 500 was up 0.2%, QQQ ETF was
up 0.5% and XLK ETF was 0.6%. It appears that
AAPL may be on the move again.
The following daily chart shows Apple's price actions
since late July 2011. Most of the time, AAPL has been
in bullish mode as identified by those green and white
up bars in our trend indicator on the first pane. The
latest bullish trend started on 12/5 after a brief period
of bearish trend (red and white down bars) in November
2011.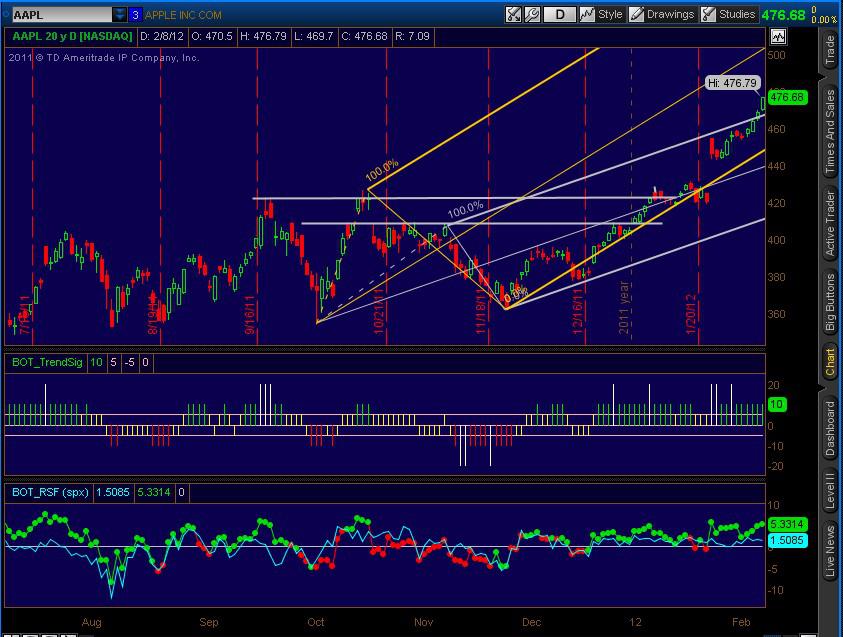 The second pane shows during that period, AAPL has
also been stronger (green dots) than the broder market
S&P 500 index.
AAPL's actions yesterday and today (2/8) have moved
the stock above the while up-trending channel drawn
on our previous posts. It is therefore possible that
AAPL may pull back for short term to fall back into the
channel. However, a new and wider up-trending
yellow channel drawn today shows AAPL is still below
the middle line of the channel and has lots of room
to go.
An encourging sign of today's action was the
above-average volume as shown in the
following chart. This shows there are fuel behind
today's move.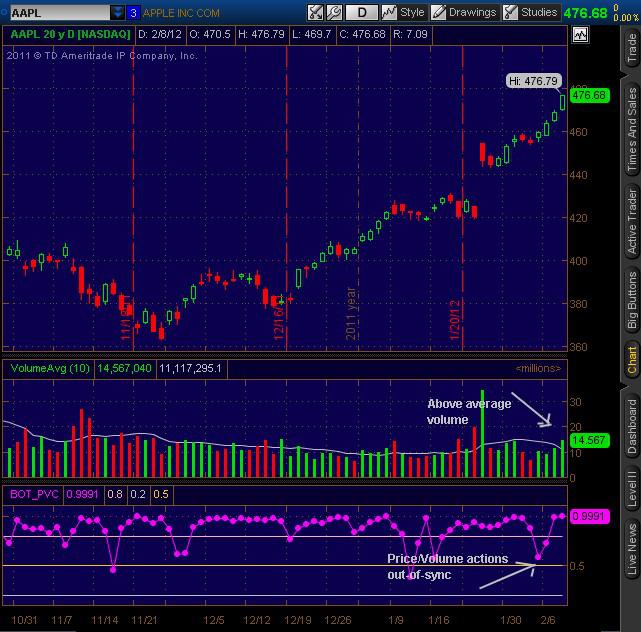 AAPL was in a $70 trading range from September 2011
to mid-January this year and broke out of that range
the week of 1/23. We think AAPL still has lots of room
to move up and may be in the early stage of a parabloic
move. Based on the new channel, a $500 target, 5% from
today's close, should be within reach if the general
market does not turn bearish and drag AAPL down
with it.