In the StockTalk posted Monday 4/16 before market opened,
I pointed out that AAPL stock price faced the first real serious
challenge since the uptrend started on 12/5/2011. I must
admit that although I did expect AAPL to go down, but
certainly did not expect its price to drop so quickly. As of 4/23
close, it is down 5.5% since close of 4/13 vs S&P 500 which
is down 1.3%.
The following daily chart shows AAPL has a indecisive
doji pattern on 4/23 and is also near support.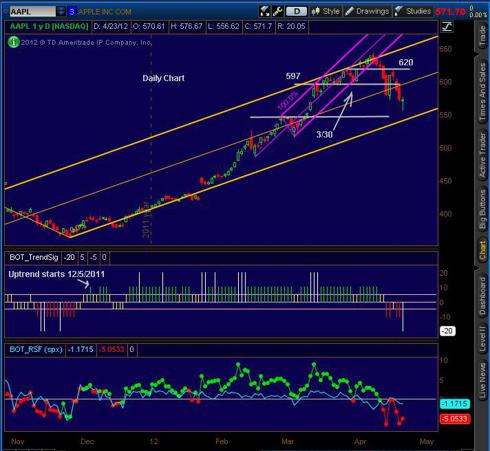 AAPL will report earnings after market close today (4/24).
So one of the most anticipated earnings announcement is
less that 12 hours away, and the earnings results may
determine the direction of AAPL's next move. Good luck to
every bulls and bears :-)
Disclosure: I have no positions in any stocks mentioned, and no plans to initiate any positions within the next 72 hours.
Additional disclosure: I may initiate a volatility based options position in the next 72 hours.