Today we highlight the demographic landscape of Germany, a country which is rapidly becoming the old man of Europe. It has the highest percentage of over 65s after Japan. This will rise to 30.1 percent by 2044 versus Japan's forecast of 36.4 percent.
We expect Germany to struggle in the face of weak long-term domestic demand (peak births 1964 plus 40 years) and it will become more and more reliant or dependent on exports, coupled with the problem of an overvalued currency. We expect a new or re-elected Government after the elections (September the 27th) to face an economic recovery looking less robust by this time next year.
Will Germany's weak demographic position drags the rest of the Eurozone into a Japan-style "Lost Decade?" We have no idea. Although the country's birth collapse from 1964 is similar to Japan's (from 1949) of around 35 percent, there are many other differences, such as the lack of a housing bubble. We will watch with interest, but believe there are better economic recoveries to back as an investor in coming years than Germany's.
The iShares MSCI Germany Index Fund (NYSEARCA:EWG) relative to the S&P Global ETF (NYSEARCA:IOO)
The iShares MSCI Germany Index Fund (EWG) has performed well since March 2009 up 73.4 percent versus the S&P Global Index ETF (IOO) return of 63.1 percent. The index ETF is under weight Consumer Staples and therefore has been better positioned in those sectors that have benefitted from the economic recovery (financials, industrials and materials). This has counter acted  the large Utility weighting the index has versus the Global index.
Economic Background: 16th in Forbes 2009 Best Countries for Business:
The German economy - the fifth largest economy in the world in PPP terms and Europe's largest - began to contract in the second quarter of 2008 as the strong euro, high oil prices, tighter credit markets, and slowing growth abroad took their toll on Germany's export-dependent economy. At 1.7% in 2008, GDP growth is expected to be negative in 2009. Recent stimulus and lender relief efforts will make demands on Germany's federal budget and undercut plans to balance its budget by 2011. Strong growth in 2007 led unemployment in 2008 to fall below 8%, a new post-reunification low. This suggested the reforms launched by the former government of Chancellor Gerhard SCHOEDER, deemed necessary due to chronically high unemployment and low average growth, had had the desired effect. The current government of Chancellor Angela MERKEL has initiated other reform measures, such as a gradual increase in the mandatory retirement age from 65 to 67 and measures to increase female participation in the labor market. 
Germany's aging population, combined with high chronic unemployment, has pushed social security outlays to a level exceeding contributions, but higher government revenues from the cyclical upturn in 2006-07 and a 3% rise in the value-added tax cut Germany's budget deficit to within the EU's 3% debt limit. The modernization and integration of the eastern German economy - where unemployment exceeds 30% in some municipalities - continues to be a costly long-term process, however, with annual transfers from west to east amounting to roughly $80 billion. While corporate restructuring and growing capital markets have set strong foundations to help Germany meet the longer-term challenges of European economic integration and globalization, Germany's export-oriented economy has proved a disadvantage in the context of weak global demand.
Demographic Landscape:
Population
2009 Population 82,453,800
2025 Estimated Population 80,340,800 (Decline 2.6%)
Generations
Generation X–1965 to 1984: 17,395,000
Generation Y–1985 to 2004: 15,920,000 (Decline 8.5%)
Generation Z–2005 to 2024 (Est.): 13,646,000 (Decline 14.3%)
Generation Blend–2025 to 2044 (Est.): 13,216,000 (Decline 3.1%)
Population over 65
Next year 20.5 percent of the German population will be over 65 years of age, and this is set to rise to 30.1 percent by 2044. This percentage is forecast to be the second highest after Japan. In comparison Japan, the highest ratio in the developed world, is 22.5 percent rising to 36.4 percent by 2044.
German birth numbers peaked in 1964 at 1,326,310 versus a 2010 estimate of  669,328 (a fall of 49.5 percent). The number of children per women has fallen from 2.5 in 1965 to 1.4 and is forecast to rise to 1.7 by 2044.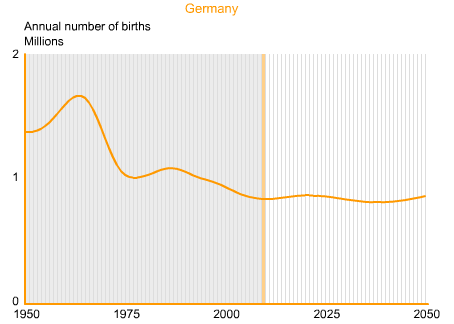 2025 German Population Pyramid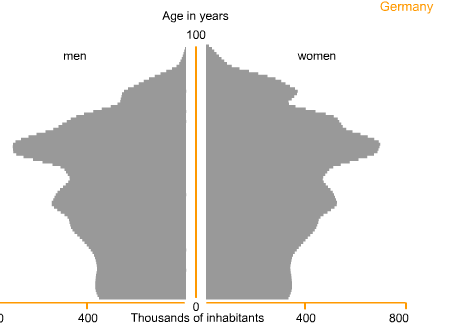 Source: UN 2007 and Insitut National d'Etudes Demographiques
| | | | |
| --- | --- | --- | --- |
| Index/Sector | Germany | S&P Global | Diff. |
|   |   |   |   |
| Financials | 19.8 | 18.2 | 1.6 |
| Energy | 0 | 14.7 | -14.7 |
| Consumer Staples | 3.3 | 13.8 | -10.5 |
| Technology | 5.4 | 13.4 | -8.0 |
| Healthcare | 10.0 | 12.0 | -2.0 |
| Consumer Discretionary | 13.6 | 7.3 | -6.3 |
| Industrials | 14.6 | 7.4 | 7.2 |
| Materials | 11.8 | 5.1 | 6.7 |
| Telecoms | 5.1 | 5.0 | 0.1 |
| Utilities | 16.4 | 3.1 | 13.3 |