I am running this chart for one of my regular co-respondents, Tack, to show him why the short-term support and resistance levels matter.
GSPC -- SPX, S&P 100 -- seems to be at a turning point, in terms of my CGTS indicator.
At the moment GSPC is in a tight consolidation pattern. However, as we can see from the chart below, this might be the top of its trading pattern. If GSPC breaks down below support at 1425.53, this creates a bearish pattern in my CGTS indicator (red line, top pane).
If GSPC breaks through overhead resistance at 1471, then it should be a bullish sign signaling higher prices.
The bottom pane in the chart M2F alt is a short-term momentum indicator suggesting GSPC is overbought short-term and should pull back.
This could be a picture of a trading top in the making. The next few days should tell us quite a bit in terms of where the S&P 500 index is going over the next month or so.
It is bullish that the second pane indicator M4 21 (blue line) just snapped back up to +1. Bearish is the fact that the third pane indicator CGTS 112 (black line) had such weak buying during its last rally. This is a titanic battle between buyers and sellers. At the moment, the bears seem to have gained the advantage. But the next few trading days will be telling.
For the bears to win, GSPC will have to fall back with breaking through 1471 and then make a new low, breaking through support at 1425.53. For bulls to win, this rally must break through 1471, and then close above 1425.53 during the next pullback.
(click to enlarge)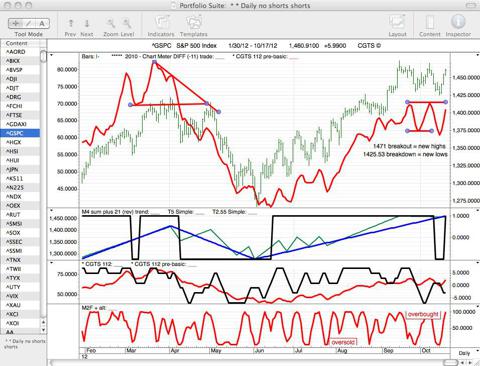 Click to enlarge
Good luck with your trades.
Michael J. Clark
CGTS, Hanoi, Vietnam