The last few days we have stressed that we are concerned the markets are topping. We have suggested taking profits at this point.
We have illustrated these reports with charts showing one of our most effective momentum indicators, which we call CGTS. Today we will illustrate two momentum indicators: CGTS and M5. These two indicators tend to work together. M5 tends to lead advances and declines; CGTS tends to follow. As such, we watch for opportunities to buy when M5 'gets ahead' of CGTS; and we become 'cautious' when M5 stops advancing CGTS and drops below it.
In the charts shown, CGTS is the red line in the top pane, M5 is the blue line also in the top pane. Two things to watch: 1) the relation of these two indicators to one another; 2) the direction of the trend of each of these indicators separately.
M5 tends to bottom before the issue price bottoms; and it tends to top before the issue price tops. CGTS, if it changes trend-direction or breaks support or resistance, is very accurate in calling trends. We take CGTS reversals very seriously.
The bottom pane (red line) shows a very short-term momentum indicator M2F ALT which moves between 0 (oversold) and 100 (overbought). The second pane from the top shows short-term trends, blue line, and M4 21 Momentum Indicator that changes direction relatively rarely and must always be read with the trend indicator that accompanies it.
We think this rally is ending. Here our some reasons why, presented pictorially.
GSPC (S&P 500 Index): Note the strength of the rally when M5 (blue line) is above and leading CGTS (red line) up; notice the flattening and turning when M5 drops below CGTS. Also note that CGTS seems to be topping now, putting in a downtrend (lower lows) as we speak. GSPC is overbought short term and should come down over the next few days.
(click to enlarge)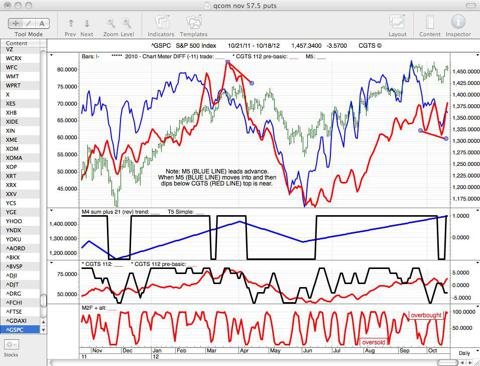 Click to enlarge
NDX (Nasdaq Index): even worse picture. Tech stocks are leading this market correction.
(click to enlarge)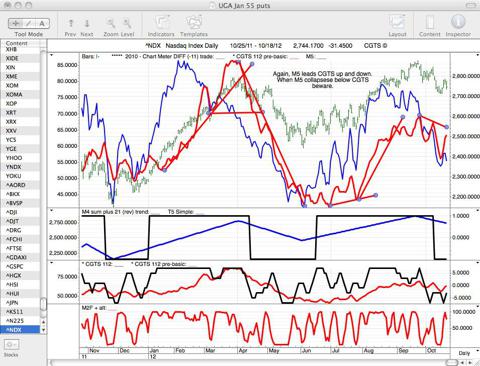 Click to enlarge
XCI (AMEX Computer Index): Short is in. Look out below. IBM stumbles; Google stumbles. Both miss on their earnings report. Both are making less money than the experts expected, even after a major dumbing-down of expectations. Hold on to your hats.
(click to enlarge)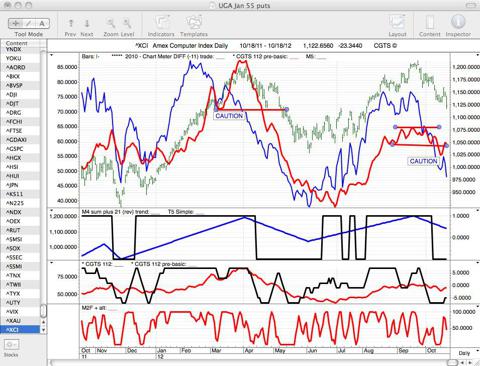 Click to enlarge
SOX (Semiconductor Index): same story. And it is not just the tech indexes that are fragmenting.
(click to enlarge)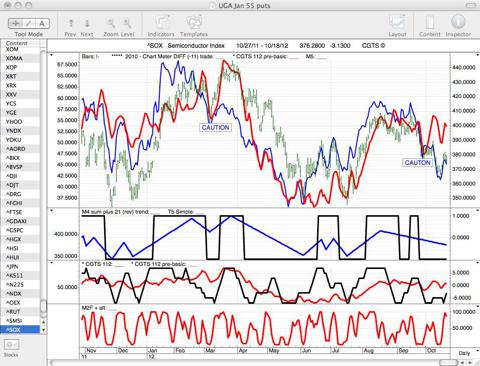 Click to enlarge
BKX (Bank Index): Giving 'Caution' reading. And it is not just American stocks.
(click to enlarge)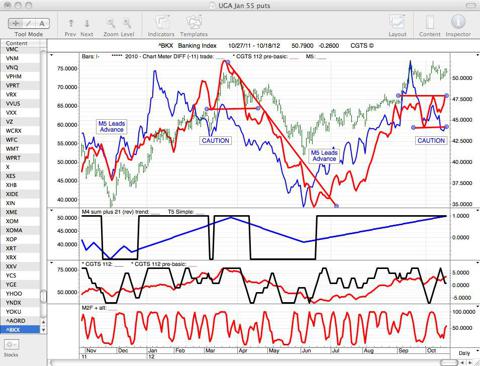 Click to enlarge
FCHI (French Index): Making its last top of this rally probably. The Euro still looks stronger than the Dollar -- but why is the Euro strong? Because speculators, having made a killing on the short side of the Euro, now are making money on the long side. Is the Euro and th EU fixed? No, not in the least. Europe now seems to be following American into the Japanese No Man's Land with a strategy of preserving debt and praying that, magically, the global economy will ignite and make our huge mountains of debt manageable. This will not happen. More debt buys time but that is it. Nothing is fixed. Only massive destruction of debt through repayment of default will 'fix things'. But that is a different article.
(click to enlarge)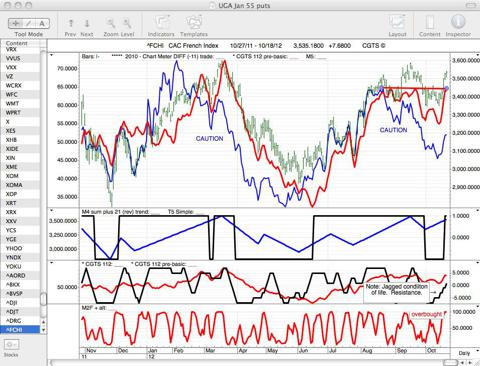 Click to enlarge
FAVORITE ISSUES TO SHORT NOW
Using the same criteria (indicators) I now show you issues I am shorting or planning to short:
UGA (US Gasoline ETF). This chart is ugly. Does this chart suggest a US or global economic recovery is in place. And, speaking of this, a Romney victory in November will change nothing. Romney wants to go into the Spring without going through the Winter, which is the same as Bush and Obama want. Romney (R-Money) will try the 'Entrepreneur Ingenuity' line that works during an expansion, but fails dismally during the 18 years of Contraction (2001-2010=Disinflation; 2010-2019=Deflation; 2019-2028=Reflation, meaning weak growth like 1983-1992: two steps up, one step back). We need to 1) destroy debt; 2) shift energy back to the fundamentals of 'energizing the root-system' of our nation which means raising interest rates and rewarding savers instead of speculators. Speculators thrive during Spring: 1920-1929; 1956-1965; 1992-2001; 2037-2048.
This chart is a dream picture of the Deflation that is here and is still coming for the next 6 years.
(click to enlarge)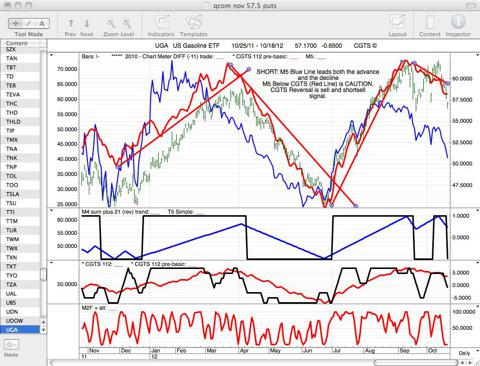 Click to enlarge
QCOM (Qualcom). A recent SA author wrote an article on QCOM saying this company was a BUY that one could hold for the rest of his life. Not so quickly. One can start thinking like this in 2020. Right now, QCOM seems to be coming down. We are short QCOM.
(click to enlarge)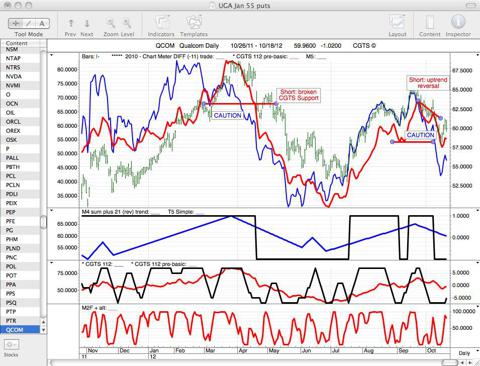 Click to enlarge
AAPL (Apple Computer). I ran this chart more out of curiosity. I'd call this a HOLD until further notice.
(click to enlarge)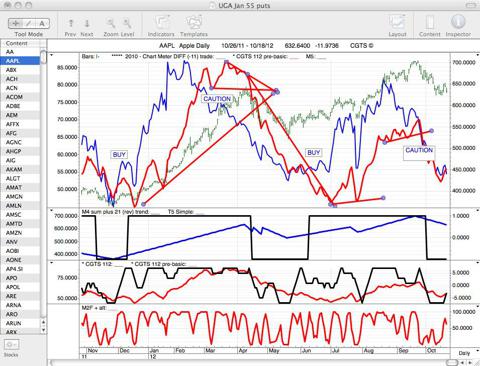 Click to enlarge
VLO (Valero Energy): Oil and Gas category. By our criteria, this stock looks horrible. We're short VLO.
(click to enlarge)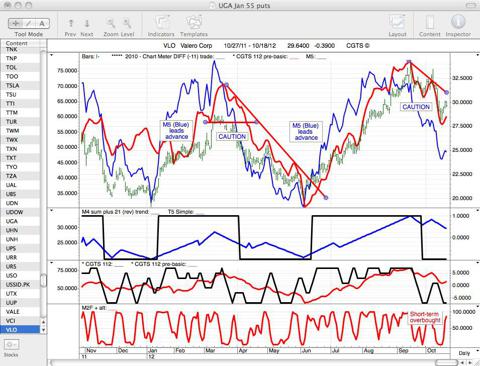 Click to enlarge
TXT (Textron). Has been volatile, both down and up. But the chart is negative.
(click to enlarge)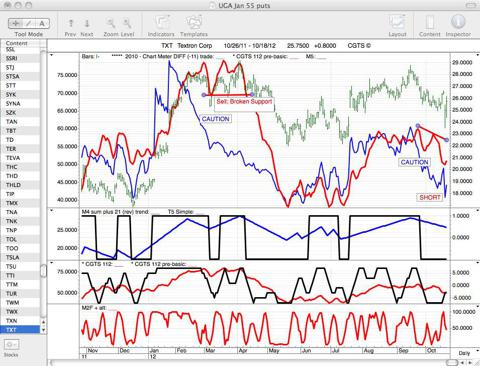 Click to enlarge
EMC (EMC Corp): Hard-drive Storage. We also have a shortsell watch on FIO.
(click to enlarge)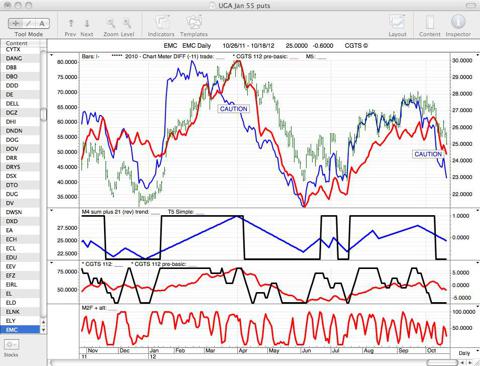 Click to enlarge
STSA (Sterling Financial Corp). We are catching this one right at the top.
(click to enlarge)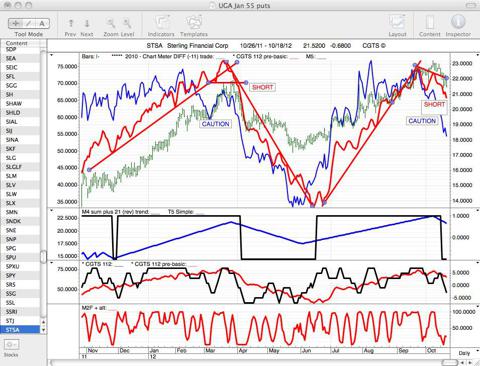 Click to enlarge
There are still many stock and issues (ETFs, indexes) in uptrends. But there is major deterioration. We run a report each day to see what issues have changed direction in our M4 21 indicator, second pane from top, black line -- which tends to mark a change in direction rarely. Last night's report gave us 35 issues changing direction today, all 35 turning down.
Food for thought.
Best trading,
Michael J. Clark
CGTS, Hanoi, Vietnam