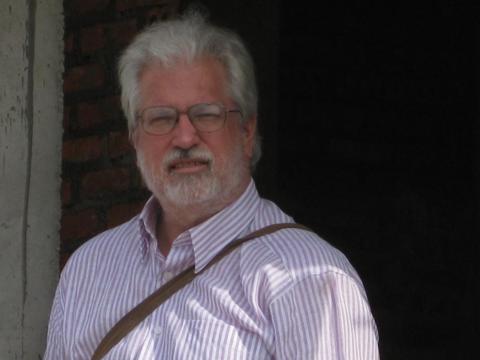 AMERICAN STOCKS RACE HIGHER; GLOBAL INDUSTRIAL STOCKS CONTINUE TO LANGUISH
Pretty hard to be bearish. Stocks are flying up -- American stocks at least -- as if the economy is recovering, there are no risks in the global arena (fistfights in the Macedonian and Ukrainian Parliaments; a Russian Mafia/Government attempt to take over Cyprus; and Italian national without a government and with a populist comedian about to take over as the leader of the country; a new German party to the right of Merkel that wants out of the Euro and perhaps also out of the EU, that polls suggest already has 25% of the popular vote; the spectre of a bank run in European second tier countries: Portugal, Spain, Italy, France...).
Are Americans not paying attention? We know the love of money is a strong drug. And the lure to optimism is infective. What is the alternative? Either you look back at the glory days of 2006, when everyone was becoming a millionaire, or you look forward to 2017, when everyone is destitute.
I run a report every day to see which stocks are the strongest in my database, and which are weakest. Again, American stocks at the top, along with the US Dollar. I am 80% long in my portfolio. I am also playing the long side of this rally. But I am skeptical. I see that we are heading into trouble (capital T). I have been 'picking on' China stocks lately -- in face all 'hard' economy, commodity stocks, mining, steel, copper, iron ore..
Zero Hedge published this chart today, showing HSBC PMI, China PMI (which is lower than HSBC's) and then the anomaly: a large decrease in electricity being used, down 13% Year-over-Year. Combine this with the fact that Chinese stocks are tanking, and heavy industry and metals stocks are tanking -- one must wonder what this says about China's so-called recovery.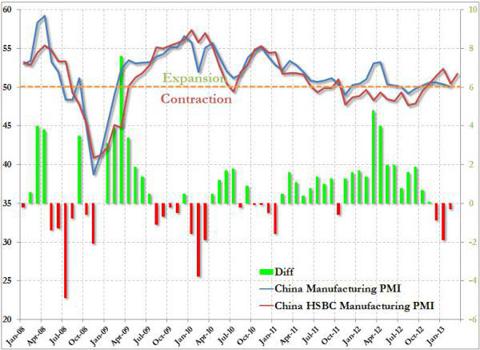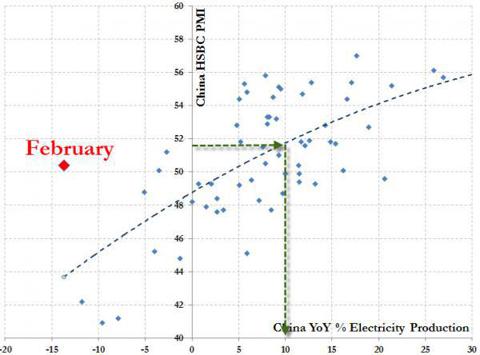 The charts below show exports rising but employment stagnant and output charges (exports) and input prices (imports) seeming to be topping.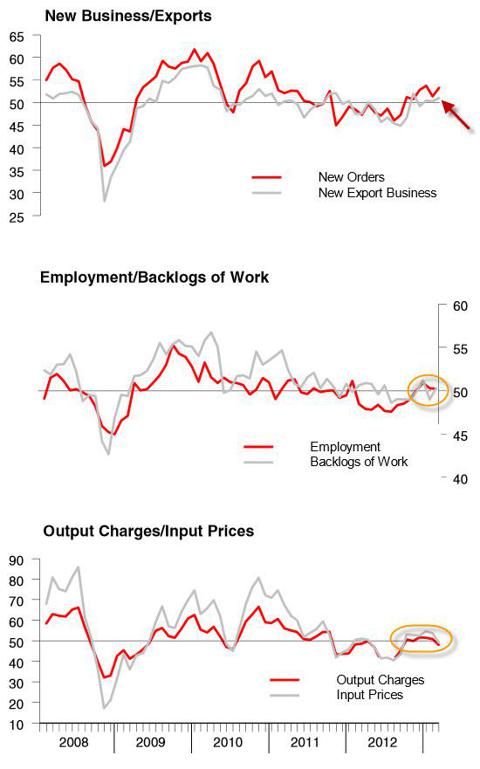 At the same time, Japanese exports continued their collapse.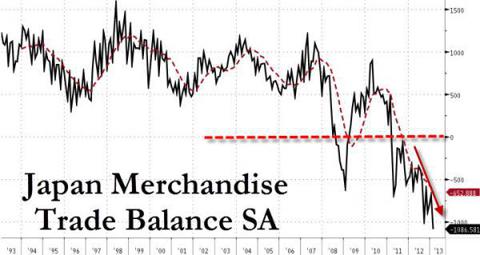 Then, if all this wasn't enough, FEDEX earnings crashed, sending the stock tumbling. Global earnings disintegrated.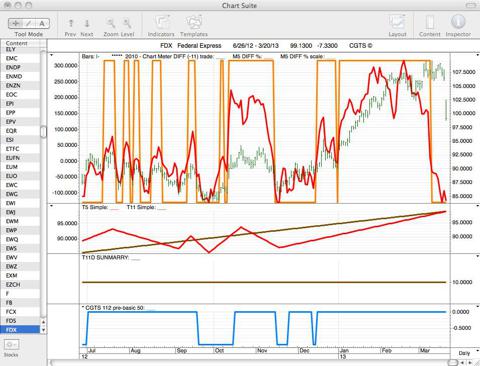 Note that John Deere moved into our weakest stock list today also.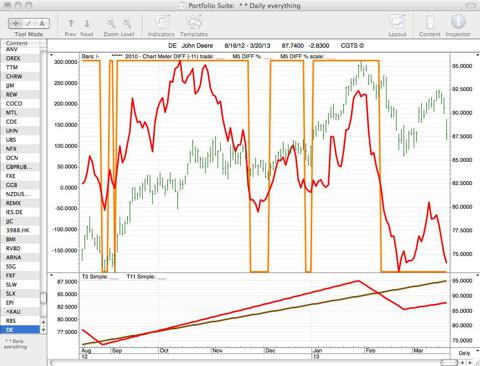 This is not a good picture for global economic growth. Add this picture of Caterpillar earnings (show here with global GDP growth) momentum, and you should get the Big Picture (the hoarding in America is NOT the big picture). Don't worry, be happ? Apparently Bernanke does not believe the global economy is fixed. The American economy either. Full speed ahead with QE and ZIRP. Of course, the man is terrified of the thought of having to unwind $4 trillion in debt no one else would buy, just as European banking is being forced up against the wall, with the threat of panics and bank-runs.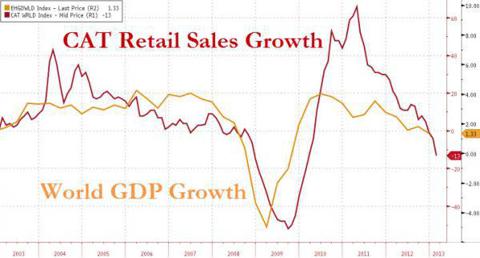 Look at the picture of World GDP growth in this chart and tell me that there is 'light at the end of the tunnel'. We seem to be going down again for the count -- and this time there will be no more 'free money' to gry to force down the throat of the Black Hole Beast, Deflation.
One of our biggest momentum losers yesterday with XIN, Xinyuan Real Estate, China. XIN's momentum number fell 172 points today. But the stock gained a fraction. Why would this happen? M5Diff% is a 'predictive' indicator. It is configured in such a way that it warns an investor what is coming. If we look back at the same stock in 2011, we see almost the same type of M5Diff% collapse. The stock price did not move lower for some time. Then it finally began to feel the magnetic pull of M5Diff%, falling from 2.65 to 1.7 over the next few months.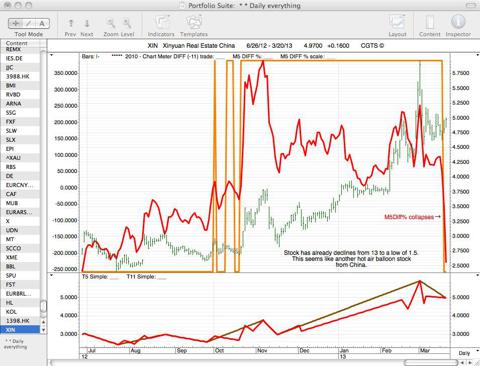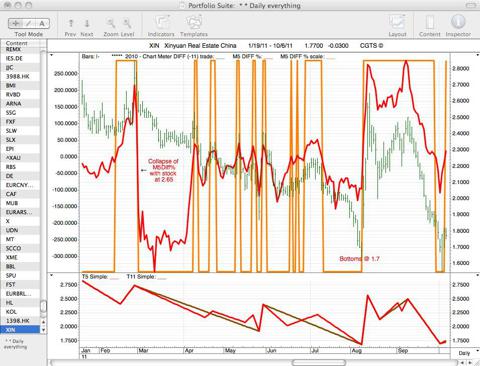 Remember, hoarding is a sign of a top, not a bottom.
Michael J. Clark, CGTS
Hanoi,
cgts@mindspring.com
HERE'S OUR UPDATED TABLE OF MOMENTUM STOCKS
 

STRONGEST

SORT

M5DIFF%

 
 
 

CLOSE

M5DIFF%

minus yesterday

Company

 
 
 
 
 
 

1

FMCC

1.08

1,577.95

152.492

Freddie Mac Daily

2

FNMA

1.08

1,280.99

170.978

Fannie Mae Daily

3

IMMR

11.3

497.145

-3.736

Immersion Robotics

4

RAVN

32.44

338.266

13.089

Raven Industries

5

XOMA

3.41

295.909

19.769

XOMA

6

KO

39.87

263.976

55.985

Coca Cola Daily

7

SAI

12.84

263.723

23.699

SAIC Inc *

8

USDGBP=X

0.661

261.822

-26.375

US Dollar/British Pound

9

CHG

65.37

250.966

37.173

CH Energy

10

HPQ

22.92

243.477

0.378

Hewlett Packard Daily

11

MSFT

28.315

238.024

94.153

Microsoft Daily

12

THLD

4.85

234.473

7.012

Threshold Pharma

13

USDCAD=X

1.025

231.428

-27.939

US Dollar/Canadian Dollar

14

IBM

215.06

230.177

31.395

IBM Daily

15

HSIC

90.9

225.81

-1.03

Henry Schein

16

EXM

0.705

223.404

18.728

Excel Maritime Carriers

17

BBY

23.07

222.644

26.839

Best Buy Daily

18

CPHD

38.14

221.384

-10.118

Cepheid

19

VPRT

40.18

218.755

21.855

Vistaprint NV

20

AUDNZD=X

1.254

218.45

-52.525

Australian Dollar/New Zealand Dollar

21

RRGB

45.93

217.78

-11.504

Red Robin Gourmet Burgers

22

USDVND=X

20,936.00

211.788

-103.267

US Dollar/Vietnamese Dong

23

Z

53.81

210.83

-24.924

Zillow Inc

24

XRX

8.76

201.5

39.528

Xerox

25

CNYCHF=X

0.152

199.506

-40.458

Chinese Yuan/Swiss Franc

26

QLGC

12.12

196.375

7.313

Q-Logic

27

HURN

39.31

195.993

40.245

Huron Consulting

28

BIIB

178.1

195.018

39.571

Biogen Idec

29

AUDCAD=X

1.064

194.392

-26.798

Australian Dollar/Canadian Dollar

30

UUP

22.56

194.35

-36.663

US DOLLAR INDEX BULLISH ETF

31

AFFX

4.69

193.839

3.825

Affymetrics Inc.

32

GSK

45.9

193.185

55.843

Glaxo-Smith Klein

33

P

13.68

189.906

0.27

Pandora

 
 
 
 
 
 
 
 
 
 
 
 
 

WEAKEST

 

SORT

M5DIFF%

 
 
 

CLOSE

M5DIFF%

minus yesterday

Company

 
 
 
 
 
 

32

^XAU

134.49

-177.508

4.169

Philadelphia Gold and Silver Index Daily

31

RBS

9.07

-178.623

31.32

Royal Bank of Scotland Daily

30

DE

87.74

-180.27

-21.892

John Deere

29

EURCNY=X

8.048

-180.357

43.749

Euro/Chinese Yuan

28

CAF

24.49

-184.583

17.946

Morg Stanley China Shares

27

MUB

109.88

-185.226

-3.263

I-Shares Muni Bond Index

26

EURARS=X

6.602

-192.082

24.4

Euro/Argentine Peso

25

X

19.45

-194.262

-18.162

US Steel Corp

24

UDN

26.16

-196.404

37.453

US DOLLAR INDEX BEARISH

23

MT

13.91

-205.105

2.874

Arcelor-Mittal Steel

22

SCCO

36.08

-205.258

12.174

Southern Copper

21

XME

40.71

-205.947

36.873

Spider Mining Metals ETF

20

BBL

59.58

-207.535

13.952

BHP Billiton

19

SPU

2.05

-210.337

-84.476

SkyFruit Juice China

18

FST

5.63

-210.765

-41.82

FOREST OIL

17

EURBRL=X

2.574

-211.231

34.561

Euro/Brazilian Real

16

HL

4.06

-218.535

-10.636

Hecla Mining

15

KOL

23.16

-219.524

42.027

Coal ETF

14

1398.HK

5.35

-228.27

38.864

Industrial and Commercial Bank of China

13

XIN

4.97

-228.906

-172.685

Xinyuan Real Estate China

12

ULTA

77.38

-232.202

49.981

Ulta Salon (Cosmetics)

11

JOY

58.72

-232.941

-31.776

Joy Global Machinery

10

SNP

114.57

-237.159

9.672

China Petrol & Chemical Co

9

COW

25.85

-242.493

15.501

Livestock ETF

8

CAAS

5.12

-244.364

-23.862

Chinese Auto Daily

7

FXI

37.25

-258.73

17.955

FTSE/XINHUA China 25 Index ETF

6

BCRX

1.26

-265.078

-122.542

BioCryst Pharmaceuticals

5

LD

52.07

-266.65

3.604

Lead ETF

4

GBPCNY=X

9.397

-268.643

53.314

British Pound/Chinese Yuan

3

EURCHF=X

1.223

-272.095

77.636

Euro/Swiss Franc

2

PTR

134.8

-275.825

34.458

PetroChina

1

ACH

10.19

-292.345

60.264

Aluminum Corp of China