CGTS DAILY TRADING SIGNALS
For 15 JULY 2011, WEDNESDAY
We haven't published for awhile.  A combination of reasons.  We have been putting a LOT of energy into findng REALLY ACCURATE short-term trading systems for short-term options trading.  Our intermediate-term indicators have done really well since December 2010, up a pretty significant 1076%.  These will be our intermediate trading systems as we go forward.  But we also want a few short-term 'income' trading systems that can lock in consistent trading gains held for about a week or so.
CGTS OPTION

 

PORTFOLIO (Since 12/20/10)
 
Active
% Gain
6/14/11
Profit
Trades
1076.30%
Option Trades
$1,399,193
 
 
 
 
 
567.87%
M5 3 ASP LT 2a

 

$170,360
3
1159.94%
M2F 14% Trade

 

$347,982
3
3770.31%
M4 ACCUM 00 14

 

$377,031
1
783.41%
T5SS/CM ASP Swift Tr 2AD
$313,366
4
952.27%
MJCF Close vs Midp Trend
$190,455
2
CGTS CURRENT INDEX BIAS:
NEGATIVE
We are also seeking to trade in line with the current macro bias.  About June 5, the GSPC -- S&P 500 -- went negative.  At this point we
emphasized
the short side of the markets, trading mostly put options.  The chart below should help to explain our 'negative bias' on the S&P 500.
We want to 'emphasize' long trades when the two short-term trends (bottom pane, red and purple lines) are positive.  When this positive confluence ends, we want to 'emphasize' short trades.  The short-term trade went negative about 4 June -- and we looked almost exclusively for put-option opportunities (with some obvious exceptions to consider, such as individual commodity ETFs, and inverse index etfs, those that appreciate when markets decline).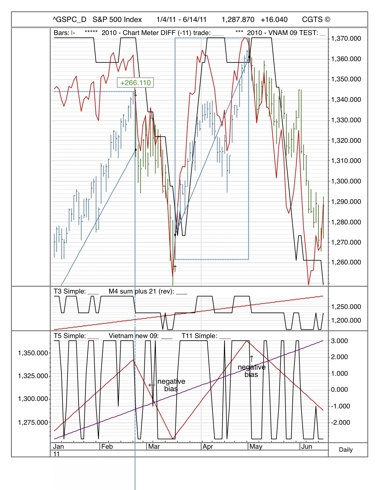 Yesterday was a strong day for the bulls, and follow-through seems to be continuing today in Asia.  Does this mean the sell-off is over, and that this is a trading bottom for the next leg of the rally?
Perhaps.  None of us really know.  A lot seems to depend upon what the U.S. Dollar does.  Ben Bernanke, number one dollar-basher (in actions not words) seems to be running out of bullets, and wearing a bit thin on his support.  We understand that QE1 and QE2 were intended to bash the dollar -- intended to do other things as well, continue the bank bailout, protect bad loans made during the 2001-2007 bubble times by keeping interest rates low for refinancing and for more borrowing.  Now quantative easing is seen as the cause of inflation that America has exported to the rest of the world, which has caused interest rate tightening in China, India, Thailand, Brazil....and food riots all over the world...and higher oil and gasoline costs which threaten to derail the weak global economic recovery.  A weaker dollar means higher prices of all commodities traded in dollars.  Stock markets have rallied worldwide again, as a commodity-driven bubble created by Mister Greenspan and his central bank friends around the world who think creating another bubble will buy time and get people's attention away from just how heavily indebted they are.  But time seems to be running out on Mr. Bernanke.  In June, the U.S. Dollar unepectedly rallied (when Bernanke said there would be no QE 3) and stocks and commodities tanked.  What are the chances this Dollar rally and stock retreat has just reversed?  Well, I don't see it.
Without more QE, what will drive the dollar down?  Negative interest rates?
Those who have read my posts know that I think we should have begun raising interest rates in 2001 -- our cup was full from the 1983-2001 expansion, and more debt would mean our cup would run over into bubbles and massive debts, huge imbalances that tear the heart out of an economy and sometimes lead to civil war and revolutions.  Of course, this is what has happened.  There are reasons that we resist higher interest rates, of course: political reasons, economic reasons, and bank-profit reasons.
A sinking dollar will continue to play havoc with food, energy, commodity prices -- that is, drive them up and stimulate (export) inflation. This also means oil prices will rise, choking off economic growth. The only way NOT to have manic inflation that brings chaos to the world, is to support the dollar through higher interest rates, which will also reward savers (instead of the current policy, to reward those making risky loans, on both sides, creditors and debtors) -- but this also takes the floor out from underneath stocks, commodities, and housing (remember when Ben's plan was to stimulate another housing bubble to save the banks?).

If we support the dollar -- i.e., raise interest rates -- we get deflation (which is what we need, in fact); if we sink the dollar -- if we continue to play the 0% interest rate game, even without QE 3 -- we get exported hyperinflation, which destabilizes the world politically.

Neither path is going to be easy. There is no painless way out of our current dilemma.  The most 'honest' path is higher interest rates and lower asset prices. Why is this more 'honest'?   Because it confronts the issue of our (the world's) massive debt -- the weak dollar/0% interest rates just kicks the can down the road, delaying the great deflation that has to come eventually. We will eventually have to admit that we have too much debt that we need to do something about -- and this means not trying to comouflage it, but paying it down or defaulting.

A weaker dollar is simply a delay tactic -- stalling -- so we don't have to face the truth about deflation.
Higher rates would actually force us to cut spending and raise taxes to attack our debt -- making cutting the debt our first priority. Low interest rates just encourage us to be irresponsible and prolong the ponzi scheme of easy money.

Higher rates WILL NOT be painless. But it's either pain now or later. Pain is guaranteed.

What is going to help the Dollar, more fiscal responsibility or less?

Some argue that the Dollar
is doomer by either inflation (continuing low rates) or deflation (higher rates). 
What they might be missing in this assumption is the sentiment of investors IF the U.S. government starts defending the dollar. Will investors want to own the Euro or the Yen or the Yuan IF the U.S. government begins to protect the value of the dollar instead of attempting to destroy it?

Will people want to buy TBonds or sell them if the government is protecting the dollar?

Monetary policy is a two-sided equation -- but one side of the equation (higher rates) has been forgotten for too long now. Why? Because we want instant and constant gratification, an ever-expanding economy, through ever-expanding debt. That understanding has to be our primary understanding at this moment in history. Too much debt kills.
***          ***         ***
The Dollar is still struggling against the giant currenices: Yen, Yuan, Swiss Franc.  But it doesn't looks so bad against the emerging and commodity currencies that were eating its lunch all through the Bernanke Stock Rally.  For instance, look at these US Dollar charts and see that the Dollar is at least trying to bottom.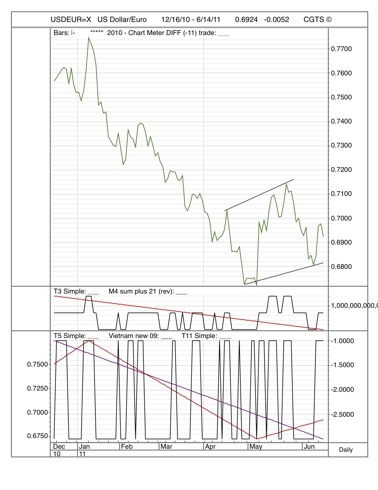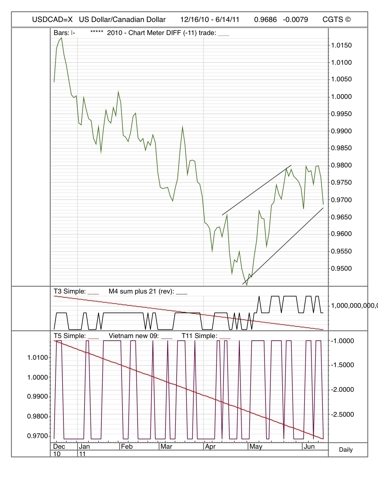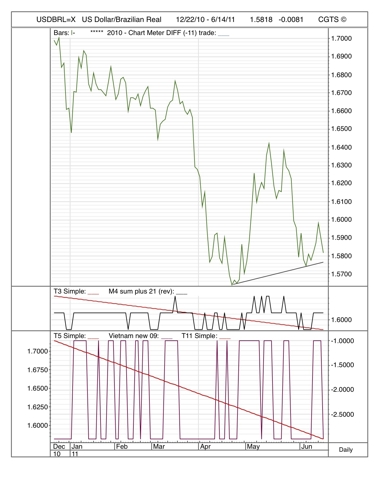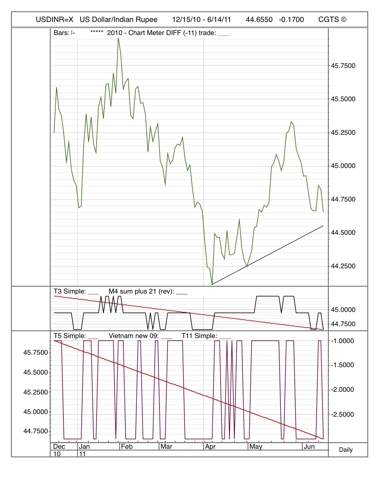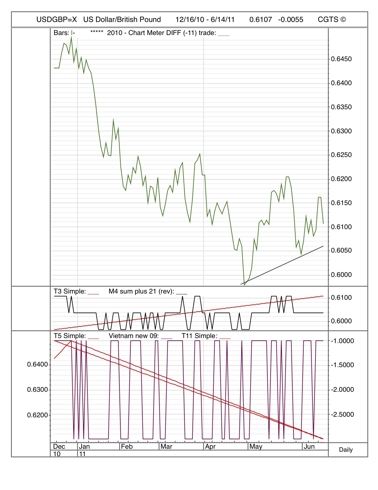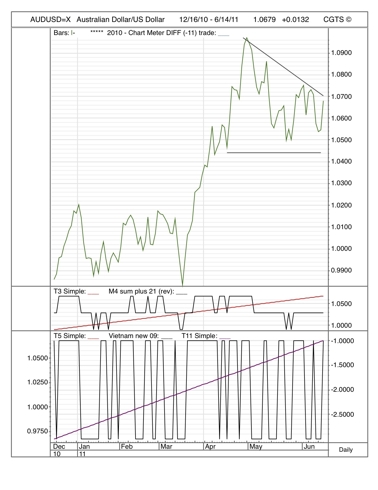 The Aussie Dollar 'seems' to be trying to top against the U.S. Dollar.  I have given up on the Aussie Dollar before, to my own detriment -- so I will remain neutral on this one.  But all the other charts above seem to sugget more Dollar strength is coming, which very likely means more stock weakness.
Today's short-term trading signals on what we call our VNAM 09 Trading System (the indicator was created in Hanoi in 2009) is giving us the following trading signals today:
| | | | |
| --- | --- | --- | --- |
| AMTD | VNAM 09 TRADE | 18.93 | SHORT |
| BIDU | VNAM 09 TRADE | 124.82 | SHORT |
| CORT | VNAM 09 TRADE | 4.44 | SHORT |
| SAH | VNAM 09 TRADE | 12.48 | SHORT |
| SINA | VNAM 09 TRADE | 91.61 | SHORT |
| SNDK | VNAM 09 TRADE | 43.2 | SHORT |
| SIJ | VNAM 09 TRADE | 44.31 | LONG |
| SKF | VNAM 09 TRADE | 64.83 | LONG |
All the signals are short signals except the two inverse ETFs, the first of which (NYSEARCA:
SIJ
) shorts industrial stocks and the second of which (NYSEARCA:
SKF
) shorts financials.
So I don't think we are at a trading bottom yet.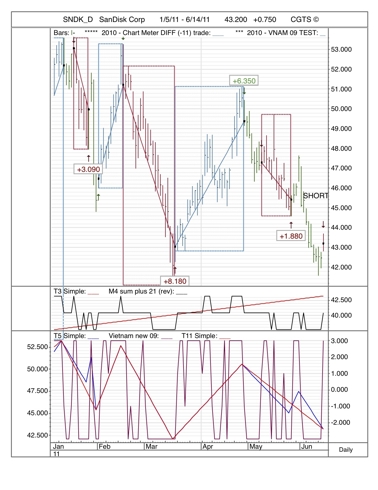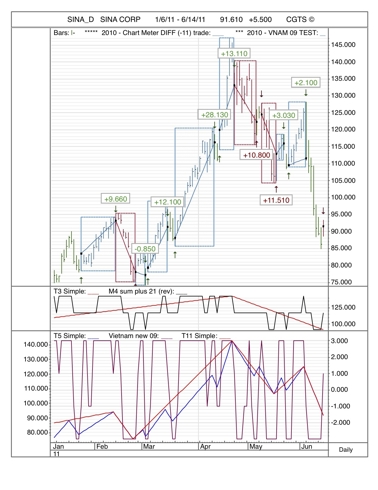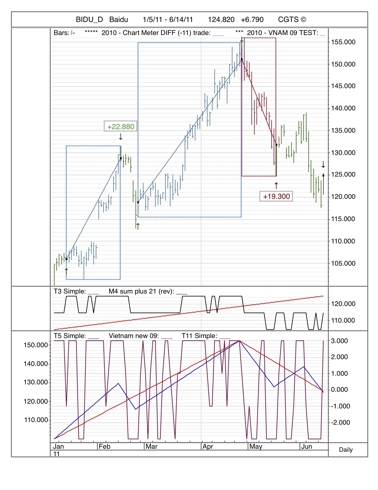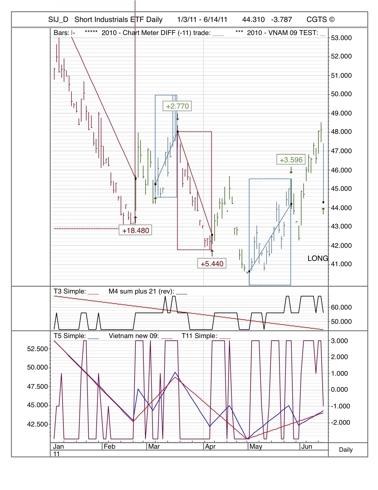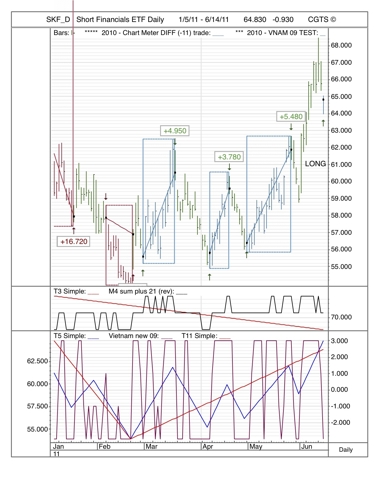 More information on the CGTS systems can be found at:
home.mindspring.com/~mclark7/CGTS09.htm  
MICHAEL J CLARK
Clark's Gate Timing System
Hanoi, Vietnam
cgts@mindspring.com                   
Disclosure:
I have no positions in any stocks mentioned, and no plans to initiate any positions within the next 72 hours.