CGTS DAILY TRADING SIGNALS
FOR FRIDAY 7/21/11
CGTS CURRENT INDEX BIAS: POSITIVE BUT WARY
We are in a funny territory in the markets at the moment.  Rallies have no fuel to get them out of the trough; corrections aren't motivated with enough panic either to swing the market down in a vigorous break.
We are generally short-term positive and expect a rally here -- but we are cautious about this.
Clearly there IS a wall of worry.  If fact, there is an ABYSS of worry.
But we see trading opportunities to the upside in some really good-looking chart patterns: We have recently bought calls in VVUS, MGM, AHGP, WFC -- and we feel pretty confident in these issues to move higher over the next week or two.
Today, however, we got a slough of sell signals that are inclining us to also buy put options in the following: MWW, Monster Worldwide; HPQ, Hwelett Packard; YGE, Yingli Green Energy, China; F, Ford Motor Company; KWT, Solar ETF.
We expect these to be  7-25% moves to the downside.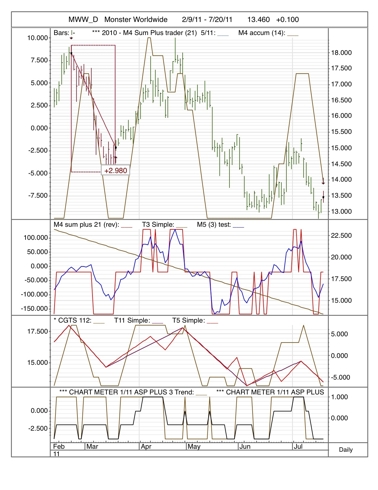 111   Short      8   05/28/10  06/10/10         +1.75     +11.83   Exit Short Rule
 112   Short     14   06/16/10  07/07/10         +2.17     +15.83   Exit Short Rule
 113   Long      73   09/24/10  01/07/11        +12.38     +97.56   Exit Long Rule
 114   Short     18   02/18/11  03/17/11         +2.98     +16.56   Exit Short Rule
 115   Short      1   07/20/11  07/20/11          0.00       0.00   Open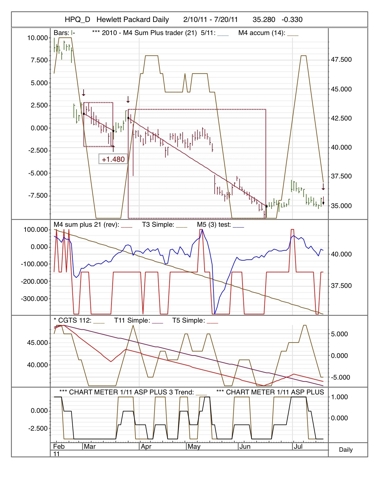 241   Long      29   08/18/09  09/29/09         +3.48      +7.92   Exit Long Rule
 242   Long      56   10/05/09  12/31/09         +5.44     +11.81   Exit Long Rule
 243   Long      33   02/24/10  04/15/10         +4.18      +8.35   Exit Long Rule
 244   Short     14   05/13/10  06/08/10         +2.84      +5.83   Exit Short Rule
 245   Short     12   03/01/11  03/17/11         +1.48      +3.45   Exit Short Rule
 246   Short     56   03/25/11  06/16/11         +7.56     +17.78   Exit Short Rule
 247   Short      1   07/20/11  07/20/11          0.00       0.00   Open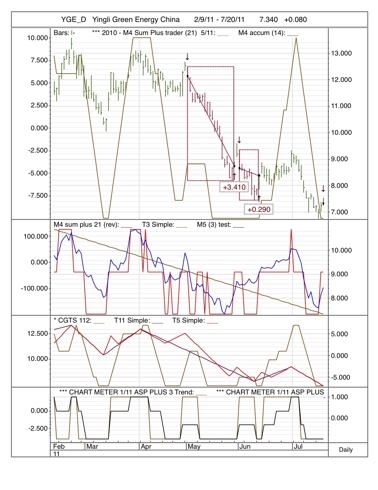 32    Long       8   09/21/10  10/01/10         +1.72     +14.74   Exit Long Rule
 33    Short      3   10/28/10  11/02/10         +0.06      +0.50   Exit Short Rule
 34    Short      7   11/09/10  11/18/10         +1.46     +11.98   Exit Short Rule
 35    Short     19   05/02/11  05/27/11         +3.41     +28.07   Exit Short Rule
 36    Short      8   06/01/11  06/13/11         +0.29      +3.35   Exit Short Rule
 37    Short      1   07/20/11  07/20/11          0.00       0.00   Open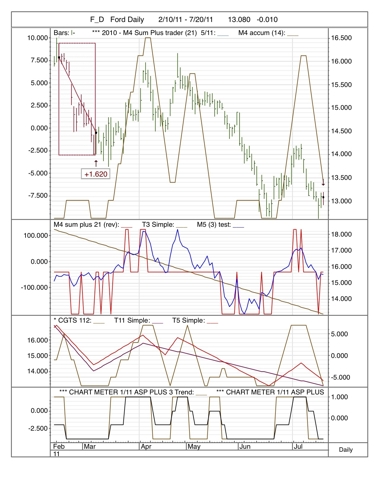 32    Long       8   09/21/10  10/01/10         +1.72     +14.74   Exit Long Rule
 33    Short      3   10/28/10  11/02/10         +0.06      +0.50   Exit Short Rule
 34    Short      7   11/09/10  11/18/10         +1.46     +11.98   Exit Short Rule
 35    Short     19   05/02/11  05/27/11         +3.41     +28.07   Exit Short Rule
 36    Short      8   06/01/11  06/13/11         +0.29      +3.35   Exit Short Rule
 37    Short      1   07/20/11  07/20/11          0.00       0.00   Open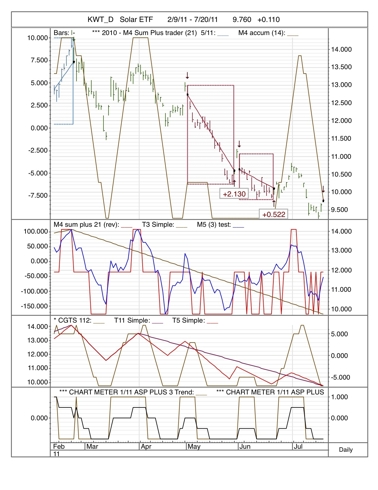 16    Short      5   04/30/10  05/11/10         +1.40     +11.06   Exit Short Rule
 17    Short     15   05/13/10  06/10/10         +1.36     +12.01   Exit Short Rule
 18    Long      17   07/01/10  07/27/10         +1.92     +19.25   Exit Long Rule
 19    Long      27   09/08/10  10/15/10         +1.46     +12.39   Exit Long Rule
 20    Long       6   01/14/11  01/25/11         +0.75      +6.34   Exit Long Rule
 21    Long      15   01/31/11  02/22/11         +1.47     +12.06   Exit Long Rule
 22    Short     19   05/02/11  05/27/11         +2.13     +16.73   Exit Short Rule
 23    Short     14   06/01/11  06/21/11         +0.52      +4.91   Exit Short Rule
 24    Short      1   07/20/11  07/20/11          0.00       0.00   Open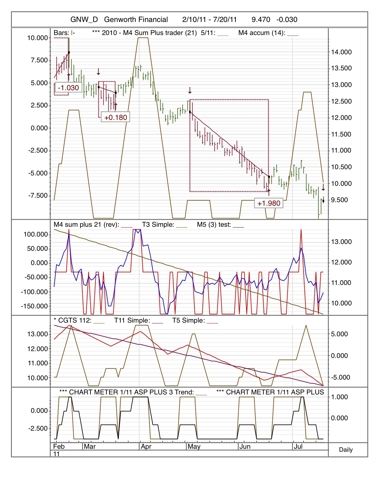 33    Long      53   02/09/10  04/27/10         +3.29     +23.50   Exit Long Rule
 34    Short      6   05/13/10  05/21/10         +1.78     +10.93   Exit Short Rule
 35    Short     11   05/28/10  06/15/10         -0.34      -2.18   Exit Short Rule
 36    Long       5   09/15/10  09/22/10         +0.02      +0.16   Exit Long Rule
 37    Long      23   09/24/10  10/27/10         +0.71      +5.68   Exit Long Rule
 38    Long      21   12/16/10  01/18/11         +1.35     +10.55   Exit Long Rule
 39    Short      8   02/08/11  02/18/11         -1.03      -7.95   Exit Short Rule
 40    Short      7   03/09/11  03/18/11         +0.18      +1.39   Exit Short Rule
 41    Short     32   05/03/11  06/17/11         +1.98     +16.26   Exit Short Rule
 42    Short      1   07/20/11  07/20/11          0.00       0.00   Open
More information on the CGTS systems can be found at:
home.mindspring.com/~mclark7/CGTS09.htm  
MICHAEL J CLARK
Clark's Gate Timing System
Hanoi, Vietnam
cgts@mindspring.com