CGTS DAILY TRADING SIGNALS
FOR MONDAY, 29 August 2011
EARTH METAL STOCKS  --  WHERE DO THEY STAND?
A reader asked me to take a look at two Rare Earth Metal stocks, AVL, Avalon, and QRM, Quest.
I'm showing a daily and a weekly chart of each.
AVL is making an implied top in the daily chart -- I expect lower prices from here.  Support is at 3.95; then 3.84
AVL looks better than QRM.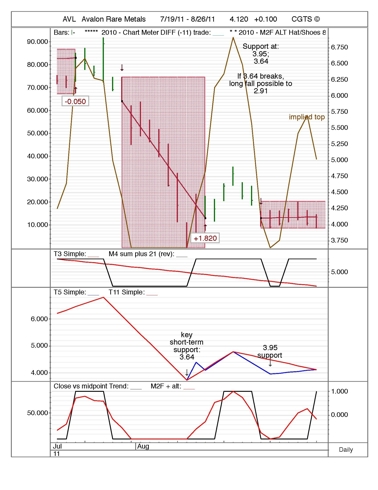 The weekly chart of AVL is not very positive.  In fact, it's nasty.  M2F ALT (top pane, brown line) is making an assumed bottom; but with all trends negative this means very little.  All the trends point to lower prices.  It is possible this stock might run all the way down to 1.9.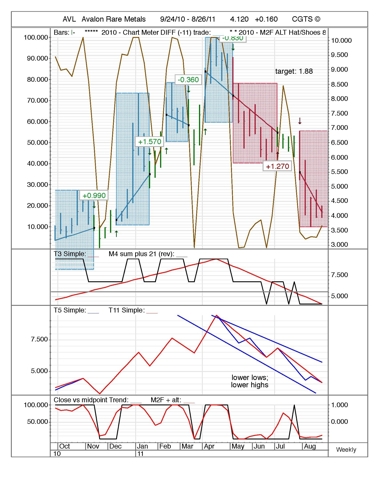 QRM's daily chart is also making an implied top.  Lower prices are guaranteed.  Next support is 3.48.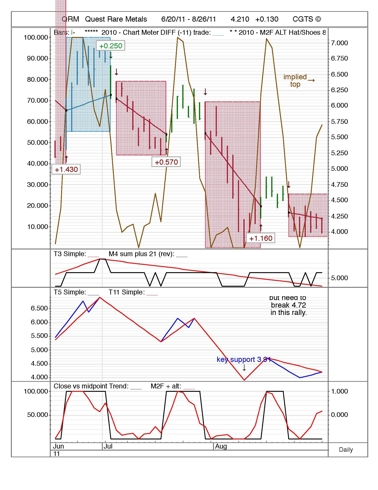 Weekly chart also shows a pretty negative picture.  Trends are down.  It is possible this stock will ultimately test support at 1.72.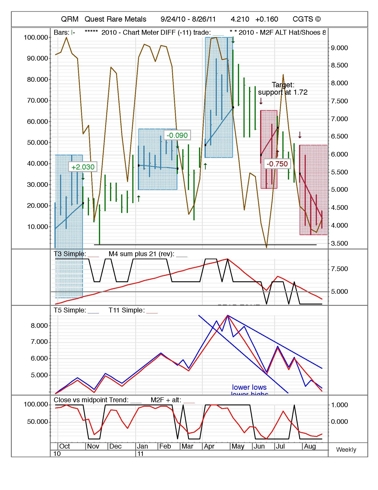 More information on the CGTS systems can be found at:
home.mindspring.com/~mclark7/CGTS09.htm  
MICHAEL J CLARK
Clark's Gate Timing System
Hanoi, Vietnam
cgts@mindspring.com                   
CGT