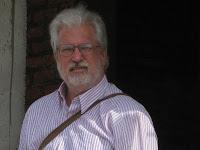 AGNC, American Capital Mortgage Real-Estate Investment Trust, has been a very popular subject of conversation on Seeking Alpha over the years.
This is what Google says about the company's business structure:"American Capital Agency Corp. operates as a real estate investment trust (REIT). The company invests in residential mortgage pass-through securities and collateralized mortgage obligations for which the principal and interest payments are guaranteed by government-sponsored enterprise or by the United States government agency. It funds its investments primarily through short-term borrowings structured as repurchase agreements. The company has elected to be taxed as a REIT under the Internal Revenue Code of 1986 and would not be subject to federal corporate income taxes, if it distributes at least 90% of its taxable income to its stockholders. American Capital Agency Corp. was founded in 2008 and is based in Bethesda, Maryland."
How does AGNC look technically? Well, it depends which time-frame chart one considers. The daily chart (using daily prices) is rather positive and shows AGNC at a relatively crucial point in its attempt to rally back from a 30% annual decline (shown better in the weekly chart below). It is testing overhead resistance now at 22.75.
When the T11Sunmarry indicator (blue line, third pane down from the top) is at +10 and holding, this is a positive, a sign that bulls/buyers have taken control. However, look at the bottom pane for a lightly different picture of this: there is a struggle going on now between the green sellers and the red buyers. When the green is active (below zero), sellers are active; when the red is active (above zero) buyers are active. Currently both buyers and sellers are active.
(click to enlarge)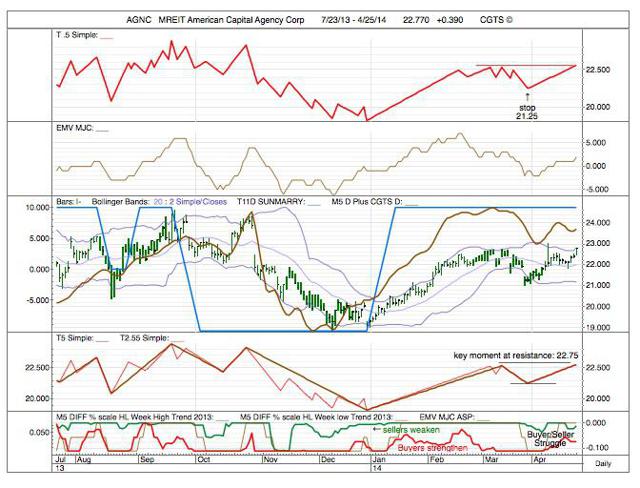 Click to enlarge
If we look at the weekly prices in the chart we get a slightly different picture. The weekly prices give us a sense of buying strength versus selling strength when we look at the T11 Sunmarry (blue line, third pane down) indicator. First, a strong buy will race up to +10 and stay there for a long time. Second, a strong buy, when it does fall, cannot make it down to -10; it stops above -10 and reverses, showing a real lack of sellers. The weekly chart shows strong buying picking up momentum.
The second pane from the top of the chart (EMV MJC) suggests we might be topping however. This is something to keep an eye on.
Trend support is at 21.25 -- but it again becomes vital for the stock to take out near-term resistance and make a new high, above 22.75. If AGNC (any stock, in fact) continues to make new trend highs, and new trend lows, then there is no reason to sell it.
You want the price to be clinging to the high Bollinger Band as it advances, which AGNC is trying to do. If it falters, and if trends break down, then we become concerned about a possible breakdown in momentum.
(click to enlarge)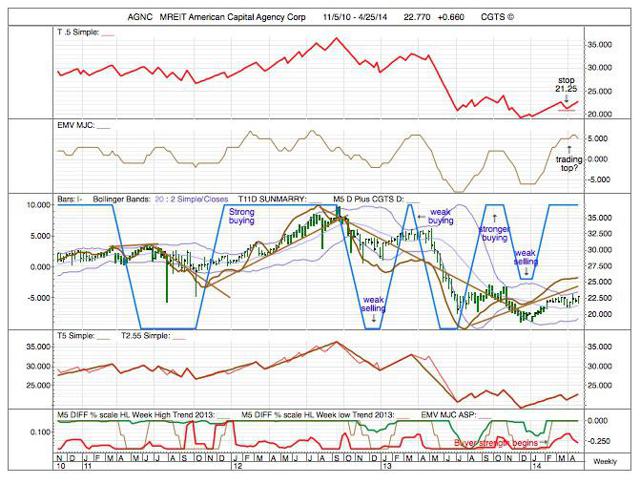 Click to enlarge
The monthly chart is, of course, a more long-term picture. And the long-term picture of AGNC is not healthy. Traders don't need to be concerned with this chart. Long-term investors might want to see this chart and find a better long-term candidate. The monthly chart shows a stock in a continuing long-term decline, with broken support and failed tests of resistance. The bottom pane shows sellers very active and buyers inactive.
A positive is in the top pane. Buyers activity is forcing the red line trend up; but this is really quite insignificant in the long term. It is still a bearish picture until the trends begin making higher highs and higher lows.
(click to enlarge)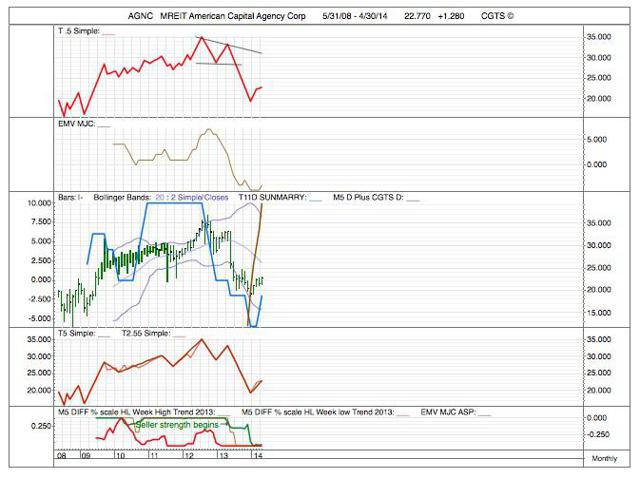 Click to enlarge
In terms of monthly charts, many issues are much more attractive than AGNC, in terms of potential appreciation (excluding dividends -- of course, investors in AGNC are there primarily for dividends).
This shows, I think, how different time-scale charts can show different things when looking for a potential trade or long-term play.
Michael J. Clark, CGTS
Hanoi, Vietnam 4/27/2014