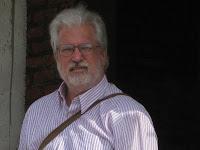 In our last post we warned that small cap stocks look like they want to pull back. Today the VIX Index also jumped back up. Look at the chart below, at the top pane, the blue line. This indicator, with the horrible name "M2F Plus Trend ASP Look Back Minus Plus Combo", has just become positive again, meaning momentum in the VIX is up -- the corollary being that stocks might be vulnerable to selling. The VIX is the most difficult index to trade, since its moves tend to be erratic and often very short-lived.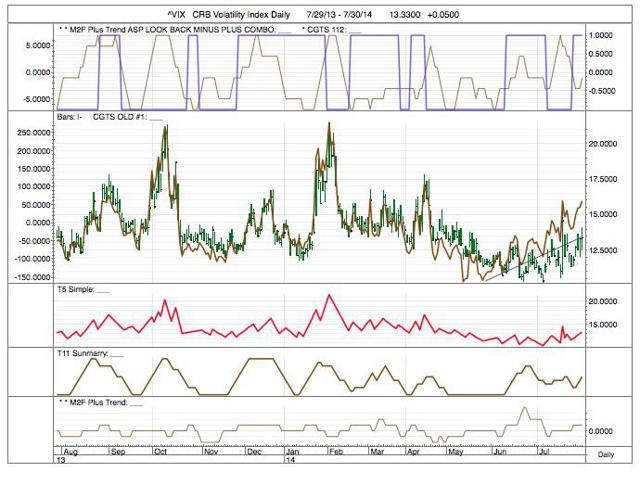 This VIX pop seems almost anecdotal. If we felt that stocks were getting ready to tank we should see it in other indicator and indices. Do we?
We see some deterioration in the charts of European indices especially. See the diminishing health of the French Index.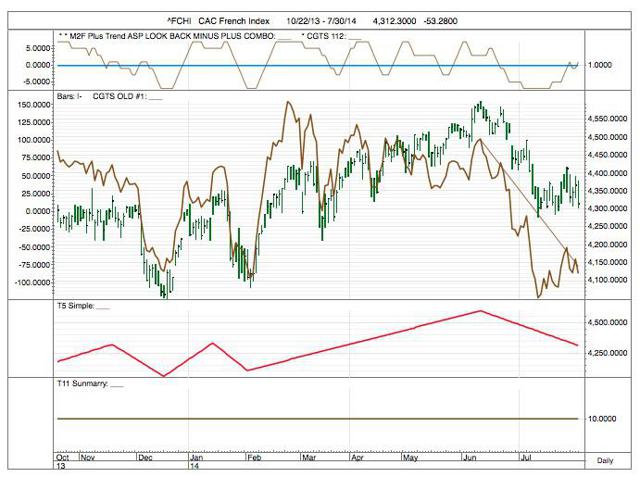 American housing stocks seem to also be breaking down. In these charts look especially at the pattern of the brown line, second pane, CGTS Old #1 indicator.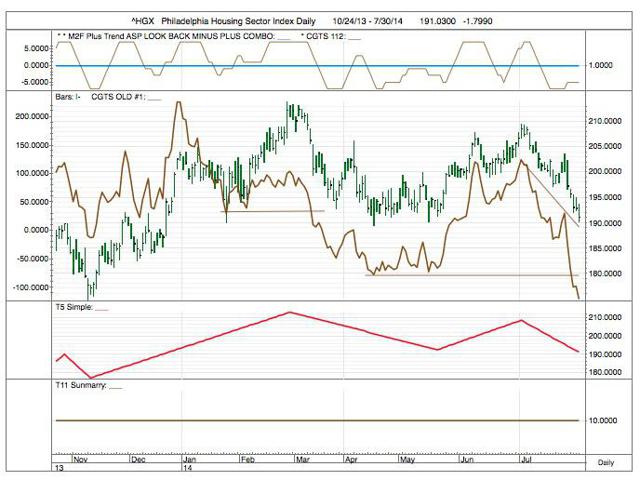 I mentioned that small caps are negative also.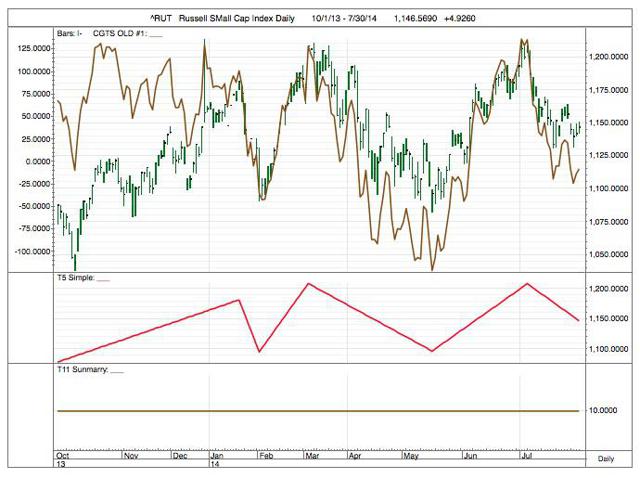 Utilities are weakening.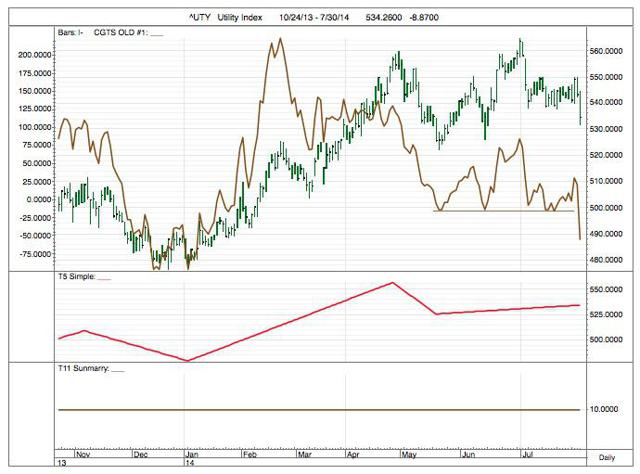 The DJIA is also struggling a bit.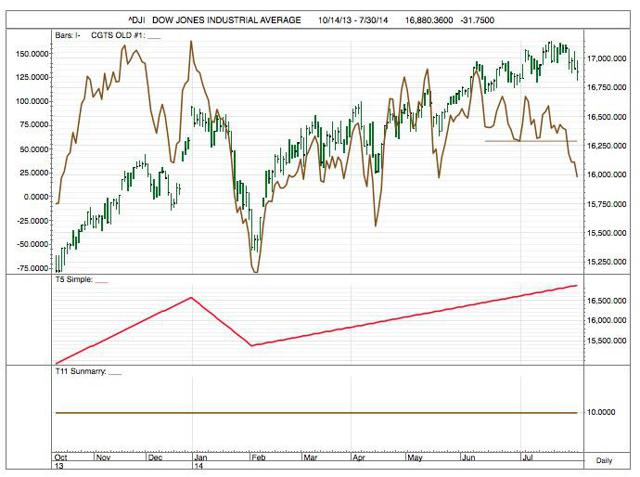 Chinese stocks had a nice bounce this week. I'm not sure what would trigger this, unless it was big money transferring out of Western markets into Chinese markets.
Israel has called up 16,000 more troops for its merciless war with Gaza. It is clear that Israel is losing politically. The fact that the Palestinians have fired thousands of missiles into Israel with almost no destructive capacity, only 3 civilian Israeli deaths, shows Israel's response is an over-reaction. Israel comes off as the monster. And the Israeli ambassador proclaiming that the Israeli Army deserves a Nobel Peace Prize for its 'gentle, surgical dismemberment' of a tiny neighbor reeks of moral absurdity. Children are shown being carried into Gaza hospitals with lethal wounds from Israeli artillery; and then the hospital is hit with Israeli rockets. Israel claims the inept Palestinians are firing rockets and hitting their own schools, UN shelters and hospitals. The UN says the rocks were fire from Israel. In Europe, angry Arabs, neo-Nazi Europeans, and concerned European civilians all march against Israel; and these demonstrations degenerate into the destruction of Jewish shops, bringing to the surface memories of the 1930s.
America wants war with Russia.
The West is frustrated. The global economy is broken. Nothing the experts attempt works. Things are going from bad to worse. Janet Yellen tells us she will continue to protect stocks. As far as the economy goes, she doesn't know anything about that.
House Republicans sue President Obama for Obamacare, having failed in their move to impeach him. Republicans and Democrats should have joined forces to impeach Bernanke, and now Yellen. Now it's too late.
We remember W.B.Yeats: "Things fall apart. The Center cannot hold."
Well, we'll see if the center can hold.
Michael J. Clark, CGTS
Hanoi, Vietnam
31 July 2014