Clark's Gate Timing System
Monday 26 October 2009
Happy birthday to both my brother and sister who were born on this day in 1948 and 1949.
 
There is no means of avoiding the final collapse of a boom brought about by credit expansion. The alternative is only whether the crises should come sooner as the result of a voluntary abandonment of further credit expansion, or later as a final and total catastrophe of the currency system involved.

 - Ludwig von Mises.
 
TODAY'S TRADES

We created a new indicator over the weekend: M5/M5Average Differential Sum Plus which shows up in the top panes of the charts below.  This indicator measures the difference between M5 (long-term momentum) and M5's moving average -- both of which are shown in Pane Two of the charts.  We then do a bit of mathematical management to get our new indicator.  Essentially, when the new indicator breaks below zero, it signals the M5 Average crossing above M5.  When the new indicators breaks above zero, it signals the M5 crossing back over the moving average.  Note that this indicator moves between +2 and -2 and selling almost always follows the indicator's break below zero.  Ideally, we want to buy when M5 Average is beneath M5 and both indicators are climbing.  It is a serious warning shot when M5 Average is greater than M5 -- and if both are declining, selling is almost guaranteed.

Teva Labs weekly chart shows a stock that should come under selling pressure in the near-term.  Teva's trend (red line, botttom pane) is still positive.  But we expect the trend to come under pressure as well.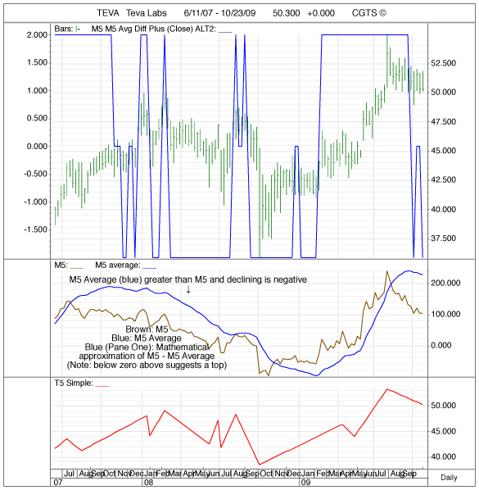 Click to enlarge

General Electric (daily chart) is also a rather scary looking chart.  Look for it to break down if the 15.5 support level fails.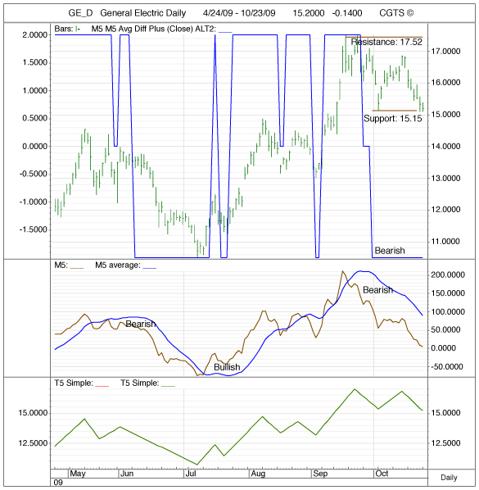 Click to enlarge
Computer Associates (NASDAQ:
CA
) is also a stock that appears to be entering some trouble here.  It is right at support (21.6) but seems like to break through that and test the next support level at about 20.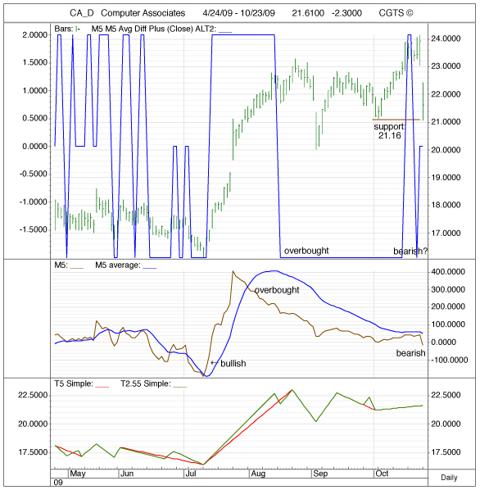 Click to enlarge
Two indexes also look somewhat vulnerable here: DJT, Dow Jones Transportation Index, and FCHI, CAC French Index.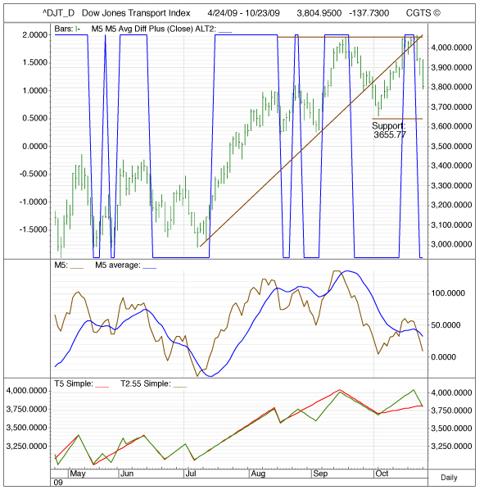 Click to enlarge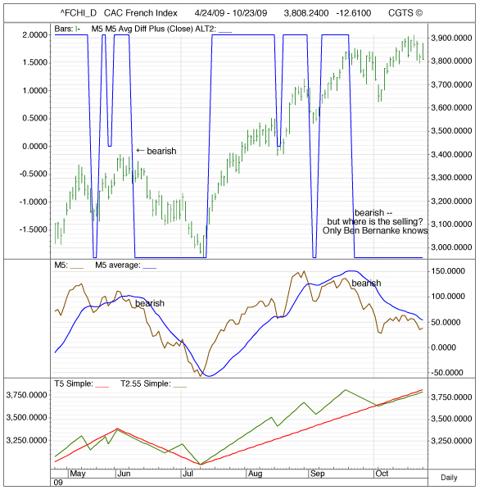 Click to enlarge
FRE, Freddie Mac, looks like it is going even lower.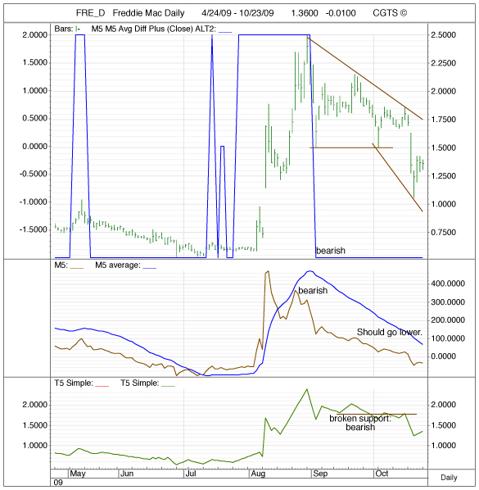 Click to enlarge
Coca Cola (NYSE:
KO
) seems also to be a bit overextended here, although trends are still very positive.
Click to enlarge
In contrast, the SIJ, Ultrashort Industrial ETF is gallantly trying to turn a downturn into a positive trend.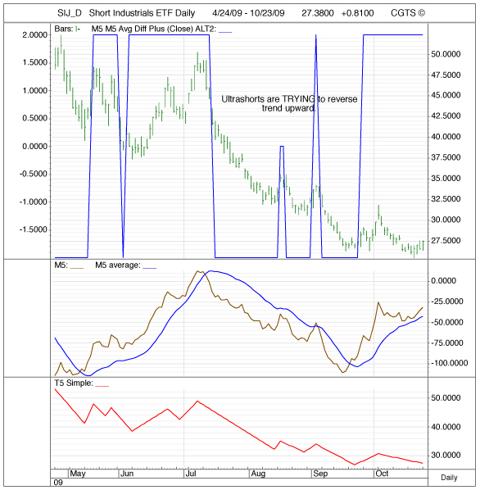 Click to enlarge
An example of a stock in a continuing uptrend is SAP.  We are looking now at the weekly chart.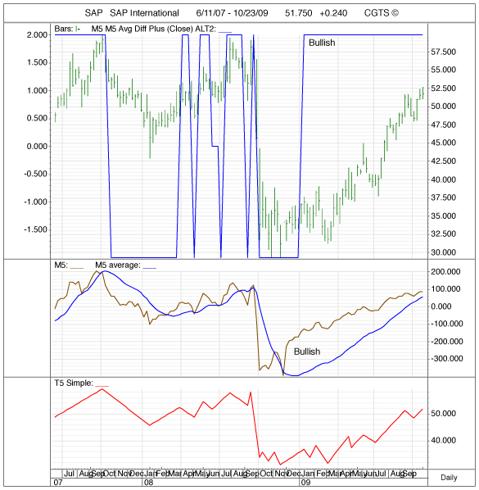 Click to enlarge
Also, TYX, the 30-Year TBond yield is trying to make Ben Bernanke's life interesting by rising in the face of massive market manipulation which might be running out.  If Ben can no longer buy every TBond in sight, then rates might rise and mortgage manipulation might be given back to buyers and sellers, instead of the government.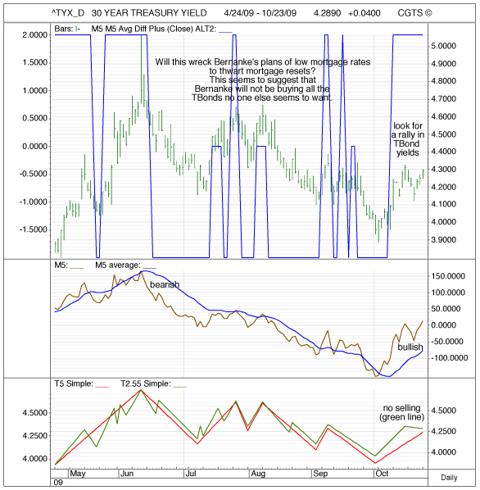 Click to enlarge
More information on this system can be found at
home.mindspring.com/~mclark7/CGTS09.htm
A draft of the book Turn Out the Lights can be found at the website below.  This book is a description of the metaphysical causes of the economic cycles of expansion (Day) and contraction (Night).
www.hoalantrangallery.com/Turnoutlights.htm
Michael J. Clark's Gate Timing System
Hanoi, Vietnam
84 4 221 92210