CLARK'S GATE TIMING SYSTEM ©
Thursday 13 November 2009
 
"By a continuing process of inflation, government can confiscate, secretly and unobserved, an important part of the wealth of their citizens."

    -- John Maynard Keynes




Dengue Fever: an acute infectious disease characterized by sudden onset, headache, racking joint pain, and a rash and caused by a virus transmitted by mosquitoes of the genus Aedes chiefly in tropical and semitropical regions ó  called also breakbone fever.


ATTACK OF THE RABID MOSQUITO

The last three weeks I've been attempting to recover from a deadly tropical disease, dengue fever, caused by a mosquiito bite (see my wife's charming drawing of the deadly girl above).  Treatment required hospitalization, several nights in Intensive Care, a lot of intravenous re-hydration.  The recovery has been slow.  My reports have been non-existent for the last three weeks, and this is the reason for it.

We are still bullish by force majeure -- it is ridiculous to bet against the US government and Ben Bernanke's printing presses.  Our own system is giving overwhelmingly bullish readings.  In many years of investing and analyzing markets I have never seen markets this manipulated -- straight-jacketed -- for the public good some will say.  That remains to be determined, of course.

In my mind, Dr. Ben is practicing his creed of 'Inflationism' which, as Professor Keynes pointed out long ago, is the same as the secret theft of wealth from all the citizenry of the nation (see quote above).  Giving the alcoholic more cheap drink (Mad Dog 20/20?) makes the alcoholic happy -- I guess that is the essence of democracy, a happy populace -- and that IS a problem -- but it does not cure the alcoholic of his problem.  Without a cure, the problem returns later, in a more expanded trauma.

DAILY PORTFOLIO

Our daily portfolio is up 25%, with the first trade being on 6/29/09.  Note: we are also including the number of short trades in each portfolio and the percentage of bullish trades to show how overwhelming the long trades are.  This percentage should begin to change as time goes on. 


 
DAILY PORTFOLIO
 
Active
Active
First
Short
% Long
% Gain
12/4/09
 
Profit
Trades
Cost
Trade
Trades
Trades
25.37%
M2F alt Trading System
 
$172,508
68
680000
7/27/09
14
79%
31.45%
M2F ALT LT 2 Tr Syst
 
$207,567
66
660000
7/8/09
8
88%
25.86%
M5 10 Trading System
 
$116,350
45
450000
6/29/09
5
89%
22.11%
M5 Diff Study Tr Syst
 
$141,531
64
640000
6/29/09
8
88%
10.06%
M5/M5Avg Sum Plus New
 
$25,146
25
250000
9/5/09
2
92%
 
 
 
 
 
 
 
 
 
24.74%
Total
 
$663,101
268
$2,680,000
 
 
 
 
*Based on $10,000 per trade
 
 
 
 
 


DAILY BUY SIGNAL

What are we buying today?  HMA: Health Management Associates.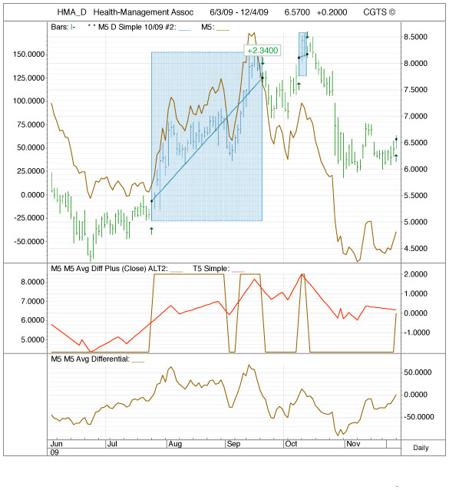 Click to enlarge




DAILY SELL SIGNAL

What are we selling?  We're taking a 10% profit in trading SEA, Global Shipping ETF, using our M2F ALT Trading System.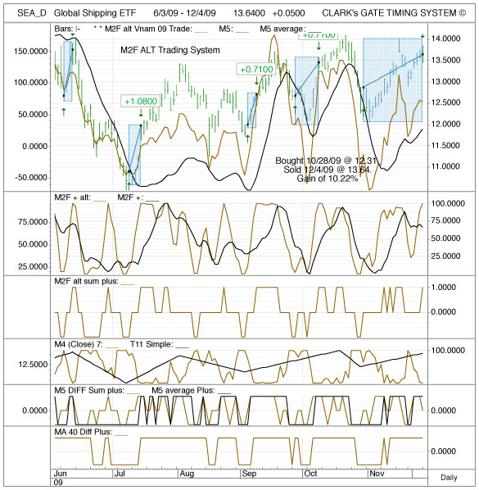 Click to enlarge
Disclosure: the author owns none of the issues mentioned in this letter.More information on this system can be found at
home.mindspring.com/~mclark7/CGTS09.htm
A draft of the book Turn Out the Lights can be found at the website below.  This book is a description of the metaphysical causes of the economic cycles of expansion (Day) and contraction (Night).
www.hoalantrangallery.com/Turnoutlights.htm
 Disclosure: The author does not own issues mentioned in this article.
Michael J. Clark's Gate Timing System
Hanoi, Vietnam
84 4 221 92210