SHORTING TSLA? REALLY? WHY ON EARTH WOULD YOU DO THAT?
Technical reasons. TSLA has had a very nice rally. But technicals have begun to deteriorate. The short term trend support (see bottom pane) has been broken. This is a serious negative.
Also, my T11 Sunmarry (which is a longer-trend indicator) has turned down (see middle pane below). A rising T11 Sunmarry is positive (as is a flat T11 Sunmarry indicator at a +10 reading). Once the T11 Sunmarry starts to fall the rally is either over or is stalling.
Our trading system, one based on the T11 Sunmarry Indicator, is giving a short-sell signal.
Nothing personal against TSLA or TSLA shareholders.
The overall rally is getting ragged. European indexes and Chinese indexes are getting VERY ragged. And Ben Bernanke now has adversaries in the Fed who are going to start to scream if he tries to continue giving other people's money away to save the very rich -- i.e., the banks and insurance companies on Wall Street.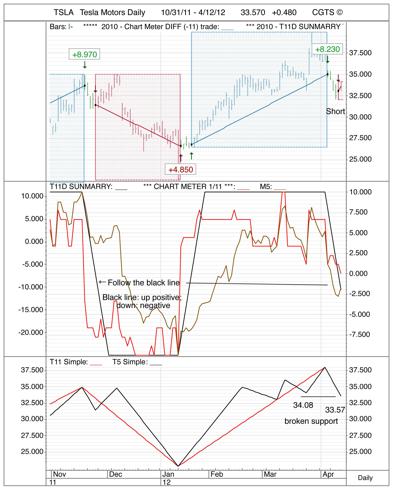 More information on the CGTS systems can be found at:
home.mindspring.com/~mclark7/CGTS09.htm
MICHAEL J CLARK
Clark's Gate Timing System
Hanoi, Vietnam
cgts@mindspring.com
CGTS
Disclosure: I am short TSLA.