CGTS DAILY
FOR WEDNESDAY, 9 May 2012
Two new shortsale signals: SHLD, Sears; BZH, Beazer Homes.
Here are the two charts: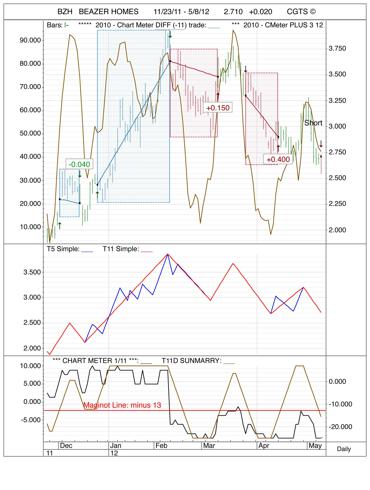 Note in the above charts in the bottom panes the CGTS indicator called "Chart Meter" (black line): this indicator trades between +26 and -26. When the indicator cuts through Minus 13, in either direction, a new trend usually begins, either up or down. I call Minus 13 in these charts the "Maginot Line" the French defense line that was supposed to hold against German attack -- which may be an appropriate metaphor now after what happened last week. In the above chart for BZH, note that the break below the Maginot Line in February 2012 signaled the breakdown of the rally in this stock. In subsequent rallies, the Chart Meter Indicator popped above Minus 13 once, then retreated; in the second rally the Chart Meter rallied up to the Magninot Line, and then pullled back again.
Consistently, Minus 13 has proven to be a turning point in the war between bulls and bears.
Having said that, where is the Dow Jones Industrial Average today in terms of the Chart Meter? Bulls will be glad to hear that the DJI is, today, giving a Chart Meter reading of plus 1. The DJI has not broken down yet. In the last pullback, the DJI did not break through Minus 13, but fell as low as Minus 7 only.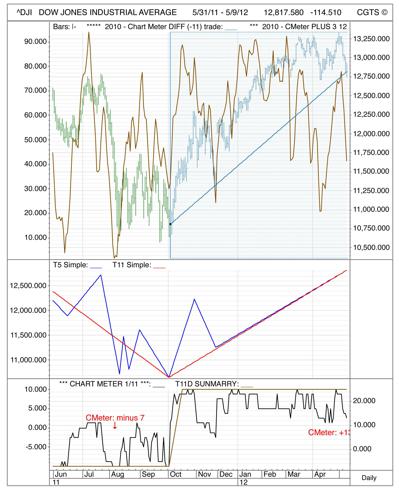 To show that the Minus 13 does, in fact, work with the Dow Jones Industrial Average, the next chart shows the same indicator in October 2007, when the Chart Meter did crash through the Maginot Line, and a major correction began; it crashed through the threshold again in May 2008, before a continued and major sell-off.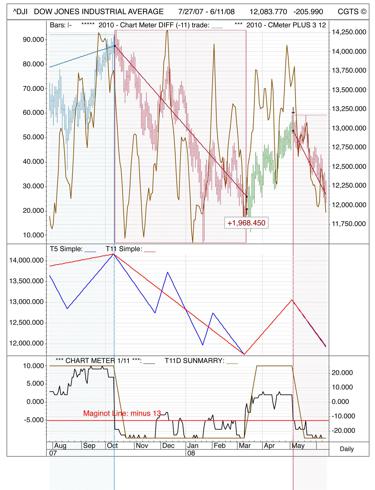 The FCHI, CAC, French Index, has crashed through the Magniot Line, in fact, in November 2011, and then again in March 2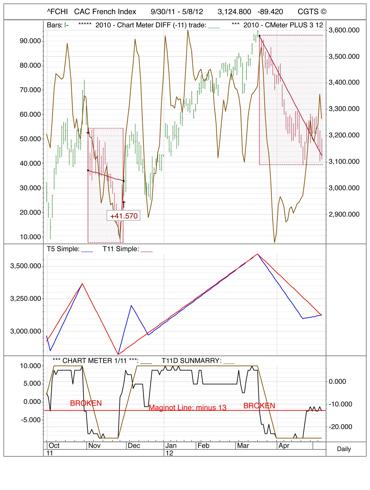 More information on the CGTS systems can be found at:
home.mindspring.com/~mclark7/CGTS09.htm
MICHAEL J CLARK
Clark's Gate Timing System
Hanoi, Vietnam
cgts@mindspring.com
CGTS
Disclosure: I have no positions in any stocks mentioned, and no plans to initiate any positions within the next 72 hours.