CGTS DAILY TRADING SIGNALS
for Wednesday 6 June 2012.
Theme: Housing Stock Rally is Over!
Buy: SMN, Short Basic Material; VIX (yesterday's signal)
Sell: None
Short: IRE, Bank of Ireland; BZH, Beazer Homes; HOV, Hovanian Housing; PHM, Pulte Group Housing (?)
Cover: None
Our theme for today is that the housing stock rally is over. It is hard to see how US housing is going to recover when the US Economy is titling back toward recession, Europe is breaking up, English is double-dipping into recession and China and India are heading for a hard-land.
The charts concur:
HGX, US Housing Sector Index, looks to be making a Head-and-Shoulder-Top, with the most recent decline having breached the neckline. H&S tops are, according to legend, one of the most deadly patterns in technical analysis.
This chart may or may not be a real H&S Top; however, the chart is topping. And it is breaking through support as I write this. Pane 1 (red line) shows a top in our CGTS Momentum indicator; the second pane shows a top in our T11D Sunmarry indicator (red line), a top that did not reach +10, the designated topside limit showing sturdy buyer interest.
Pane 3 shows our trend lines making a lower high and a lower low pattern, characteristic of bear moves. Pane 4 (M2F Alt) shows that the index has reached a short-term oversold level. But it can stay at this level for some time, in fact. This momentum indicator is subordinate to the 'story' of the trends above.
(click to enlarge)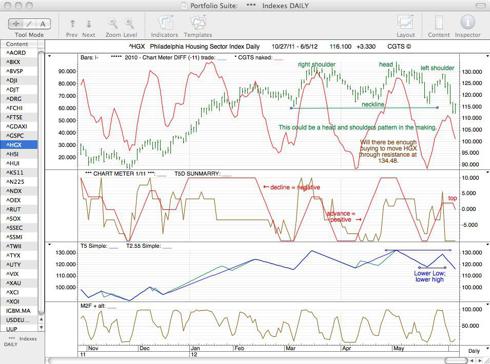 Click to enlarge
What about individual housing stocks?
TOLL, Toll Brothers. This is the only housing stock I follow that is showing relative strength. It just gave a sell signal. But it did make a higher high. So I'd watch this stock and not initiate a short-sell yet.
(click to enlarge)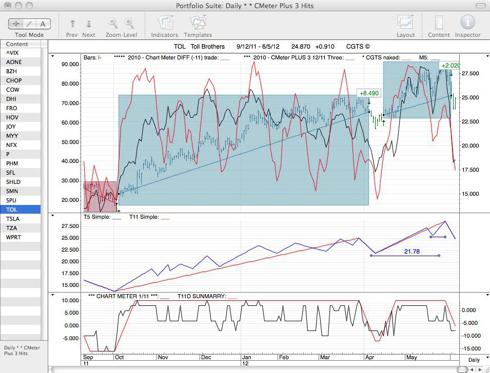 Click to enlarge
HOV, Hovanian. Horrible pattern. Short-sell signal today. This stock might be one of three housing stocks I follow that could head into bankruptcy in the next three years. (Remember, my prediction is no housing bottom until 2019.)
(click to enlarge)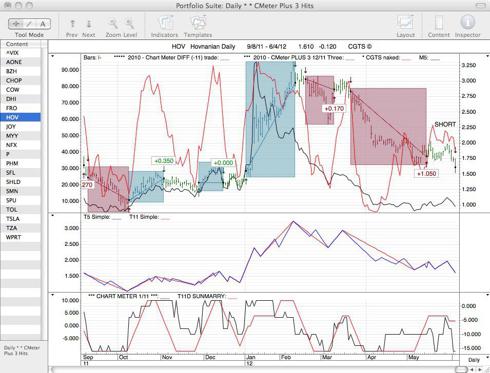 Click to enlarge
DHI, DR Horton. Sell signal. Broken support. Not a bad looking chart, much like TOL, except it is trading right at significant support now, with what looks like a lot of room to fall. Sell and wait. Watch for short-sell opportunity.
(click to enlarge)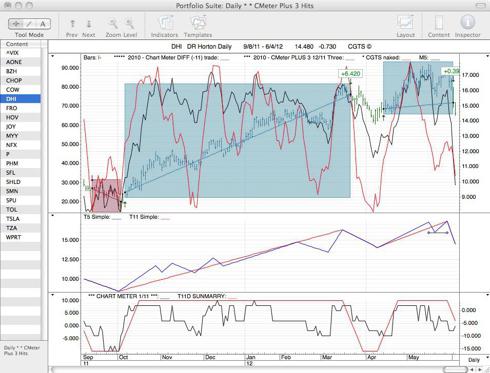 Click to enlarge
BZH, Beazer Homes. Shortsell Signal today. I don't expect this stock/company to survive to survive the global depression.
(click to enlarge)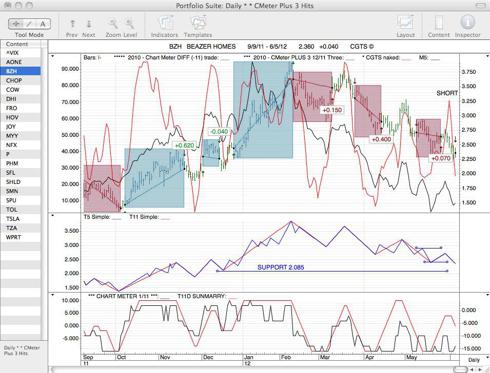 Click to enlarge
PHM, Pulte Group Housing. Vicious selling in the last week has ruptured this chart. Note the lower low and lower high in the trends, Pane Three down. Note the failed rally in terms of T11D Sunmarry indicator, Pane Two down. No formal short-sell signal from our trading systems -- but I have purchased October puts against PHM. It could pull back to 4 again quite easily.
(click to enlarge)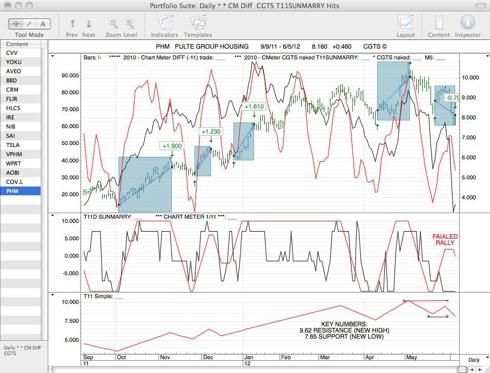 Click to enlarge
KBH, KB Homes. Another company that could very easily be bankrupt within two years. Did not make a new high in this rally. Could easily head down to 5.
(click to enlarge)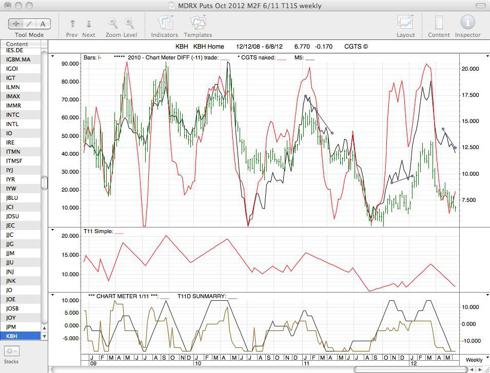 Click to enlarge
The Case-Schiller housing price survey shows nothing to be positive about. An attempted rally -- after trillions spent by the Fed to support asset prices -- has now turned down again. We seem destined to return to 1994 prices in the chart, or even overshoot.
Lower housing price -- what this chart is suggesting -- will be devastating to American (and global) banks, which are holding trillions of leveraged debt connected to the Housing Bubble/Debt Bubble which they are now hiding off their books.
(click to enlarge)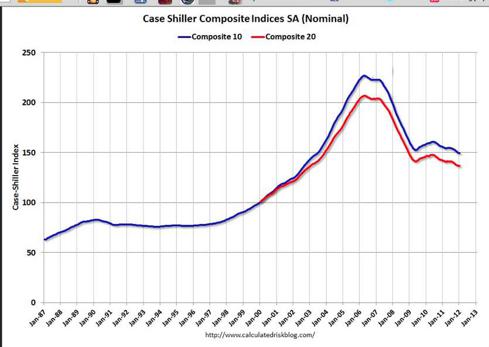 Click to enlarge
Other things to think about.
Are we ready for a rally? The VIX says we are not. This looks like the real thing in terms of a VIX rally. It gave a buy signal yesterday. The chart looks like a rounding long-term bottom and the multiple buy signals confirms this.
(click to enlarge)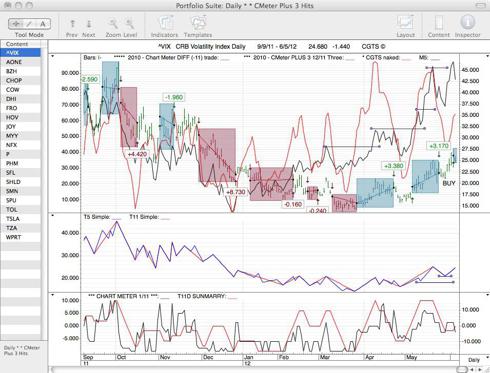 Click to enlarge
The key chart, in my mind, relative to this market decline is USDEUR. Does this look like the Dollar is ready to correct? Trends are very positive. M2F Alt in the bottom pane is suggesting USD overbought short-term -- but no apparent weakness.
Spain is now effectively shut out of the credit markets. Spain is resisting an EU/IMF bailout and wants to avoid the Troika participation that destroyed Greece. Spain is calling upon the good heart of the EU to bail out its banks directly, recapitalizing them without engineering a austerity contract with Spain. Spain lost $100 billion last quarter, as foreign capital fled Spain.
Ambrose Evans-Pritchard at the Telegraph writes:
European diplomats say Spain is playing a high-stakes game of brinkmanship with Germany, betting that Chancellor Angela Merkel will blink before the crisis spins out of control.

The hope is that Germany will let the European Stability Fund recapitalise banks directly, and give the ECB a green light for renewed bond purchases to cap yields. "Europe needs fiscal integration, with a fiscal authority, a banking union with eurobonds, with a banking supervisor and a European bank deposit guarantee fund," said Mr Rajoy.

Steen Jakobsen from Saxo Bank said the idea that Spain's mutli-layered problems could be solved with €40bn was "nonsense". Economists from RBS say Spain will need between €370bn and €450bn once any rescue begins since any half-measures would lead to investor flight by junior creditors fearing subordination.
American banks are also bankrupt. We've been hiding this fact since 2009. And the Fed has been force-feeding American banks with free taxpayer money through QE's and "operation twists" in an attempt to recapitalize American banks. But we now see quite clearly what the orgy of cheap debt for Housing Bubbles and consumer credit bubbles does to economies and societies.
(click to enlarge)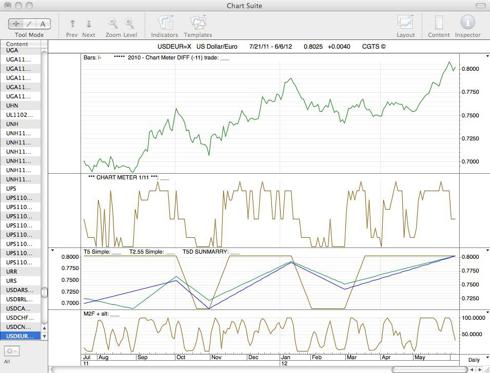 Click to enlarge
Stocks won't go down until the Dollar goes down. No dollar decline is appearing yet.
Another short-sell idea for today: IRE, Bank of Ireland.
There are two other stories in the Telegraph that caught my eye today. The first claimed that 'Iceland Off the Critical List' -- weren't they going to be destroyed for ever for turning their back on the banks of the world?
A second story, written by Bruno Waterfireld in Dublin claimed that Ireland is not off the critical list, but, despite heroic austerity, is still in trouble.
But it's not all a rosy picture.

Ireland still faces serious economic challenges and there are pitfalls ahead.

Despite pouring €64bn of Irish public money into its banks since 2008, at huge political cost, the collapsing value of property and an escalating home loan crisis is raising new questions over whether yet more capital is needed to cover bank losses.

Ireland has made its austerity targets but has not escaped the debt spiral with borrowing levels hurtling towards 120pc of GDP. There has been growth but amid a recession in the eurozone its economy slipped back into a downturn in the first half of 2012.

The country still faces unemployment of 14.3pc and extra pressure on the domestic budget from weaker economic activity than anticipated, compounded by high exposure to risks from eurozone contagion.

A European Commission report last week lavished praise on the euro's model pupil but also warned of trouble ahead.

"Key challenges and risks in the period ahead relate to the adverse external environment and in particular the risk of unfavourable developments in the euro area; increasing related challenges to bank deleveraging and funding; the complexity of the reorganisation of the financial sector," it concluded.
(click to enlarge)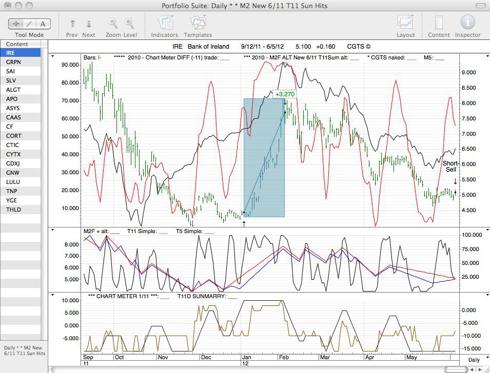 Click to enlarge
MICHAEL J CLARK
CGTS - Hanoi, Vietnam
Disclosure: I am short PHM.