IF THIS IS A RALLY...
If this is a rally, why are we getting so many shortsell signals? Yesterday was a positive day for stocks, for the most part. Still, shortsell signals are pouring in. Below is a list of today's signals for one of our better trading systems. Note: this is only one of our trading systems. We had other shortsell signals also.
| | | | |
| --- | --- | --- | --- |
| APOL | 30.63 | Enter Short | Apollo Group |
| BBVA | 6.08 | Enter Short | Banco Bilbao Argent SA |
| CNTF | 1.04 | Enter Short | China Tech-Faith Wireless |
| DSX | 6.91 | Enter Short | Diana Shipping |
| ESI | 56.63 | Enter Short | Intl Educational Svc |
| GNW | 5.12 | Enter Short | Genworth Financial |
| HL | 4.32 | Enter Short | Hecla Mining |
| IES.DE | 0.99 | Enter Short | Intesa San Paolo SA |
| IRE | 5.28 | Enter Short | Bank of Ireland |
| ITMN | 11.92 | Enter Short | Intermune Inc |
| JDSU | 9.29 | Enter Short | JDS Uniphase |
| KWT | 35.98 | Enter Short | Solar ETF |
| MTL | 5.89 | Enter Short | Mechel Open Joint Stock Company |
| MXWL | 6.67 | Enter Short | Maxwell Technologies |
| NOG | 15.74 | Enter Short | Northern Oil and Gas |
| SAN | 5.56 | Enter Short | Banco Santander |
| VCI | 20.32 | Enter Short | Valassis Communications |
| VVUS | 29 | Enter Short | VIVUS Inc |
| WPRT | 35.73 | Enter Short | Westport Innovations |
|   |   |   |   |
| BZQ | 79.68 | Enter Long | Short Brazil Shares ETF |
| EEV | 29.29 | Enter Long | Short MSCI Emerging Markets ETF Daily |
| FXP | 28.56 | Enter Long | Short FTSEChina Index ETF Daily |
Not only are we getting shortsell signals; we are also getting buy signals on inverse ETFs: Brazil, Emerging Markets, and China are all essentially giving shortsell signals too.
What gives? With so many bulls on internet chat services, on CNBC, in American news services claiming that everything is fine with stocks...why so much negativity showing up in my systems?
Of course we understand the technical sequence. Stocks rally up into overbought territory, but don't rally hard enough to change the underlying trends, which remain negative. In this overbought territory, stocks run in to a lot of gravity from stock-holders wanting to get out, which pushes the stocks back down.
We also need to look at the US Dollar, which is also activity as a gravity-factor for stocks and commodities. The Dollar has been correcting for the last few days. But that 'correction' is nearing an end. Look at the black line in the top pane of the UUP chart -- the Dollar is now oversold, short-term. Long-term and intermediate-term the Dollar is bullish. This is a negative for stocks and commodities.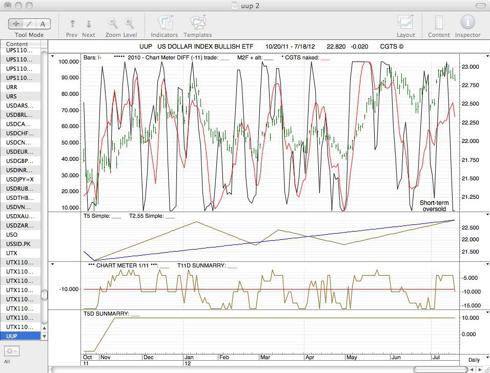 So where are all these shortsell signals? Certainly 'for profit' private education scam-companies are in trouble: add APOL and ESI to that list. Gold is going lower. We have banks and financial companies on the list above, IRE, SAN, GNW, BBVA. Ireland has a huge debt load still, after all their squirming and cost-cutting. Ireland's problems are not over.
Well, let's look at some pictures. Asia looks trouble short-term. And let me remind you that these trades are short-term: anywhere from 3 days to a month and a half. The Nikkei and the Hang Seng Index are both giving short-sell signals.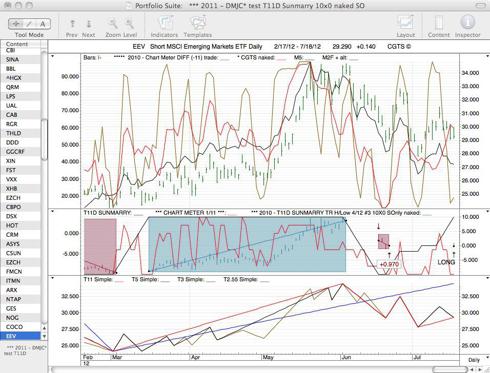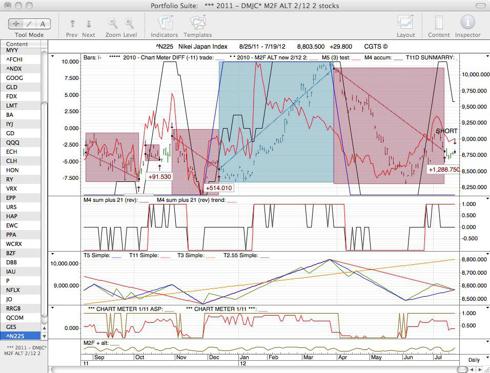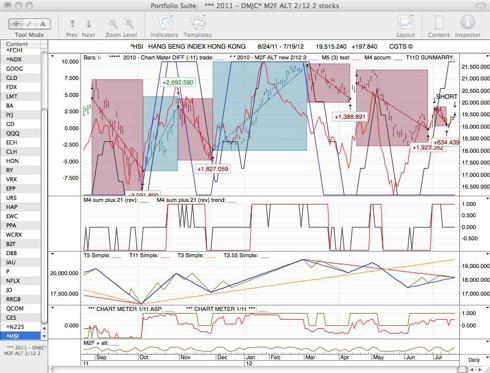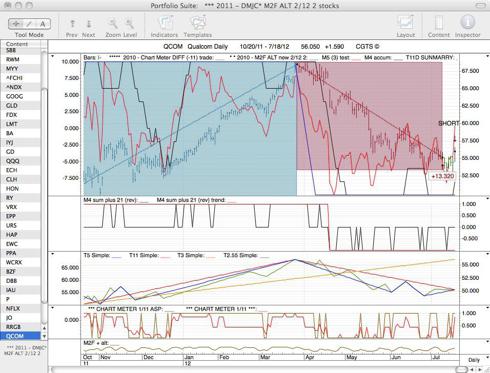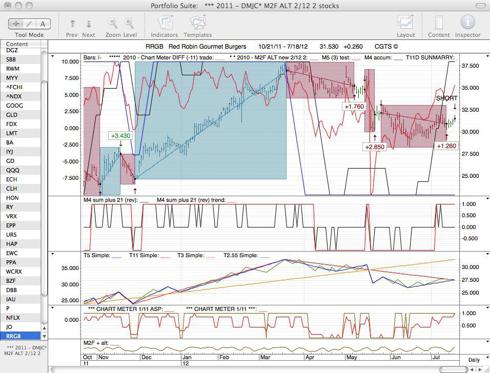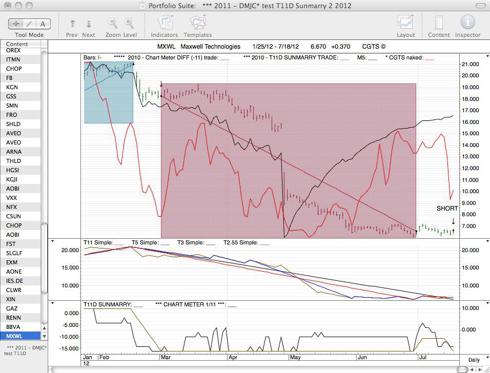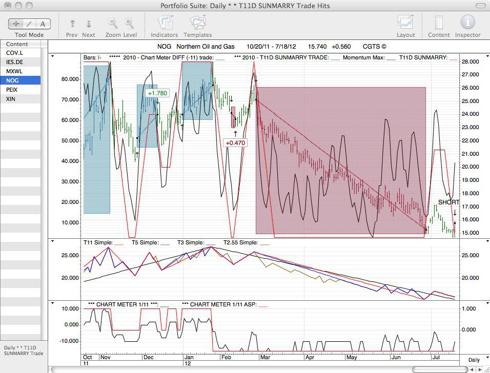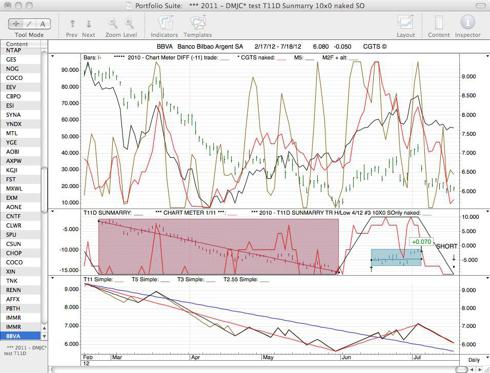 VVUS is a bit strange, showing up on this list. An attempt to come down; followed by a big jump after good news; but closing near a low. I would wait on this one.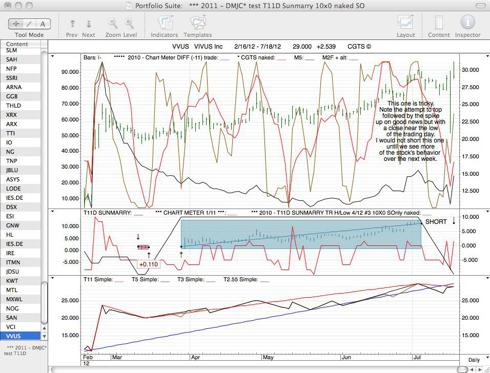 We have a couple for those who like to trade long only: Coffee ETF and Netflix.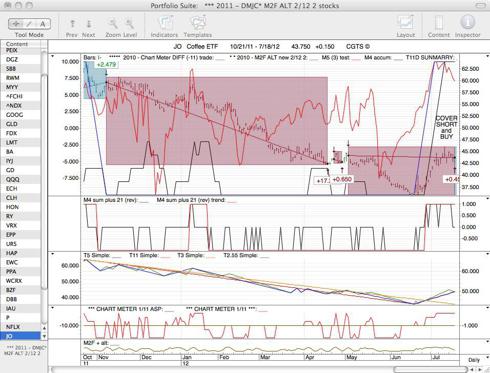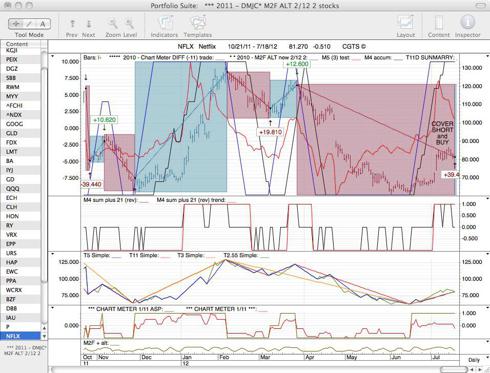 We did have a slight tick up in all three of our market internals indicators, which might give the bulls a bit of encouragement.
We also had, in Hanoi, the magical disappearance of CNBC off our cable package. I took this as a symbol, of course. Whatever its 'cause' it also has symbolic value. Now I find myself with more time on my hands, and I'm spending less time grimacing and telling my wife what fools we have to deal with. I think she appreciates this.
It is VERY HOT and HUMID in Hanoi, over 100, and very wet. Nightly rains and electrical storms. We had a tree-frog move in to our house about a month ago, downstairs, and he barks most of the night, calling in the rainstorms, and perhaps a wife. We got him a wife, having our Bread Woman deliver her from the countryside a few days ago. We're expecting to see baby frogs running (jumping) around our basement in a short time.
| | | | | |
| --- | --- | --- | --- | --- |
| ChartMeter ASP | 512 |   |   |   |
| Date | PLUS | Zero | Minus | % Long |
| 2-Jul | 284 | 51 | 177 | 55.47% |
| 3-Jul | 290 | 52 | 170 | 56.64% |
| 5-Jul | 292 | 47 | 173 | 57.03% |
| 6-Jul | 257 | 77 | 178 | 50.20% |
| 9-Jul | 242 | 94 | 176 | 47.27% |
| 10-Jul | 214 | 119 | 179 | 41.80% |
| 11-Jul | 206 | 128 | 178 | 40.23% |
| 12-Jul | 187 | 141 | 184 | 36.52% |
| 13-Jul | 236 | 98 | 178 | 46.09% |
| 16-Jul | 214 | 111 | 187 | 41.80% |
| 17-Jul | 219 | 110 | 183 | 42.77% |
| 18-Jul | 253 | 77 | 182 | 49.41% |
|   |   |   |   |   |
| T11 SUNMARRY | 512 |   |   |   |
| Date | PLUS | Moving | Minus | % Long |
| 2-Jul | 255 | 41 | 216 | 49.80% |
| 3-Jul | 256 | 39 | 217 | 50.00% |
| 5-Jul | 278 | 44 | 190 | 54.30% |
| 6-Jul | 282 | 44 | 186 | 55.08% |
| 7-Jul | 283 | 42 | 187 | 55.27% |
| 10-Jul | 280 | 39 | 193 | 54.69% |
| 11-Jul | 274 | 39 | 199 | 53.52% |
| 12-Jul | 265 | 41 | 206 | 51.76% |
| 13-Jul | 257 | 44 | 211 | 50.20% |
| 16-Jul | 257 | 41 | 214 | 50.20% |
| 17-Jul | 251 | 41 | 220 | 49.02% |
| 18-Jul | 253 | 28 | 231 | 49.41% |
|   |   |   |   |   |
|   |   |   |   |   |
| M4 SUM | 512 |   |   |   |
| Date | PLUS | Moving | Minus | % Long |
| 10-Jul | 335 | 0 | 177 | 65.43% |
| 11-Jul | 324 | 0 | 188 | 63.28% |
| 12-Jul | 299 | 0 | 213 | 58.40% |
| 13-Jul | 301 | 0 | 211 | 58.79% |
| 16-Jul | 290 | 0 | 222 | 56.64% |
| 17-Jul | 283 | 0 | 229 | 55.27% |
| 18-Jul | 284 | 0 | 228 | 55.47% |
Michael J. Clark, Hanoi, Vietnam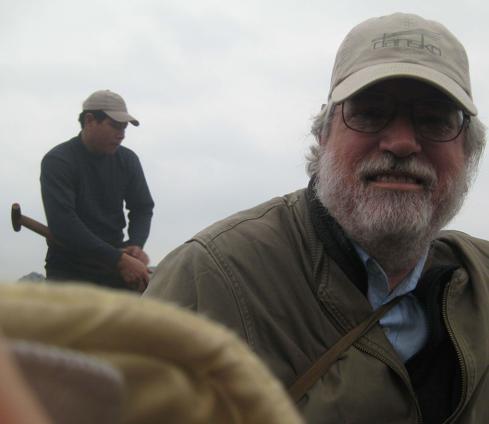 Michael Clark and Charon, ferryman through the Underworld (Night-Cycle)