CLARK'S GATE TIMING SYSTEM
  FOR: 12 AUGUST 2010
- THURSDAY
A.  MARKET MOMENTUM
CGTS VIEW
: So, we finally get the selling we expected two weeks ago.  And it came down hard.  We had been warning readers to be cautious.  The selling is not over, so caution should continue.  Is the rally over?  Short-term it is.  Longer-term?  Well, we'll have to watch and see.  Our momentum indicators below are snap-shots of the market AS THEY ARE TODAY.
Our more visionary indicators are the M5 3 and M5 3 Average indicators.  They show what is coming.  Our cautionary charts we've been running are pictures of the future to a large extent.
Our short-term momentum indicator -- numbers hitting +1 (positive) or -1 (negative) changed a -82 today from yesterday.  We now have only 8 issues hitting +1, and 57 hitting -1.  Most issues are in-between.
The Momentum Trend (those in the positive zone of 1-0 versus those in the negative zone of 0-negative 1) lost 54 points.  Still 230 are positive vs. 80 that are negative.
The Advance-Decline Line (most recent moves up or down) is at a very low 10% bullish, with a change of -106 today.
Only 6 issues meet our criteria for a long trade (+1 M4 Sum Plus and Intermediate trend positive), while 32 meet our criteria for a short trade (-1 M4 Sum Plus and IT Trend negative).
The intermediate-term trend of most issues are still positive (232 to 75), but this is a lagging indicator.
August 12, 2010

 

 

 

 

 

Positive

Negative

 

 

TRADING MOMENTUM

 

 

 

8

57

<--

Key

Yesterday's Reading

-82

Short-Term

 

 

 

diff

 

MOMENTUM TREND

 

 

 

ONE/ZERO OR ZERO/MINUS ONE

230

80

<--

Key

Yesterday's Reading

-54

Long-Term

 

 

 

diff

 

 

 

 

 

 

ADVANCE/DECLINE

 

 

% Bullish

31

279

 

10.00%

Yesterday's Reading

-106

27.10%

 

 

 

diff

 

LONG TRADE VS SHORT TRADE

6

32

 

 

Yesterday's Reading

-55

 

 

 

 

diff

 

Intermediate-Term Trend

232

75

 

 

Yesterday's Reading

-9

 

 

 

 

diff

 

GSPC, SP500, MOMENTUM:

 

 

 

 

 

 

 

 

GSPC, M2F ALT READING

12

   oversold

 

 

Yesterday's Reading

37

 

 

Overbought 80-100; Oversold 20-0

 

 

 

 

 

 

 

 

GSPC M4 Plus 21 Short-Term

0

 

 

Yesterday's Reading

0

 

 

1 bullish; 0 neutral; -1 bearish

 

 

 

 

 

 

 

 

GSPC M4 Plus 21 Long-Term Trend:

1

 

 

Yesterday's Reading

1

 

 

1 bullish; 0 neutral; -1 bearish

 

 

 

 

 

 

 

 

 

 

 

 

41.77

 

 

GSPC Current price:

1089.46

 

 

 

1.45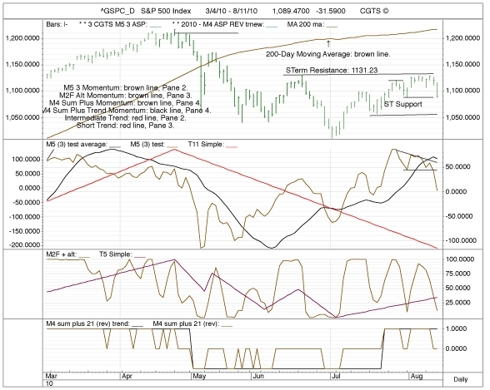 Comments on GSPC chart
:

The short-term momentum indicator (M2F Alt, Pane 3 from above, brown line) is oversold, so, short-term, we will be approaching an an attempted bottoming

M4 Sum Plus
(bottom pane, brown line) continues to reside at 0, having clicked down from +1: selling or a sidways market is likely until it clicks back up. This trend is negative at the moment and suggests selling continuing.
M4 Sum Plus Trend
(bottom pane, black line):  The intermediate Momentum Trend  is +1  -- positive.


M5 3 Momentum
(second pane from top, brown line) This key indicator has broken support and is suggesting we are at a major top and will have a substantial decline.  The difference between my call two weeks ago for the end to this rally and today is that two weeks ago M5 3 was not in a freefall.  Today it seems to be entering a freefall.  Time will tell.  It is breaking support, which usually means selling is coming.
T5 Short-Term Trend
(second pane from bottom, red line) is in a positive trajectory but a slightly negative pattern (lower low); but it has taken out overhead resistance, which is a positive.

 
T11, Intermediate-Term Trend (second pane from the top, red line): negative.  It is hard to sustain a rally in the opposite direction of this trend line.

Overall: negative at the moment, in the short-term.  A look at a couple more charts helps to explain the negativity.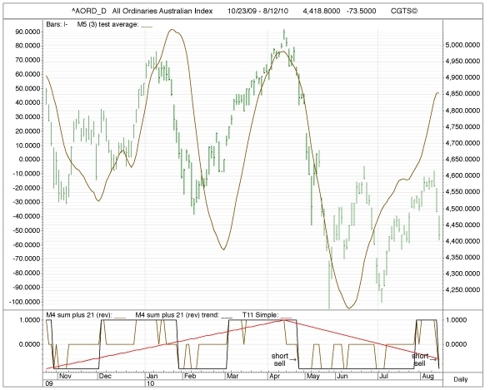 AORD has seen its M4 Sum Plus break down to negative 1.  It is overbought in terms of M5 3 average (top pane) -- and the price has lagged the M5 3 average indicator.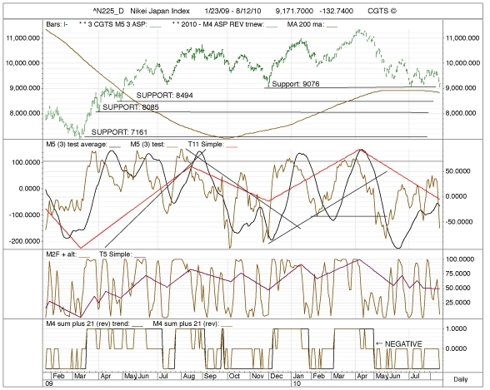 The Nikkei Japan Index continues to paint a horrible picture technically.  M4 Sum Plus is negative and has been negative since April.  Short-trend and intermediate trends are both negative; and the pattern of the short-trend (second pane from below, red line) is negative with lower lows and lower highs.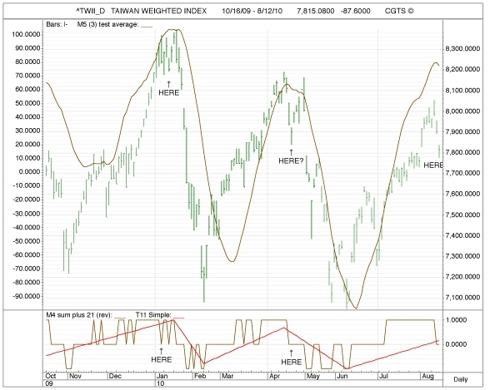 Taiwan Index: Good rally.  But it seems to be breaking down here.  It may make another attempt to rally back; but it seems to be making a top here.



B.  THOUGHTS ON THE ECONOMY
It's a very strange dependent relationship now. Wall Street expects the Fed to keep the market from declining. Is that the role of the Fed, to keep the bulls in control of the markets, by spending taxpayer money to do so? I thought the Fed was supposed to regulate the economy by raising rates when an Economic Growth Season ends and lowering rates when an Economic Growth Season begins, stimulating the natural cycles. The control freak wants GROWTH all the time. Wants a Bull Market ALL the time. Wants CREDIT EXPANSION (and debt) all the time. That's what happens when the Fed has too much fiscal testosterone and not enough philosophy.

Audit the Fed, follow the money trail, see what they've been doing all these years. It's not going to be pretty. It's organized crime, wearing a white shirt and tie.
The Economy. 
Capitalism has a destructive final stage; the Winter season of deflation, depression and destruction of matter. We can't have the first three seasons of planting, flowering and fruiting without the destruction season also. Let's not be moral cowards. Let's take our medicine so we can get on with our rebirth.

I like Reagan's quote: "No easy answers; but there are simple answers." Higher interest rates; higher savings rate; higher taxes, lower spending are some of the simple answers. Some will squirm at the higher taxes part -- but it's designed to pare our debt, and it can't hurt our growth rate because in the Winter there is no growth anyway.

Growing cycle begins again around 2019 (which is actually Midnight/Winter) at which time the light is born and slowly begins to grow. Then lower interest rates, lower taxes; and hopefully we will have a storehouse of cash for consumers to take out of their savings accounts to invest in American business through Wall Street -- investing saved money instead of debt.
Stocks have topped short-term.  We'll see if the buy-the-dips philosphy continues to work.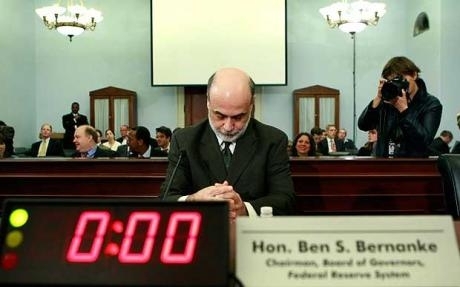 Some pictures tell a thousand stories -- this picture tells us two.  (1) Ben Bernnanke is running on empty. And (2) he is running out of time.

C.  TRADING SIGNALS

Today we're looking at some more issues that are M5 3 Average in a dangerous position -- in fact we're watching them for short-selling opportunities.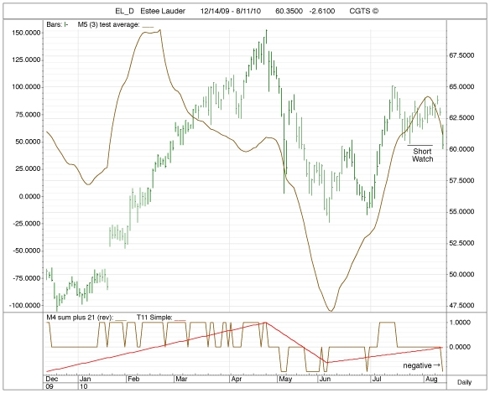 Estee Lauder seems to be breaking down here.  M4 Sum Plus (bottom pane) also has turned to -1.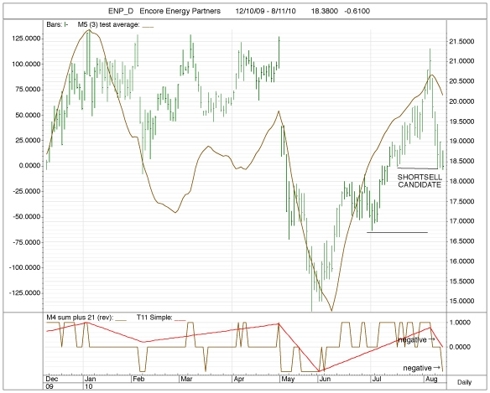 Encore Energy Partners: Has turned negative on top, and also in the bottom pane.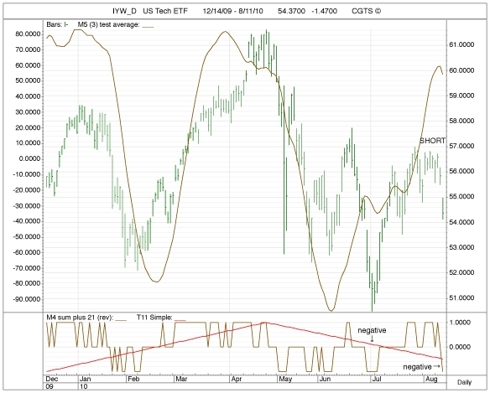 Short IYW, US Technology ETF.  This rally has not been especially impressive for tech stocks and IYW flattened out hard in August, unable to make a new high.  Now it's started down.  See the Short-Technology ETF below, for a reverse picture.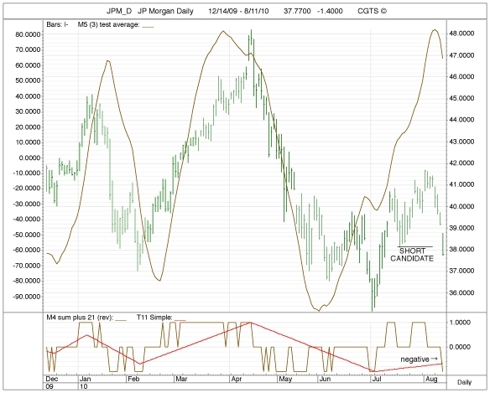 No rally at all for JP Morgan -- now the stock is breaking down.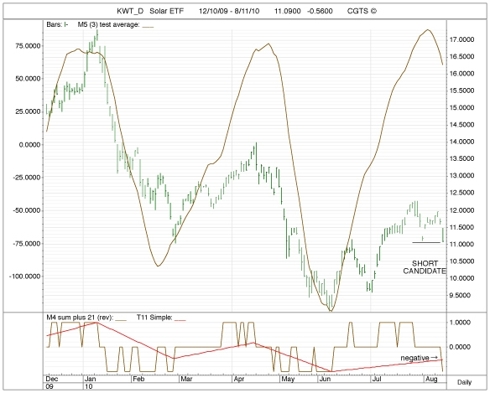 Solar ETF: no rally and now an apparent top.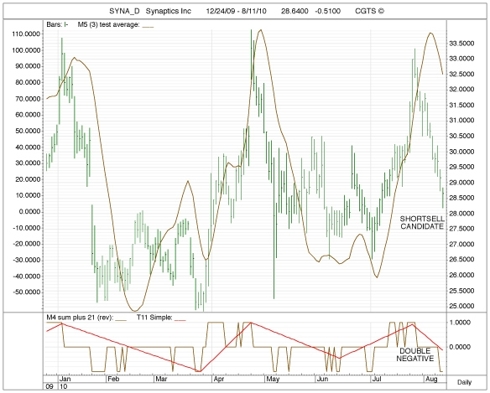 Synaptics has now gone south with our M4 Sum Plus indication (bottom pane).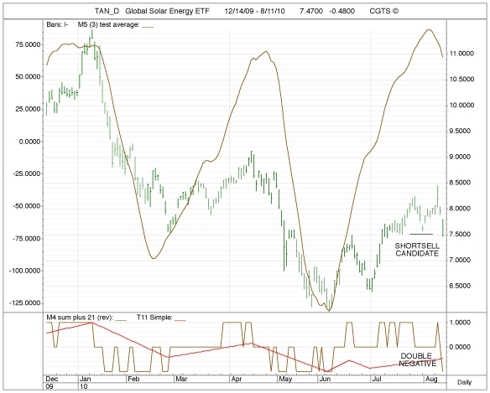 Solar stocks breaking down.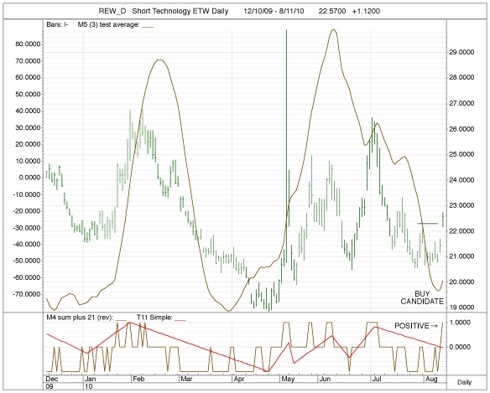 REW makes money when technology stocks go down.  It's look more like a buy now, as M4 Sum Plus has gone positive.

More information on the CGTS systems can be found at:
http://home.mindspring.com/~mclark7/CGTS09.htm
MICHAEL J CLARK
Clark's Gate Timing System
Hanoi, Vietnam
84 4 221 92210
Disclosure:
No positions to disclose.