CLARK'S GATE TIMING SYSTEM
  FOR: 17 AUGUST 2010
- TUESDAY
A.  MARKET MOMENTUM
CGTS VIEW
: We have a stabilization of the momentum in the stock markets.
Our key short-term momentum indicator -- numbers hitting +1 (positive) or -1 (negative) is now 15% bullish, up from only 9% bullish. 
The key intermediate-term Momentum Trend (those in the positive zone of 1-0 versus those in the negative zone of 0-negative 1) continues to lose ground, now only 58% bullish, down from nearly 90% last week, and down from 62% on Friday.
The Advance-Decline Line (most recent moves up or down) bounced up to 33% bullish, from a very low 18% bullish on Friday.  Stocks registering an uptick from -1 to 0 show up on the Advance side of this line.
Only 20 issues meet our criteria for a long trade (+1 M4 Sum Plus and Intermediate trend positive) -- up from 14 on Friday -- while 75 meet our criteria for a short trade (-1 M4 Sum Plus and IT Trend negative).  This is only 21% bullish
The intermediate-term trend of most issues are still positive (191 to 117), but this is had a change of -27 from Friday, indicating that this trend is still breaking down.
August 17, 2010

 

 

 

 

 

Positive

Negative

 

 

Key Short-Term

 

 

 

 

TRADING MOMENTUM

 

 

% Bullish

26

151

 

15%

Yesterday's Reading

45

9%

 

 

 

diff

 

Key Long-Term

 

 

 

 

MOMENTUM TREND

 

 

% Bullish

ONE/ZERO OR ZERO/MINUS ONE

180

130

 

58%

Yesterday's Reading

-24

62%

 

 

 

diff

 

 

 

 

 

 

ADVANCE/DECLINE

 

 

% Bullish

103

207

 

33.23%

Yesterday's Reading

90

18.71%

 

 

 

diff

 

 

 

 

 

 

 

 

 

 

% Bullish

LONG TRADE VS SHORT TRADE

20

75

 

21.05%

Yesterday's Reading

5

15.91%

 

 

 

diff

 

 

 

 

 

 

 

 

 

 

% Bullish

Intermediate-Term Trend

191

117

 

62.01%

Yesterday's Reading

-27

66.45%

 

 

 

diff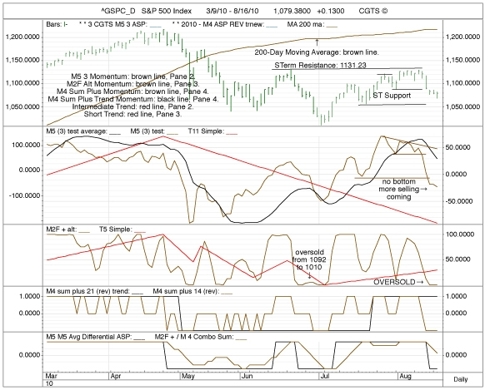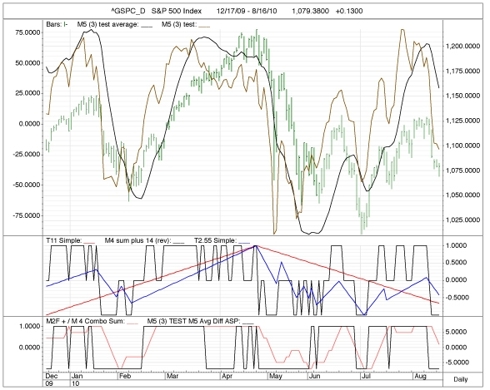 Comments on GSPC chart
:

The short-term momentum indicator (M2F Alt, Pane 3 from above, brown line) is oversold, so, short-term, we will be approaching an an attempted bottoming.  As the chart notes, an oversold (or overbought) condition can last a long time and move against its own description -- i.e., in late June GSPC reached an M2F alt oversold condition at 1092 and continued to decline another 100 points or so before turning back up to try to establish a bottom.  This is a secondary indicator.

M4 Sum Plus
(bottom pane, brown line) -1.  This confirms the selling trend.
M4 Sum Plus Trend
(bottom pane, black line):  The intermediate Momentum Trend  is +1  -- positive.


M5 3 Momentum
(second pane from top, brown line) This key indicator has broken support and is suggesting we are at a major top and will have a substantial decline.  The difference between my call two weeks ago for the end to this rally and today is that two weeks ago M5 3 was not in a freefall.  Today it seems to be entering a freefall.  Time will tell.  It is breaking support, which usually means selling is coming.
T5 Short-Term Trend
(second pane from bottom, red line) is in a positive trajectory but a slightly negative pattern (lower low); but it has taken out overhead resistance, which is a positive.  Trends tend to change more slowly and always after momentum indicators change.

 
T11, Intermediate-Term Trend (second pane from the top, red line): negative.  It is hard to sustain a rally in the opposite direction of this trend line.

Overall: negative at the moment.  A look at a couple more charts helps to explain the negativity.

Second GSPC chart:

Watch the top pane, the black line, M5 3 Test Average.  This is a long-term overbought/oversold momentum indicator, moving between (about) +100 and -100 ranges.  Positive 50 is overbought; Negative 50 is oversold.  When this indicator is topping and is overbought, it is proclaiming a top.  Look below to the second pane from the top, at the black line, M4 Sum Plus: when this indicator is -1 for two days in a row (ignore spikes up or down), this confirms the sell signal.  The bottom pane has two other indicators that measure intermediate-term momentum.  The DJIA is giving a short-sell signal now.  We expect more selling.  The black line (top pane), to reach a bottom, must cross the corresponding brown line (M5 3 Avg Differential) AND M4 Sum Plus (Pane 2) must confirm the bottom with two days at +1.

CURRENCIES

One of our readers challenged our view that the US Dollar was bottoming.  He writes:

Ha, so you were wrong two weeks ago, and you are probably wrong again. The first thing I note is 'the dollar is rallying.' Hm, the yen hit a new high and may test the all-time high of 79 yen to a dollar. And how can the dollar rally is the central bank just promised it would pump more dollars into the economy?



I replied:


It's not the first time I've been wrong -- and I will be wrong again.

How CAN the dollar rally? It's a paradox, isn't it. Because the European contagion is going to rise up again. Because Japan knows that it has to buy dollars and sell yen or they can't compete in terms of exports.

Take a look at the recent action in UUP, US Dollar Bullish ETF, and tell me it's not beginning a rally.

All the currencies of the world are flawed -- but some are more flawed than others. And the Euro seems to be the most flawed at the moment, with such an ill-considered union pasted together with a naive approach to 'national/federal' interest rate policy.
This led me to wonder about presenting some currency charts, using our longer-term momentum indicator (M5 3 Average) just to see how the complex looks.  Remember, in these charts, the green line in the top pane is the currency price; the black line in the top pane is M5 3 Average, the key indicator in these charts; and the brown line in Pane One is the M5 3 Indicator, a short-term momentum indicator.

First, the Australian Dollar has been very strong of late.  This seems to be ending.  Here's a chart of AUD vs. Canadian Dollar.  The Canadian Dollar has also been strong -- except against the Aussie Dollar.  M5 3 Average is overbought now, and beginning to turn down.  M4 Sum Plus in the Second Pane down does not confirm a sell yet -- but M5/M5 Average ASP in the bottom pane is confirming a top.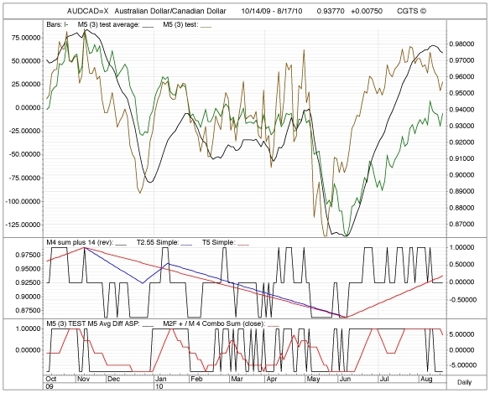 AUD vs. Chinese Yuan also looks to be topping.  The picture is very like the AUDCAD chart above.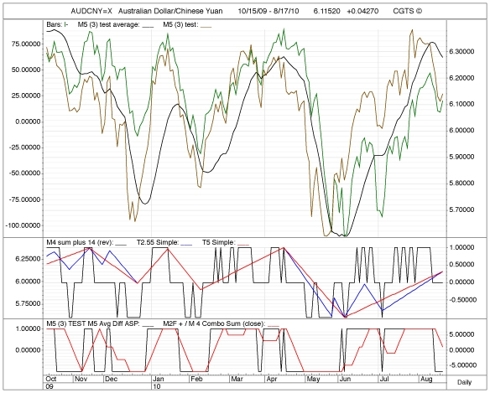 The AUD has struggled against the Japanese Yen (as have all currencies) -- but that struggle might be ending now with lower prices guaranteed.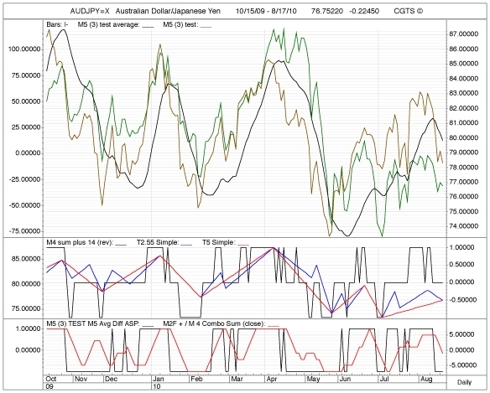 The AUD upmove against the New Zealand Dollar is still intact.  There is no sign of exhaustion here yet.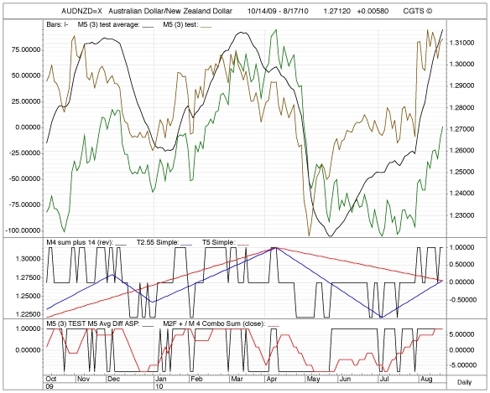 The Aussie Dollar has held up remarkably against the Euro ("everything is fixed with our banks and our new austerity will make everything alright") Rally.  It looks like a sneeze in the chart, not a rally.  And the Euro is coming down again against the AUD.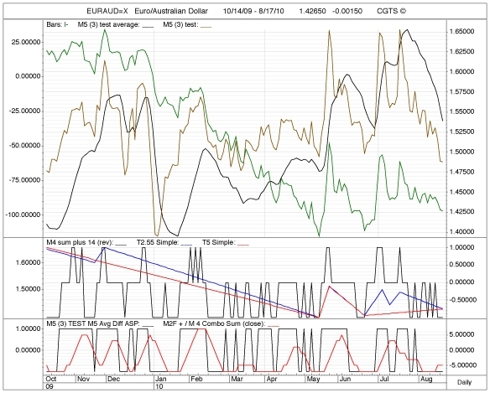 The The Aussie advance against the US Dollar also seems to be nearing its top.  Note, the bottom pane is already showing sell AUD setting in.


How does the US Dollar look against other currencies?  Well, it has rleady topped against the New Zealand Dollar.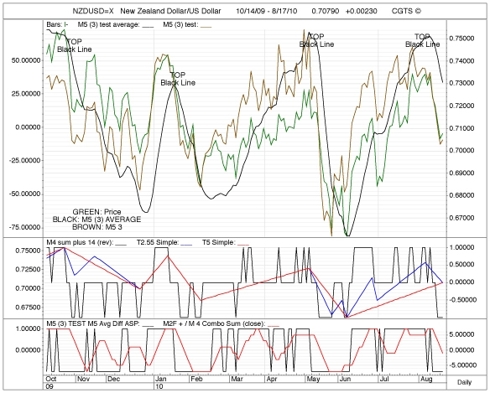 USD vs Swiss Franc.  The dollar is trying to make a bottom, a wide sweeping bottom.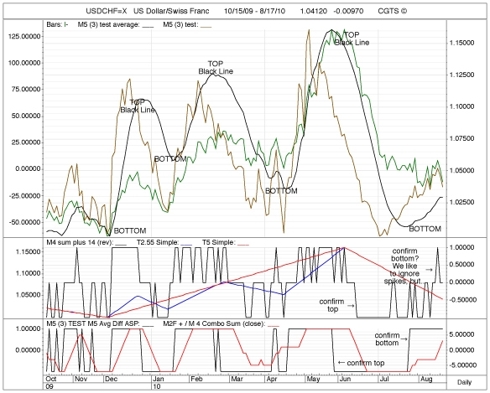 USDollar vs Euro.  The bottom seems in place.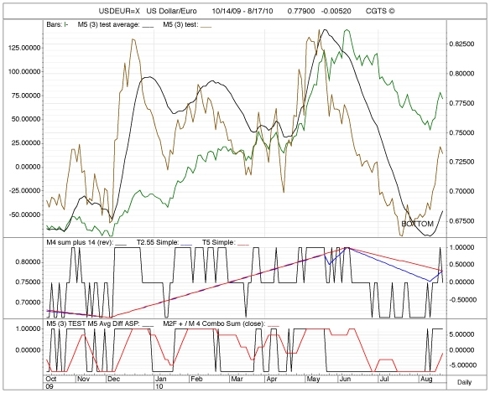 USDollar vs British Pound.  Dollar seems to have put in a bottom.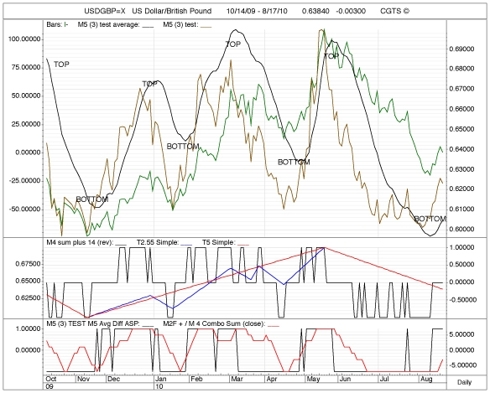 All the currencies are struggling against the Japanese Yen.  The Dollar is, as well.  When it was supposed to be bottoming it was sinking lower.  It is 'trying to bottom'; but this bottom has not been confirmed by M4 Sum Plus below.  We need to see M4 Sum Plus tick up to +1 as an indication that progress is being made in this bottom-building process.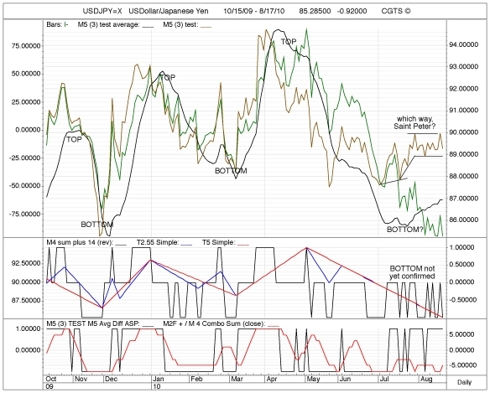 What about the Euro?  We read that it is carrying out a kind of inevitable death sentence?  Do the charts show this?

Well the Euro rally against the Canadian Dollar has been feeble; and it is apparently topping now.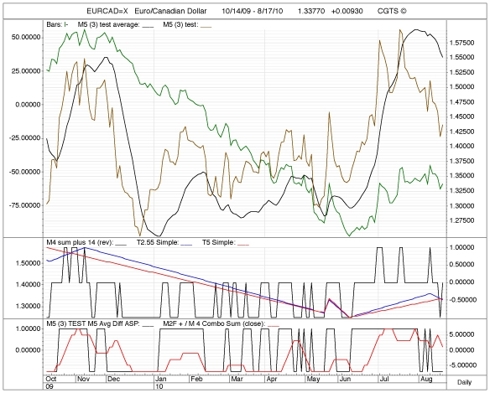 The Euro rally against the Swiss Franc was also lame, and it has already vanished.  An M5 3 and and M5 3 Average that are so far above the price in the chart is really a negative sign indicating a lack of sustained buying power.  More selling is at hand I think.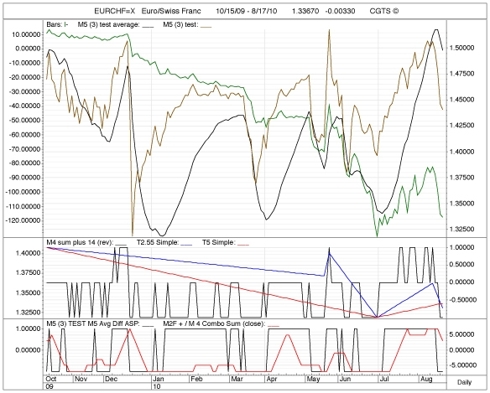 Euro vs China?  Again, no contest.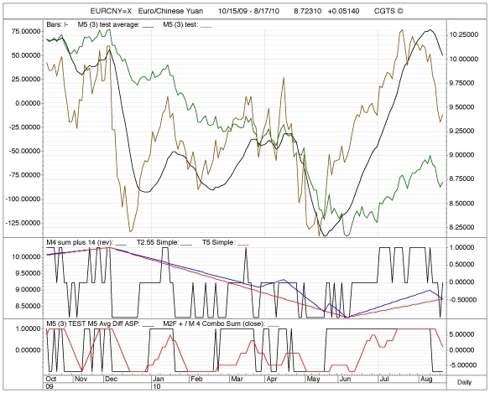 Euro vs British Pound.  A lame rally by the Euro, followed by a TKO in favor of the pound.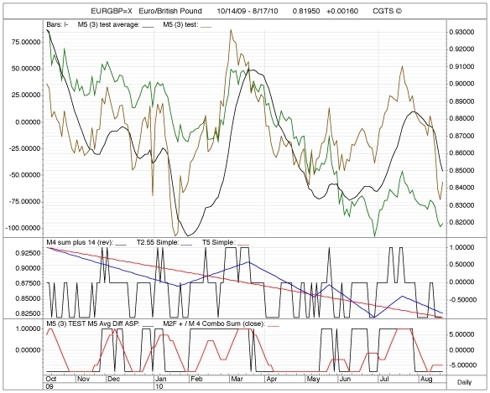 Euro-Japanese Yen.  No rally at all -- and topping.  Price of Euro seems guaranteed to make a new low versus the Yen.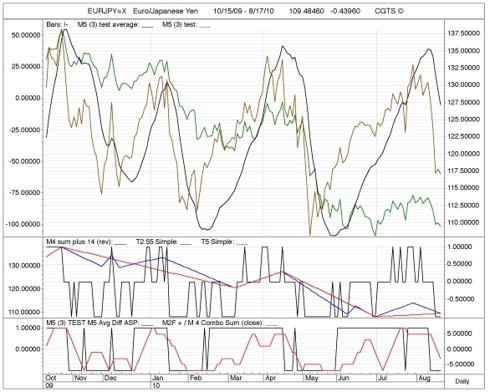 Is the Pound simply pounding on another weakling when it hammers the Euro?  No.  The Pound has been strong against the Swiss Franc in recent weeks.  But that strength is topping out now.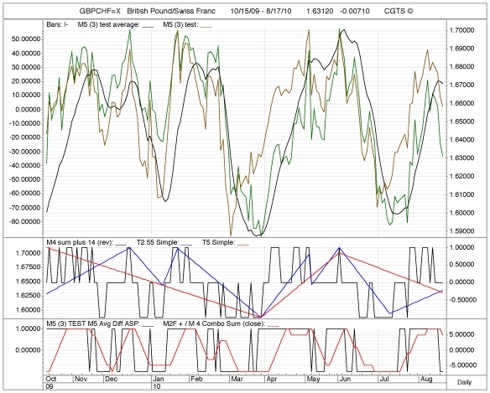 Can the Pound stand toe-to-toe with the Japanese Yen?  Of course not.  A feeble rally that is now ending in favor of the Yen.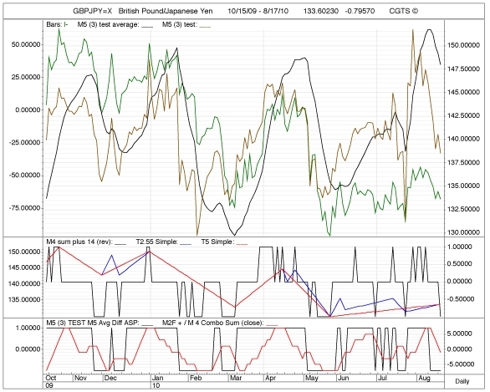 How about the New Zealand Dollar?  How has it done against the Yen?  Not so great.  A little better than the Pound and much better than the Euro and the US Dollar.  The Canadian Dollar didn't do very well against the Yen either, although it did show strength at times against the other currencies.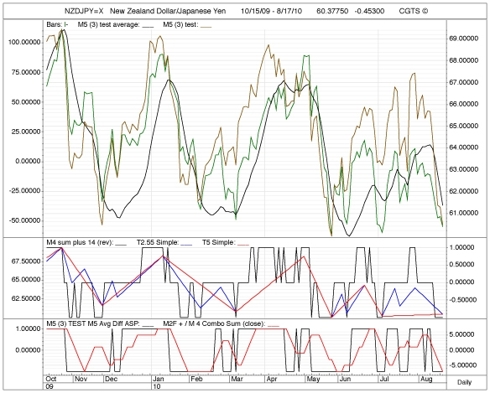 The Japanese Yen is clearly the winner in terms of currency strength.  But trading the currency markets isn't about one winner, since it's more like a tournament in which every team gets to play against every other team. 

Japan is squirming and screaming about its own currency strength, which makes it more difficult for Japan to compete as an exporting nation.

Sometimes a weaker currency is a benefit -- and Europe can take some comfort from this -- Germany at least. 

THOUGHTS ON THE ECONOMY
After the tech bubble Alan (Mister Magoo) Greenspan stepped in and pumped up the housing bubble to save the stock market -- of course, the housing bubble destroyed the global economy. After the housing bubble popped, Ben (Gentle Ben, Uncle Ben) Bernanke stepped in to pump up a commodities bubble, by further emasculating the US Dollar, and arranging free money for world bankers.

It seems that all our leaders can do now is to try to blow bubbles, inside of which they tell us we can store our illusions about the world being a safe place, with growth and development of civilization guaranteed to expand for ever.

Now Gentle Ben can't stop (Gentle Ben was a bear if I remember correctly). He's kind of a modern hood robbing the poor to give to the rich -- claiming that he's saving civilization for us. The rich have robbed the poor for ever -- and they have also claimed for ever that they were doing it to foster civilization.

Humans don't change much. Corrupt white collar criminals don't change much either. The difference between bankers and mafiosos is that the mafioso is the banker at the BEGINNING of his career....
Stocks have topped short-term.  We'll see if the buy-the-dips philosphy continues to work.  I believe stocks will seek a much lower bottom, based on an economy that can't be fixed, and a Fed Chair who has run out of ideas and ammunition.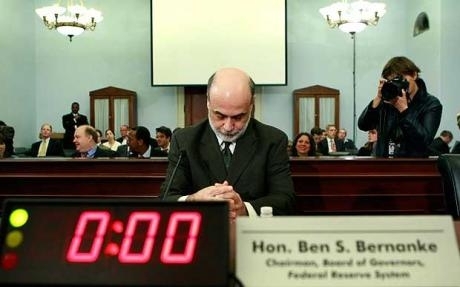 Some pictures tell a thousand stories -- this picture tells us two.  (1) Ben Bernnanke is running on empty. And (2) he is running out of time.

C.  TRADING SIGNALS


Stocks we love to hate (at the moment).  We're pretty convinced these stocks are going lower.
CLI, Mack-Cali Realthy Corp.  Everything seems to be breaking down.  See the short-term trend, blue line in Pane Two from above.  It is negative; and it just made a new low, breaking support.  This is the kind of confirmation we love when looking for a stock to short.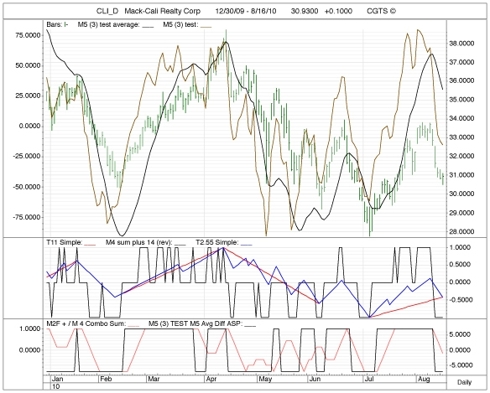 Earthlink, my very own ISP -- I hope they don't burn down my house.  It is NOT a bad-looking chart, except for that big round M5 3 Average top it is making.  It is going lower -- I'm not sure how much lower.  Probably down to 8.25 anyway.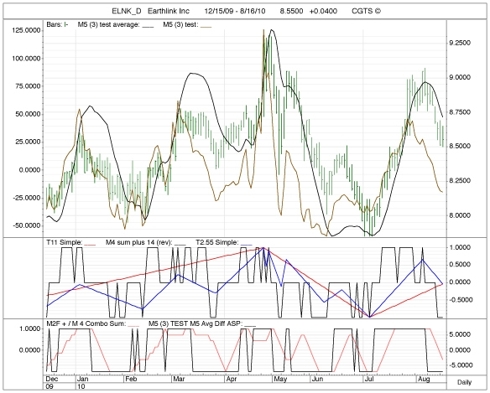 FXA: look at that Aussie Dollar coming back around again.  It's had a great run.  Is the run ending?  We kind of think it is, based, as well, on the other charts above.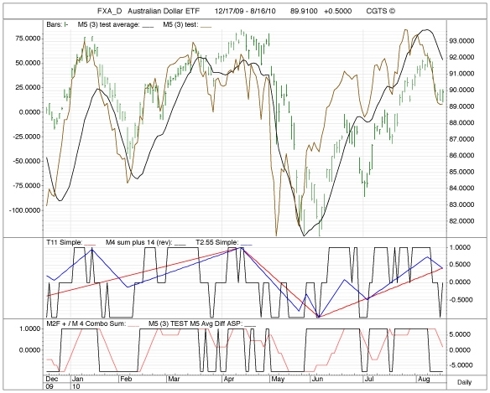 HAL, Haliburton.  Look how the M5 3 is free-falliing (top pane, brown line).  Note also, that the short-term trend (blue, Pane 2) has broken support and made a new low.  This one would be my favorite short of the group tonight.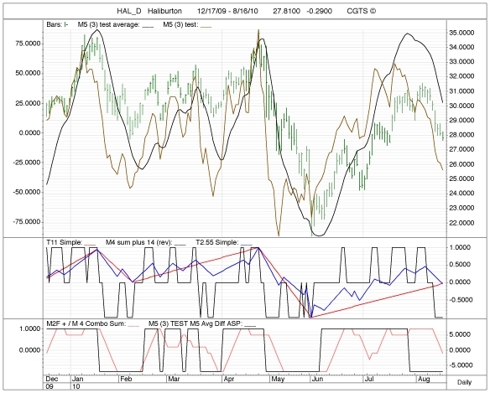 RHT, Red Hat: similar situation.  New lows on the short-trend.  It should test old support around 28.25.  That support may or may not hold.  We'll have to see what happens to the patterns in the mean time.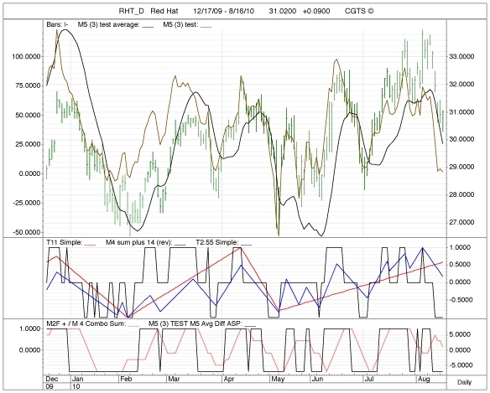 More information on the CGTS systems can be found at:
http://home.mindspring.com/~mclark7/CGTS09.htm
MICHAEL J CLARK
Clark's Gate Timing System
Hanoi, Vietnam
84 4 221 92210
Disclosure:
No positions to disclose