CLARK'S GATE TIMING SYSTEM
  FOR: 20 AUGUST 2010
- FRIDAY
A.  MARKET MOMENTUM
CGTS VIEW
: We've been calling this the end of the rally.  More selling like yesterday and there will be no question about it.
Our key short-term momentum indicator -- numbers hitting +1 (positive) or -1 (negative) is now 17% bullish, down from 51% bullish on Wednesday.  Issues hitting -1 jumped from 30 on Wednesday to 146 on Thursday.  This pretty clearly signals an end to the rally short-term.
The key intermediate-term Momentum Trend (those in the positive zone of 1-0 versus those in the negative zone of 0-negative 1) has fallen from a 'stabilized' 58% bullish on Wednesday to 24% bullish today.  There was a net negative change of 216, which means 216 issues fell out of the M4 Sum Plus positive zone to the negative zone.  Quite a change for one day.
The Advance-Decline Line (most recent moves are either up or down) is 39% bullish today, from 73% bullish on Wednesday.  This indicator is very sensitive and reaches oversold or overbought levels quite quickly.  39% is not oversold yet.
Only 24 issues meet our criteria for a long trade (+1 M4 Sum Plus and Intermediate trend positive) -- while 70 meet our criteria for a short trade (-1 M4 Sum Plus and IT Trend negative).  This is only 7% bullish -- showing how much the last sell-off took out of this market.
The intermediate-term trend of the issues I follow finds 187 in an up-trend and 121 in a down-trend.  This iindiator is our most conservative indicator and the last one to change direction.  Still, it continues to deteriorate, down  -8 from Monday, indicating that this trend is still losing strength.
August 20, 2010

 

 

 

 

 

 

Positive

Negative

 

 

 

Key Short-Term

 

 

 

 

 

TRADING MOMENTUM

 

 

% Bullish

 

30

146

 

17%

 

Yesterday's Reading

-117*

51%

 

 

 

 

diff

 

 

Key Long-Term

 

 

 

 

 

MOMENTUM TREND

 

 

% Bullish

 

ONE/ZERO OR ZERO/MINUS ONE

73

237

 

24%

 

Yesterday's Reading

-216*

58%

 

 

 

 

diff

 

 

 

 

 

 

 

 

ADVANCE/DECLINE

 

 

% Bullish

 

121

189

 

39.03%

 

Yesterday's Reading

-208*

72.58%

 

 

 

 

diff

 

 

 

 

 

 

 

 

 

 

 

 

% Bullish

 

LONG TRADE VS SHORT TRADE

24

70

 

7.79%

 

Yesterday's Reading

-56*


8.12%

 

 

 

 

diff

 

 

 

 

 

 

 

 

 

 

 

 

% Bullish

 

Intermediate-Term Trend

187

121

 

60.71%

 

Yesterday's Reading

-2 *


61.04%

 

 

 

 

diff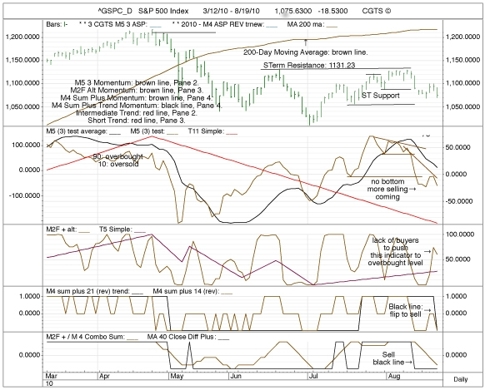 The short-term momentum indicator (M2F Alt, Pane 3 from above, brown line) is overbought and declining, meaning more selling should come in to the markets.

M4 Sum Plus

(bottom pane, brown line) -1.  This is a sell reading.

M4 Sum Plus Trend

(second pane from bottom, black line):  The intermediate Momentum Trend  is -1  --  sell.




M5 3 Momentum

(second pane from top, brown line) This key indicator has broken support and is suggesting we are at a major top and will have a substantial decline.  This indicator shows the recent move up, tepid at best, contained under the heavy weight of the M5 3 Momentum Average hovering overhead it.

M5 3 Momentum Average (second pane from top, black line).  This key long-term momentum indicator moves between overbought levels (+100 at the extreme) and oversold levels (-100 at the extreme) and trends pretty consistently.  A declining M5 3 Average in overbought levels (above zero) is cause for concern; an advancing M5 3 Average in oversold levels (below zero) is cause for interest.  A declining M5 3 Average in overbought levels that is confirmed by two consecutive days of M4 Sum Plus (bottom pane, brown line) readings below zero is a serious cause for concern; an advancing M5 3 Average in oversold levels that is confirmed by two consdecutive days of M4 Sum Plus (bottom pane, brown line) readings above zero is a cause for serious interest.


T5 Short-Term Trend

(second pane from bottom, red line) is in a positive trajectory but a slightly negative pattern (lower low); but it has taken out overhead resistance, which is a positive.  Trends tend to change more slowly and always after momentum indicators change.



T11, Intermediate-Term Trend (second pane from the top, red line): negative.  It is hard to sustain a rally in the opposite direction of this trend line.

Overall: negative.  We expect selling to dominate buying for the next week or so, testing support levels on most stocks and indexes.

OTHER INDEX CHARTS:

OEX: S&P 100 Index: heading lower.  Not much to hold it back from here.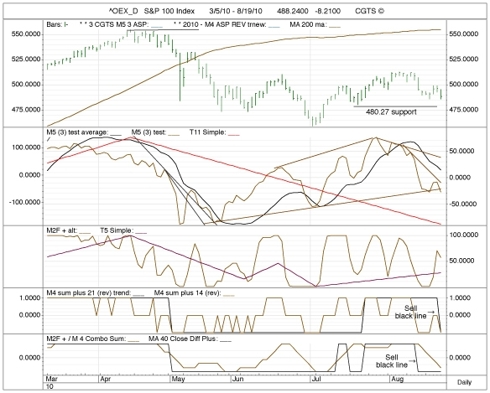 Nikkei, Japan Index: has been negative since May of this year.  See the two bottom panes, black lines.  The Nikkei will follow there Europe and America lead.  Japan will NOT (NEVER) grow its economy until it begins to destroy its debt.  Debt is the weeds in the garden that strange growth and will strangle growth until the weeds are destroyed and not just denied in a sophisticated fashion.
B.  THOUGHTS ON THE ECONOMY
2010: DEFLATION OR INFLATION
­
Autumn is the season when the light of expansion (inflation) is defeated. From Winter Solstice to Summer Solstice, inflation wins, slowly at first. Reagan was the ultimate inflation magician. He inflated America back to power. In my mind inflation and expansion are the same thing. 1983 this began.
     In 2001, Inflation absolutely triumphed. No shadow at Noon. But then, suddenly, the shadow came back. Muslim terrorist attack on America; Twin Towers. From that point on the shadow has been winning. Greespan/Bernanke are trying like mad to re-inflate. They know nothing else.
     The erection-power is gone. (When I speak of the Fed as trying to redistribute Viagra, the metaphor is not really intended to approximate humor. Ancient cultures really did connect INFLATION with the ERECTION, the Male Energy, fertilization of the world. Ancient cultures viewed the Circle as the Female Eternity, the Womb of the World...and the Diameter (number One inside the Circle) as the Masculine Energy, Time. Time runs from Winter Solstice to Summer Solstice. Symbolically, Summer Solstice is Union, orgasm, the Death of the Male Energy. Time ends. Sabbath or Pralaya begins -- that is, the INFLATION of the Male Energy (the force that erects cities, civilization, buildings, walls around the city) runs from one side of the circle to the other side and is reabsorbed by the Circle (anti-Time, or Space: the Female Eternal Energy) -- and rest begins. God is now driving; not Man.
     Deflation (keeping with the same symbolism) is what happens to the Male Energy (the erect penis after ejaculation). And it takes time for deflation to run its course and for inflation to set in again. In fact, a descent into the Underworld and confrontation with demons and fears and a rediscovery of God the magician, the Inflator of the World. The Osiris/Isis/Set/Horus myths are all about this. So is Noah, the spent Male Energy, who hides in the Moon-Boat, the Arc, and floats on the Waters of Space while the world is destroyed by Darkness.
     2010 is the beginning of Autumn/Dusk. This means we are at the point where Darkness (deflation) wins. Darkness will be in power until 2028 (Dawn/Spring); however, Darkness will be most powerful in 2019. No light at all in 2019. Then we will have the rebirth of Light (Jesus Christ is a symbol of this). A sprout of light is born and slowly begins to grow. The inflation will slowly begin again and the Darkness will be furious to try to defeat it....but the Light is destined to rule again, in growing strength 2019-2037. 2037 is the Noon again, the Summer Solstice, at which point the Sun will be mortally wounded (orgasm is a kind of mortal wounding) and the world will begin another decline into darkness.
     It is interesting that this orgasm at Noon, June 21, leads to the birth of a child in 9 months, March 21, Spring. 3, 9, 18, 36, 54, 72.... all seem to be the root multiples of cycles of time on Earth. Why? I'm not sure. But they seem to be.
 This Spring Child, in my system, is the birth of the Renaissance Man, the man coming out of Darkness, a whole mind, both scientist and poet, both religious and eager for light and Day and Civilization-building, moved by atonement with the Father in Heaven.
     Union in the Darkness, December 21, between the Male and Female energy, results in a child born 9 months later at the Autumn Equinox: this child is the Romantic Man, the one turning away from Civilization, Light, the City, Man, tuning back to Nature, back to the Mother, in rebellion against the tyranny of the Father. These two 'brothers', Renaissance Man and Romantic Man, are mirror images of one another, both whole, one the Erector of Civilization, and the other the Deconstructionist of Civilization. Think of Cain and Abel, and every other brother in the history of myth.
     Romantic Man is symbolized most recently in our hippie movement and the rise of the Anti-Hero of the 1960's and 70's era.
     So, the simple answer to your question is deflation rules from 2001 to 2019 -- then inflation begins creeping in.
In the last Night-Cycle, 1965-1983, we should have been slowly raising interest rates in 1965. Instead, our 'leaders', the disciples of perpetual inflation, kept trying to grow an economy in the non-growing seasons and gave us the wonderful economy of high unemployment AND price inflation (caused by attempted price controls and inflation of salaries to keep up with inflationary forces)...so the bottom of the cycle needed someone like Paul Volcker to come along and jack up interest rates and cause TWO recessions at the Winter Solstice point to try to make up for what should have been done, slowly, cautiously, over the previous 18 years.
     Men know how to Inflate, and they like to inflate, because inflation is a form of masculine power in the world -- they need to also learn how to soberly deflate, and accept the darkness as part of the equation. Psychologically this is hard, for the darkness represents death, female ascendancy, poverty, powerlessness...all the things that Life fears and resists. But, Wisdom is a higher truth than Force. Wisdom tells us to learn from life by including ALL the elements in the picture. Force tells us to control life by excluding ALL the elements in the picture we don't like. There is a time for Force; and there is also a time for Wisdom.


        *         *           *        *          *           *             *          
Stocks have topped short-term.  We'll see if the buy-the-dips philosphy continues to work.  I believe stocks will seek a much lower bottom, based on an economy that can't be fixed, and a Fed Chair who has run out of ideas and ammunition.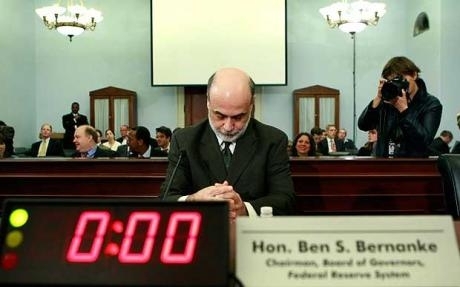 Some pictures tell a thousand stories -- this picture tells us two.  (1) Ben Bernnanke is running on empty. And (2) he is running out of time.
C.  STOCK WATCH
We have a lot of charts to look at since I probably won't publish anything this weekend. 
ARE THESE STOCKS BOTTOMING?
What is bottoming now?  The US Dollar, it seems; and inverse ETFs.    Here's a list of those that meet our criteria of having a long-term momentum (M5 3 Average) at overbought levels and short term momentum (M4 sum plus) bearish.
| | | |
| --- | --- | --- |
| BZQ_D | 21.19 | Short Brazil Shares ETF |
| DOG_D | 50.87 | Short Dow 30 ETF |
| DUG_D | 65.39 | Short Oil and Gas ETF Daily |
| DXD_D | 27.38 | Short Dow Industrial ETF |
| EEV_D | 45.45 | Short MSCI Emerging Markets ETF Daily |
| EFZ_D | 58.93 | Short MSCI EAPE Index ETF Daily |
| EUM_D | 36.52 | Short Emerging Markets |
| NVDA_D | 9.88 | Navidia Daily |
| SDP_D | 18.998 | Short utilities ETF Daily |
| SMN_D | 34.86 | Short Basic Materials |
| SRS_D | 24.5 | Short Real Estate ETF Daily |
| TEVA_D | 50.28 | Teva Pharmaceutical Daily |
| USDEUR=X | 0.781 | US Dollar/Euro |
| USDGBP=X | 0.642 | US Dollar/British Pound |
| USDZAR=X | 7.3 | US Dollar/South African Rand |
| VXX_D | 23.2 | VIX ETF |
Navidia isn't ready to be bought yet.  The other issues all seem to be ready for a move up.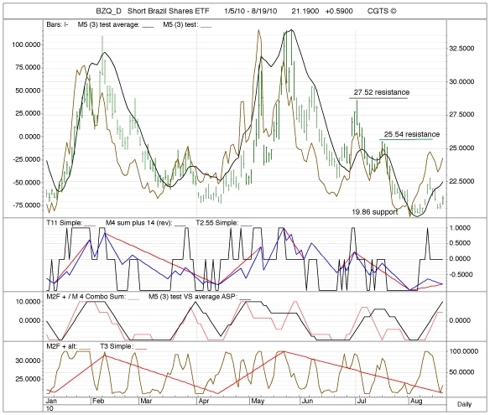 For this ETF to appreciate, Brazilian stocks have to decline.  Note the support levels as 'stop-loss' points and resistance levels as places to consider taking profits.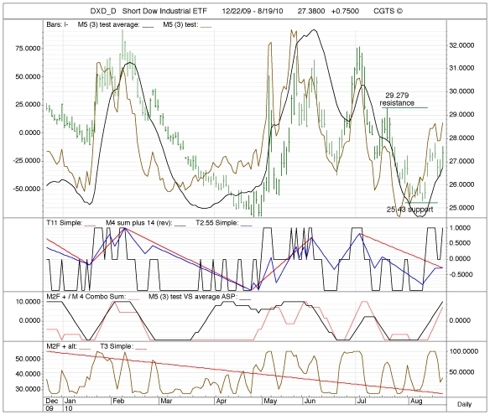 DXD: shorting the Dow Industrials.  Not only does everything seem to be in place for a change of trend, but the short-term momentum indicator (bottom pane) is oversold and ready to rally.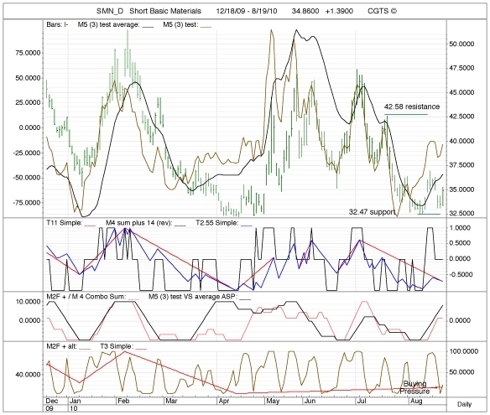 SMN, short Basic Materials: If the economy is not recovering, as we have been told it is, then basic materials should decline -- and an ETF that appreciates when this happens is SMN.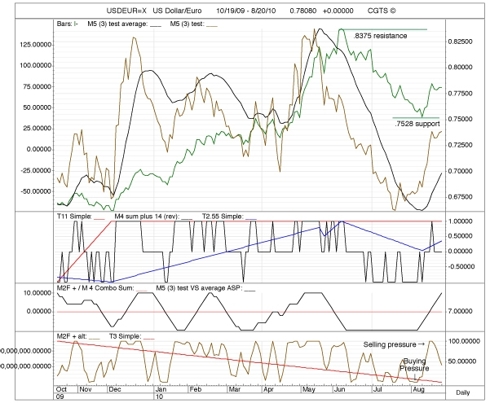 USDEUR.  USDollar seems to have bottomed against the Euro.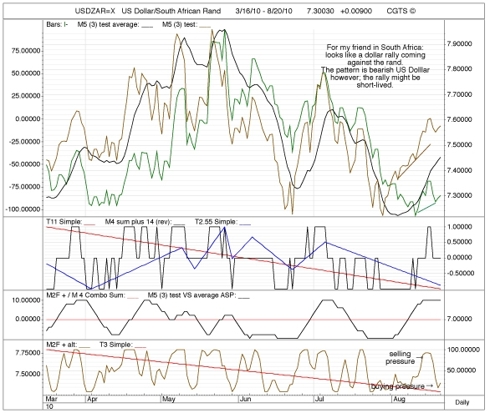 My friend from South Africa, Tinshins, asked about the Dollar vs the Rand.  The Dollar is bottoming; the chart is not very bullish however.  A short, unsustained dollar rally might follow.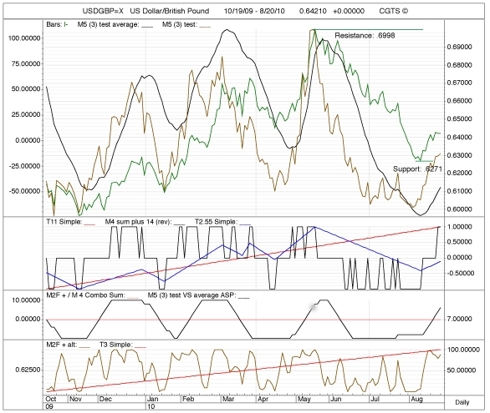 USDollar vs British Pound.  Dollar seems to be making a bottom here also.  The Dollar rally is short-term overbought (bottom pane).  If a correction happens, then support will have to hold at .6271.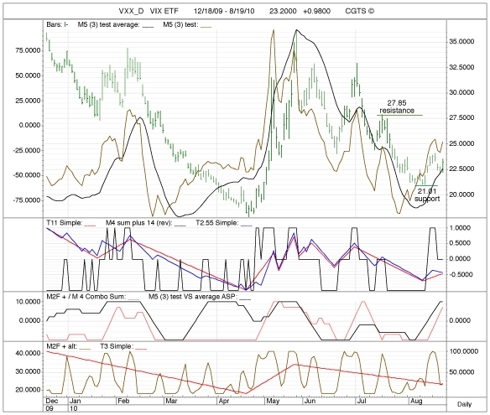 If stocks are going to fall, then the VIX should move up.  That is what we see happening.  The VIX is hyper-volatile.  if this rally holds, then governments throughout the wold will probably begin to tremble.  And money should continue to flow into US Treasury Bonds.
ARE THESE STOCKS TOPPING?
More stocks seem to be topping than bottoming.  Here is a list that meet our sell criteria: long term momentum (M5 3 Average) overbought and turning down; short term moment (M4 Sum Plus) turning negative.  
| | | |
| --- | --- | --- |
| | | All Ordinaries Australian Index |
| | | |
| | | |
| | | |
| | | HANG SENG INDEX HONG KONG |
| | | |
| | | |
| | | |
| | | Australian Dollar/Canadian Dollar |
| | | Australian Dollar/Chinese Yuan |
| | | Australian Dollar/US Dollar |
| | | |
| | | |
| | | |
| | | |
| | | |
| | | |
| | | |
| | | |
| | | |
| | | |
| | | |
| | | |
| | | |
| | | |
| | | |
| | | |
| | | |
| | | |
| | | |
| | | |
| | | |
| | | |
| | | |
| | | |
| | | |
| | | |
| | | |
| | | |
| | | |
| | | |
| | | Royal Bank of Scotland Daily |
| | | |
| | | DWS Scudder Latin American Fund |
| | | |
| | | |
| | | |
| | | |
| | | United Parcel Service Daily |
| | | United Technologies Daily |
| | | |
| | | |
| | | Scudder GLobal Commodites Fund |
You will notice some very strong strongs, with strong positive momentum (BIDU and CRM are the most obvious).  How can these be giving short-sell signals?  We will show you are reasoning through a picture.  If we were going to short one stock from this list it would be QCOM, because it is a wonderul stock (or at least has been) in presenting a consistent pattern of behavior.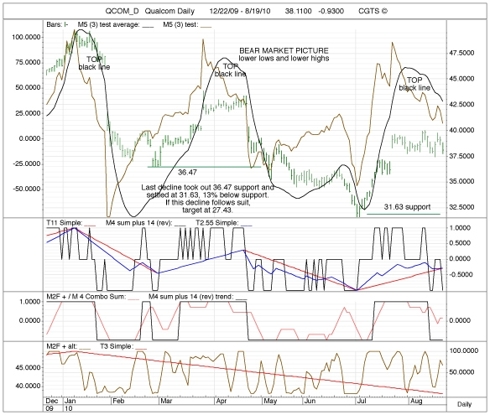 QCOM is in a Bear Market Pattern -- lower lows and lower highs.  QCOM broke support at its last top (note how similar the price patterns are at the tops, with a hesitation pattern last many days, followed, finally, by capitulation) by 13%.  If this occurs again, QCOM's price will run off this chart down to about 27.43.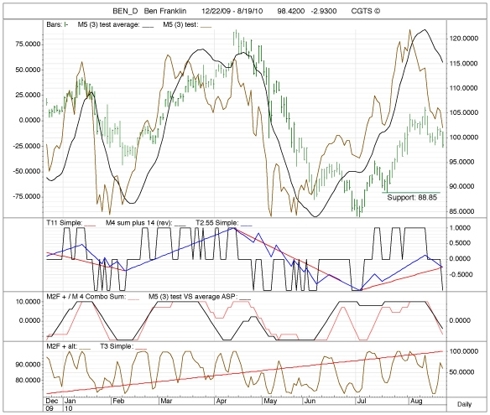 BEN is another issue that clearly looks ready to take a tumble.
Let's look at CRM and BIDU, stocks which have been red hot.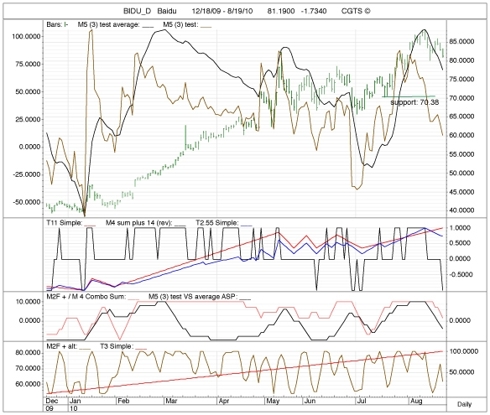 BIDU.  It is VERY possible that BIDU declines very little and reverses its course back up.  We would not bet much on this stock as a short-sale right now.  It will come down from where it is over the next few days.  It is NOT the best candidate for a short-sale at the moment -- but, M53 (second pane, brown line) seems to be in a free fall.  This means it might come down rather quickly and prove to be a major top.  If you short this one put a sharp stoploss at resistance: 88.32.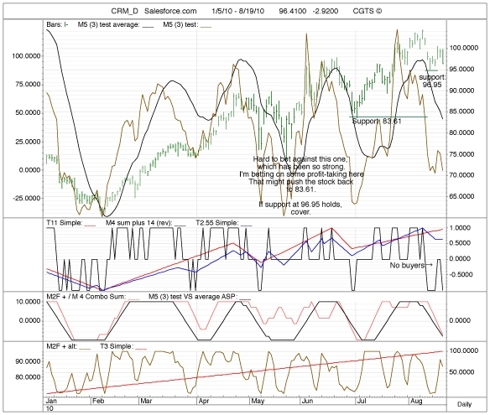 CRM just released a pretty good earnings report.  But there were no buyers during this last rally.  This one looks MORE vulnerable than BIDU (see second pane).  CRM has support at 96.95.  If this goes, then a short position feels even better.  Put a stop-loss at 104.44.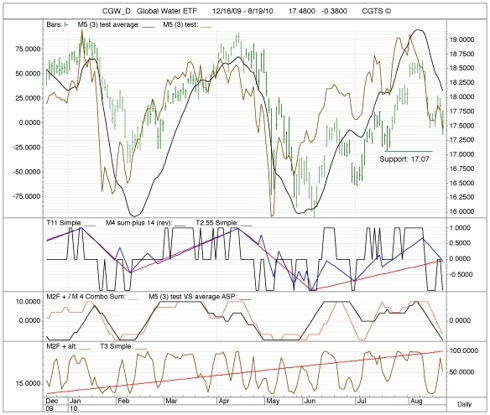 CRW is a better short-sale prospect at the moment than BIDU or CRM.  The recent rally was feeble, and did not even carry to full-blown overbought levels (bottom pane).  Should test 17.07 support.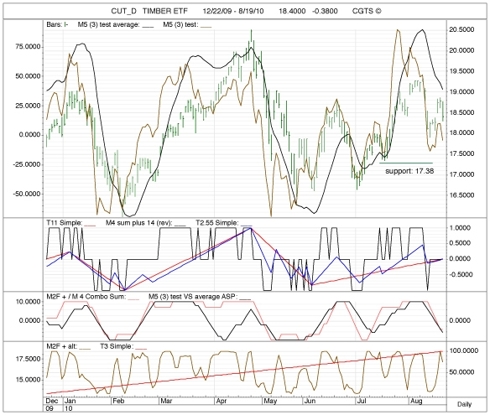 Why is timber rallying when housing is a dead cat?  ETF's have their own life.  This one should come down over the next week.  If it takes out support at 17.38, then readjust your target down to the next support level: 16.65.  If the Dollar rally is real then the commodities should come down.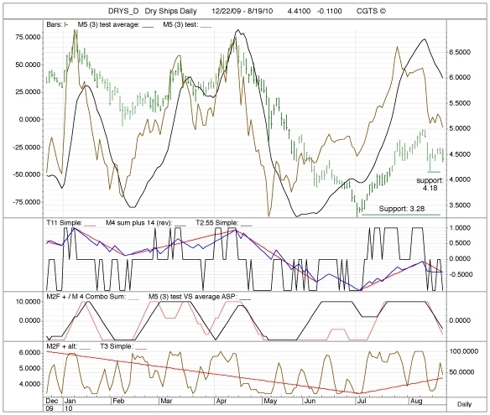 DRYS looks ready to shed some weight.  If the price breaks through the bottom (4.18), then further lows should follow.  Could it go all the way down to support at 3.28?  It is possible.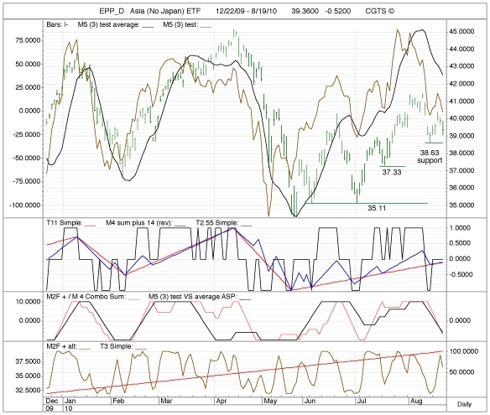 EPP, Asia (no Japan), seems ready to falter.  If America and Europe lead the downward assault, Asia will follow.  Asia doesn't lead very often.  It tends to follow what is going on in New York and London and Paris and Germany.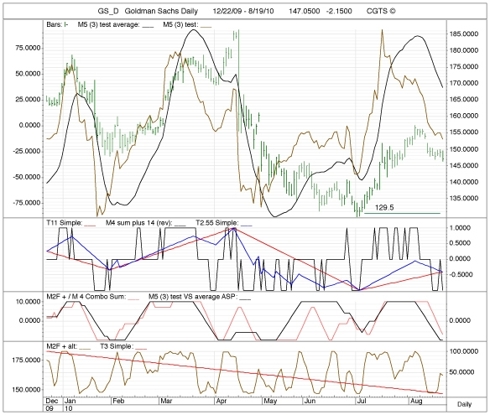 BS, I mean GS, Goldman Sachs.  No tears when this one goes down.  Let it do a little more of God's work when it's losing some of its market share.  Modesty is not a sin; a bit of self-reflection is needed by the gods or demons who consider themselves the 'Masters of the Universe'.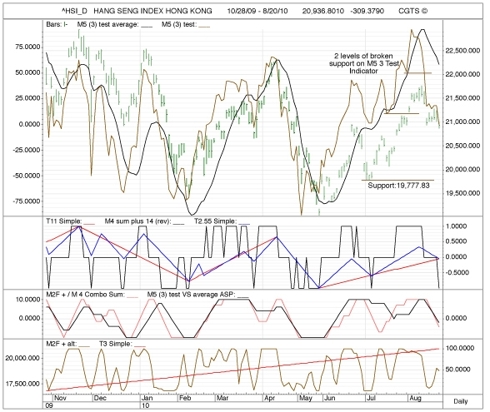 What about China?  The Hang Seng has made a comeback.  Yes.  But the most recent rally has been feeble (bottom pane).  Note that the short-term trend, blue line in the second pane down, has turned down but it has a very constructive pattern of higher highs and higher lows.  The Intermediate trend is positive.  What makes me think it's topping?  Long-Term momentum (M5 3 average) is overbought (black line, top pane).  And M4 Sum Plus (second pane from above, black line) is confirming the top.  Could the index turn right back up?  YES.  Put a stop-loss at resistance at 21,765.55.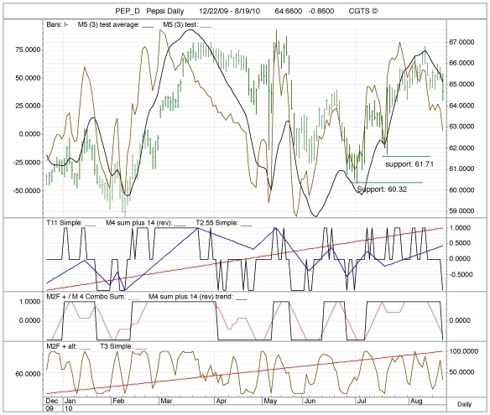 Pepsi and Coca-Cola are both on my list.  Both could turn back up and take longer to make an actual top.  There is a LOT of inherent strength in US bluechip stocks like these.  Keep a close eye on this one if you short it (and on KO also).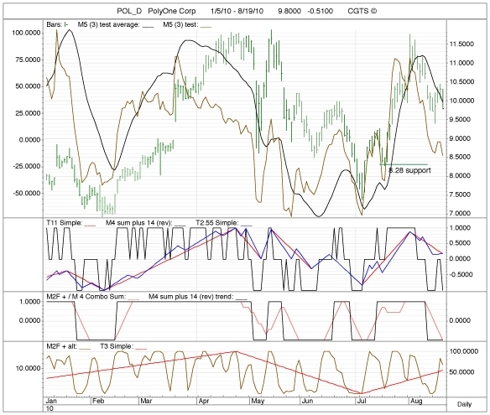 POL, Polycorp: Next to QCOM, this one looks like a pretty sure bet to go lower.  Everything seems in place, including M2F alt (bottom pane) overbought and turning down.  Overbought; but the rally in terms of price wasn't much.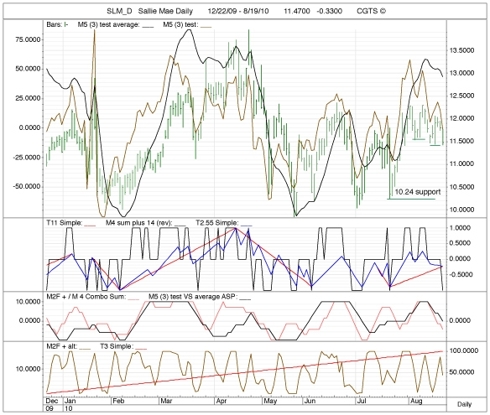 Will Sallie Mae go the way of Fannie Mae and Freddie Mac?  It will if the depression lasts a long time.  What students will be able to repay their loans if they have no jobs waiting for them when they graduate -- or after graduation.  Most students are paying off their school loans for 15-20 years after graduation.  Without a job this is hard to do.  Short-term, SLM looks vulnerable to a sell off.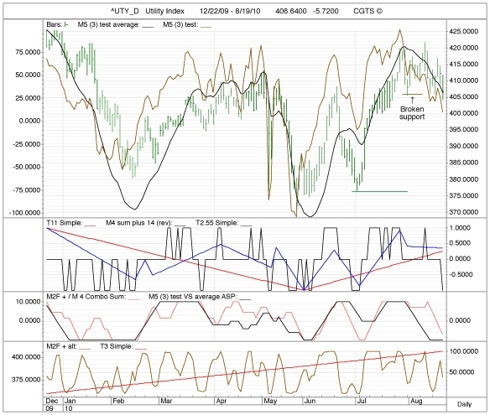 UTY, Utility Index: looks vulnerable to a decline.  The short-term trend (blue line, pane two from above) is actually being wrenched from a positive angle to a negative angle.  This means quite literally that a near-term support level is being shattered and is vanishing.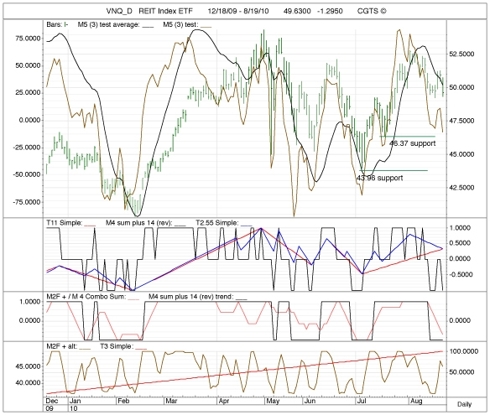 VNQ, REIT ETF: breaking down.  It seems that no matter how hard Mister Bernanke tries, he just can't save his friends in the mortgage and real estate development businesses.  Why are real estate stocks going up when we are ready to enter another two years of housing and commercial real estate price declines?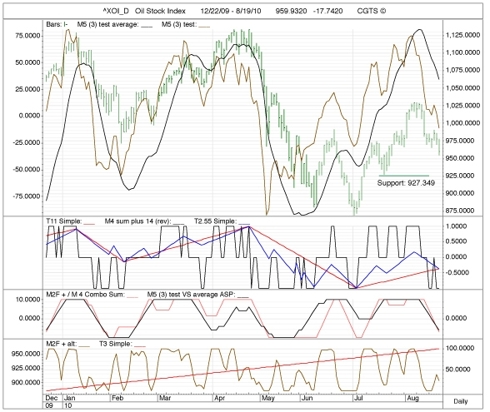 XOI, Oil and Gas Index: looks like a head-and-shoulders top from this angle.  Could fall very hard.  Note the bottom pane: M2F alt showed 'no buying' in the last rally.  Where did the buyers go?  I gues they are becoming sellers, or taking a vacation.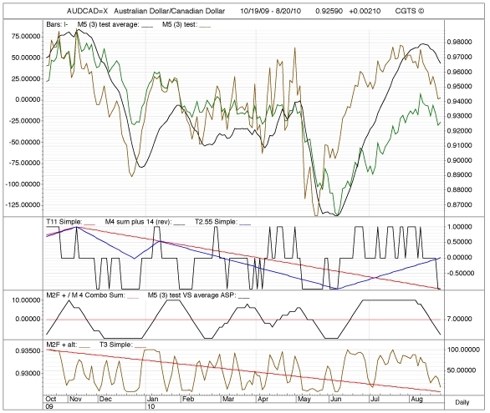 AUDCAD, Australian Dollar vs Canadian Dollar: Looks like an almost-perfect picture of a trading top.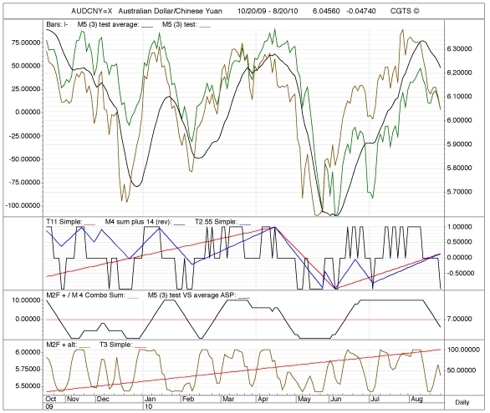 AUDCNY, Australian Dollar vs Chinese Yuan.  Looks like an almost perfect picture of a trading top.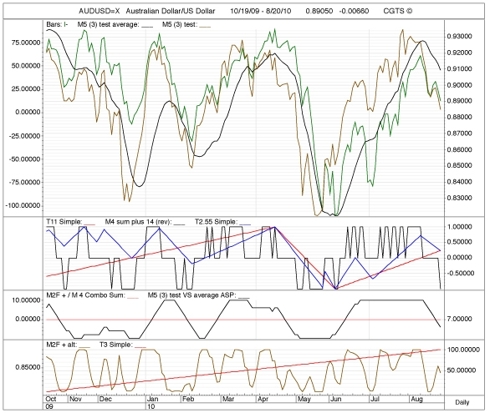 AUDUSD, Australian Dollar vs. US Dollar.  Looks like an almost perfect picture of a trading top.
Have a good weekend all.  I'm off to Bangkok again soon, so I'll miss a few days of reporting.
More information on the CGTS systems can be found at:
http://home.mindspring.com/~mclark7/CGTS09.htm
MICHAEL J CLARK
Clark's Gate Timing System
Hanoi, Vietnam
84 4 221 92210
Disclosure:
No positions to disclose
Disclosure:
Nothing to disclose.
Disclosure:
No positions to disclose.