Ok: short and simple. Momentum is still down. Mario Draghi is a paper tiger: all hot air and bravado; another European gasbag. He can't buy bonds. It's against German law for Merkel to agree with bond buying. Even if he could buy bonds, like Bernanke did, this solves nothing. It merely adds debt to a mountain of debt -- and debt IS the problem. The high cost of Spanish debt is a way the market says Spain has too much debt-risk. Having EU citizens now buy overpriced Spanish debt resolves nothing, it only adds more risk to the system, while pretending to buy more time, until that miracle 'growth' component arrives to stimulate the economies of the world so they can grow their way out of debt. However, DEBT IS ANTI-GROWTH. Debt must be destroyed, on a grand scale, on the same grand scale that debt was assumed, before growth can return.
Only deflation and debt struction (Austrian Austerity) solves the problem. Higher interest rates help solve the problem -- Austerity hurts, yes. We all enjoyed the party. We didn't pay for the party with our own money. That was the mistake. We borrowed 'future-money' to pay for the party. What hurts is that we now have to pay back our creditors, or default on the loads -- and this at a time when the global economy is hurtling into a black hole.
Austerity is the pain. This pain is the cure. The Crisis cannot be fixed by some monetary hocus-pocus. It can't be wished away. In this case, as Jim Morrison wrote and sang so explicitly thirty years ago: "You cannot petition the Lord with prayer". Denial is not going to work.
The EU Crisis, like bank deregulation, was a bad idea, based in and colored by human greed. The only solution to the EU Crisis is the abandonment of the EU and the Euro, and a return to separate national currencies. One currency cannot serve many economies and many peoples without creating imbalances that surface during economic contractions. Such economic contractions ARE NOT abberations. They happen like clockwork: every 36 years a contraction starts and lasts for 18 years. Debts don't seem to matter as long as the economy is expanding and inflation is expanding incomes and asset prices. But debts do matter -- I'm speaking mainly of PRIVATE DEBT, the kind that makes the banks so rich, at first, and then, after the contraction starts, makes these banks and bankers the great white whale in the room no one wants to mention.
If ALL the EU countries are willing to sacrifice their sovereignty to unelected bureaucrats in Brussels, so they can keep their attachment to the Euro, then they might be able to solve this EU Crisis. Of course, this solution creates the next political crisis, as EU citizens realize they have given up their soverign democracies for the sake of easier accounting and loftier trade principles and freedom of travel.
Once countries start willingly leaving the EU (the surplus nations I mean, Finland, maybe Germany also), then the EU is finished. The great divorce will gain speed and mometum quickly. As fast as the Soviet Union fell apart, so to will the EU break apart, another arbitrary collection of misalligned parts pulled together by good intentions.
***
The markets have further selling ahead. Although you will note we do have some short-term buy signals below in our M2F Alt trading system -- so there could be a bounce for some stocks. We also closed some of our short positions in Facebook last night.
Here are our three internnal momentum charts: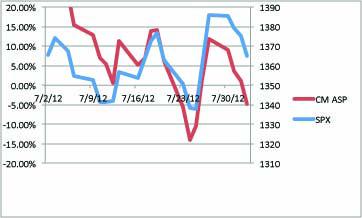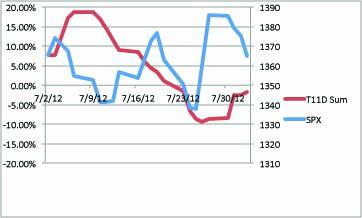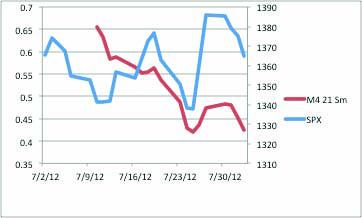 Keep an eye on the US Dollar. The attached updated chart shows the relationship (Inverse) between the Dollar and the SPX (S & P 500 Index, GSPC). When our M2F Alt indicator (second pane down, gray line) bottoms for the USDEUR stocks top. This seems to be indicating we will have more selling for the next few days.
(click to enlarge)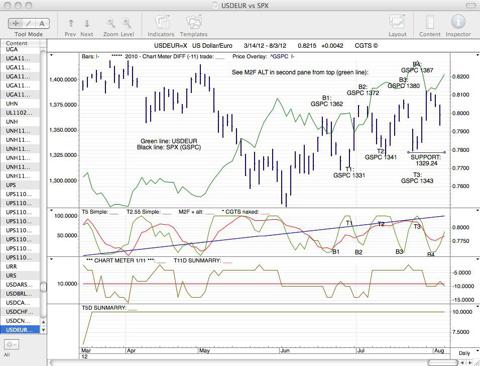 Click to enlarge
Support is at 1329.24 on the SPX. If this breaks, then the generally positive short-term up-channel of the SPX breaks, portending an end to the rally.
TODAY'S TRADING SIGNALS
Momentum is down; but we are getting trading buy signals from our short-term M2F Alt Trading System. We might get a bounce up in some stocks over the next few days.
We still like short trades over long trades today and we would choose the shortsale of BMI and the long trade of DTO (Double Short Oil ETF) as our two most attractive new positions today.
 
 
Trades for
Trades for
 
 
 
Friday
THURS
 
 
 
3-Aug
2-Aug
 
 
 
 
 
 
TRADING SYSTEM T11D Sunmarry 10/Zero
 
(Intermediate-Term)
 
 
 
SYMBOL
CLOSE
Today
Yesterday
Company
 
 
 
 
 
ARX
5.84
Enter Short
 
Aeroflex Holdings
AXPW
0.302
Enter Long
 
AXION
BMI *
32.99
Enter Short
 
Badger Meter
DTO *
49.71
Enter Long
 
Short (Double Short) Oil
GG
35.48
 
Enter Long
Gold Corp
KGJI
1.51
Enter Short
 
Kinggold Jewelry
TTI
6.45
Enter Short
 
Tetra Technologies
VMC
36.9
Enter Short
 
Vulcan Materials
 
 
 
 
 
* See chart
 
 
 
 
 
 
 
 
 
TRADING SYSTEM M2F ALT
 
 
(Short-Term)
 
 
 
SYMBOL
CLOSE
Today
Yesterday
Company
 
 
 
 
 
^HUI
400.466
Exit Short
 
Gold Stock Index Daily
^XAU
147.73
Exit Short
 
Philadelphia Gold and Silver Index Daily
ADBE
30.58
Exit Short
 
Adobe Daily
AMTD
15.37
Exit Short
 
Ameritrade Corp
BZF
18.38
Exit Short
 
Brazilian Real long currency
CCU
62.4
Exit Short
 
Compania Cerveceria S.A.
COW
28.27
Exit Short
 
Livestock ETF
CTSH
56.28
Exit Short
 
Cognizant Tech Solutions
EL
50.88
Exit Short
 
Estee Lauder
GDXJ
19.02
Exit Short
 
Gold Junior Minors ETF Daily
GLD
154.13
Exit Short
 
SPDER Gold Shares
IAU
15.47
Exit Short
 
Gold Daily
NKE
92.54
Exit Short
 
Nike Daily
PG
63.51
Exit Short
 
Proctor and Gamble Daily
INRRUB=X
0.585
Enter Short
 
Indian Rupee/Russian Ruble
QRM
1.3
 
Enter Long
Quest Rare Metals
^DJT
4,984.15
Enter Long
 
Dow Jones Transport Index
^RUT
768.6
Enter Long
 
Russell SMall Cap Index Daily
AFG
36.58
Enter Long
 
American Financial Group
AKAM
34.69
Enter Long
 
Akamai
AXPW
0.302
Enter Long
 
AXION
BAL
46.73
Enter Long
 
Cotton ETF
CYTX
2.43
Enter Long
 
Cytori Therapeutics
FISV
68.19
Enter Long
 
Fiserve Inc
FXB
153.61
Enter Long
 
British Pound ETF
GG
35.48
Enter Long
 
Gold Corp
HMY
9.72
Enter Long
 
Homestake Mining
INTL
18.4
Enter Long
 
Intl Assets Hold Co.
IO
6.48
Enter Long
 
Ion corp
KGN
2.96
Enter Long
 
Keegan Resources Gold
LLL
68.58
Enter Long
 
L3 Communications
MUB
111.55
Enter Long
 
I-Shares Muni Bond Index
PDLI
6.68
Enter Long
 
Protein Design Labs
PHM
11.57
Enter Long
 
PULTE GROUP HOUSING
XRT
58.03
Enter Long
 
Retailers ETF
DGZ
12.51
Exit Long
 
Short Gold ETF Daily
 
 
 
 
 
 
 
 
 
 
* See chart
 
 
 
 
 
 
 
 
 
TRADING SYSTEM ChartMeter
 
 
(Intermediate-Term)
 
 
 
SYMBOL
CLOSE
Today
Yesterday
Company
 
 
 
 
 
AOBI
0.39
Enter Long
 
American Oriental Bioengineering
BCRX
4.3
 
Exit Long
BioCryst Pharmaceuticals
COW
28.27
Enter Short
 
Livestock ETF
FST
6.33
Enter Short
 
FOREST OIL
GBPCNY=X
9.881
 
Enter Short
British Pound/Chinese Yuan
ICN
19.87
Enter Short
 
Indian Ruppee ETF
ITMSF
0.142
 
Enter Long
Intermap Technologies
JOY
48.77
Enter Short
 
Joy Global Machinery
LD
44.66
Enter Short
 
Lead ETF
LULU
54.48
 
Enter Short
Lululemon
VXX
13.03
Enter Short
 
VIX ETF
 
 
 
 
 
* See chart
 
 
 
 
(click to enlarge)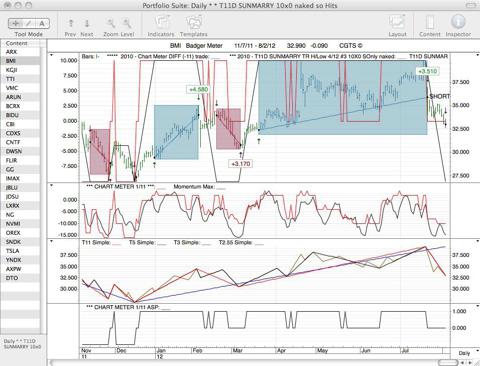 Click to enlarge
(click to enlarge)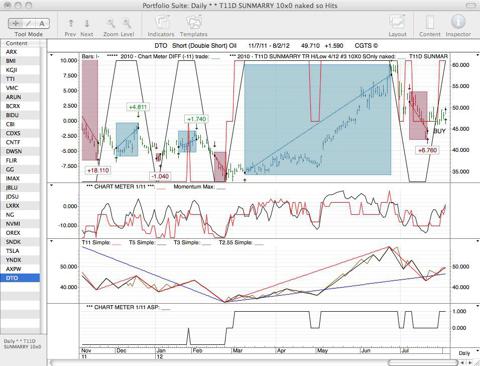 Click to enlarge
Michael J. Clark, Hanoi, Vietnam