CLARK'S GATE TIMING SYSTEM
  FOR: 17 SEPTEMBER
2010, FRIDAY
CGTS VIEW, MARKET MOMENTUM
Continued pause.  The market seems to be getting tired.  Our short-term momentum indicator (see A below) has dropped from 68% bullish on Monday to 48% bullish on Thursday.  20% bullish is oversold.  The Momentum Trend (B below) which measures M4 pullbacks vs M4 corrections (a pullback being a selling spate; a correction being a takeover by sellers, either short-term or more) has moved from 79% bullish on Monday to 80% bullish on Thursday.  This makes us think we are not quite at the top just yet.  Our longer-term Momentum measure (see F below) says 75% of our issues are still in positive movements, down from 80% on Monday.  We expect to see a more expressive decline in this indicator when real selling kicks in.
 

MON

TUES

WED

THURS

Summary

GSPC

 

 

 

 

 

A. Trading Mom +

Trading Mom -

Bull %

68%

60%

56%

48%

B. Mom Trend +

Mom Trend -

Bull %

79%

80%

81%

81%

C. Advance/Decline +

Advance/Decline -

Bull %

77%

67%

62%

54%

D. Long Trade

Short Trade

Bull %

46%

47%

35%

35%

E. IT Trend +

IT Trend -

Bull %

61%

67%

69%

70%

F. M5 3 M5 Avg Dif +

M5 3 M5 avg Dif -

 

80%

80%

75%

75%

Avg of avgs

68%

67%

63%

61%

 

 

 

 

 

A. "Trading Momentum" = M4 ASP +1 vs -1; +1 bullish and -1 bearish.

 

B. "Momentum Trend" = M4 ASP (+1 - 0) vs (0 - (-)1); in BUY ZONE or SELL ZONE.

C. "Advance/Decline" = M4 ASP tick up vs tick down = mosr recent move up or down;

D. "Long Trade/Short Trade" = M4 ASP +1/ Int-Trend positive vs M4 ASP -1/Int-Trend negative;

E. "IT TREND" = Int-Trend positive vs negative. Slowest to turn. Most important long-term measure.

F. "M5 3 vs M5 3 Average Differential" = Above zero bullish; below zero bearish. Perhaps best indicator for intermediate term moves.
INDEX VIEW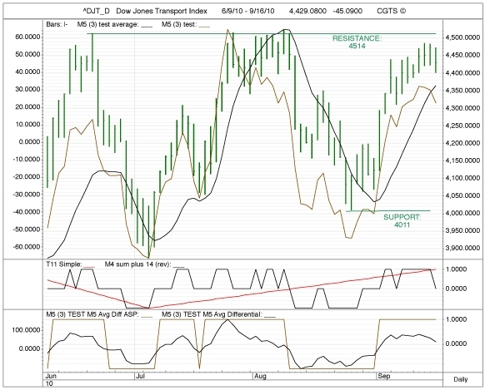 DOW JONES TRANSPORTS seem to be topping out.  Momentum is being lost in the M5 3 Momentum Indicator (Top Pane, brown line) and in the M5/M5 Average Differential (Bottom Pane, black line).  M4 Sum Plus (Middle Pane, black line) is ticking down, meaning selling has come in.  A decline to -1 would indicate a victory for sellers near-term.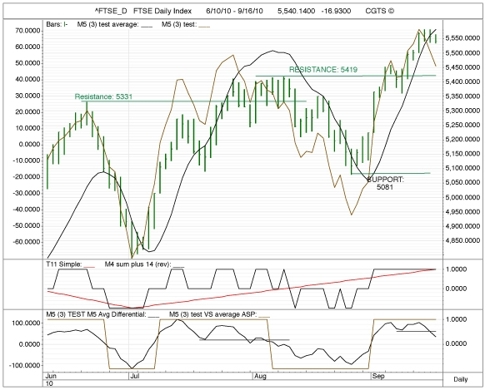 FTSE: Better strength during this rally than some indexes.  Seems to be reaching the top of this rally, but could struggle higher.  Note breakdown of the trend in the M5/M5 Average Differential (Bottom Pane, black line), portending a decline or at least a real difficulty in going higher.  FTSE making a new high is positive for this index.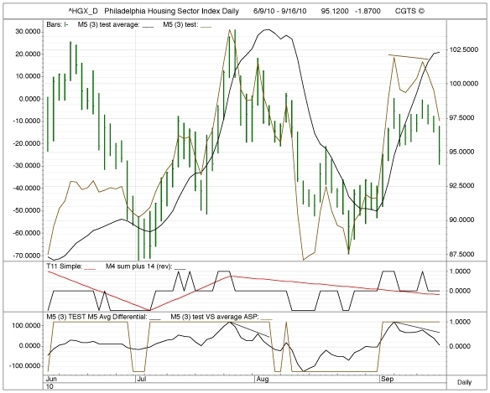 HGX, HOUSING INDEX: We predicted HGX was going lower last night.  It has started its descent.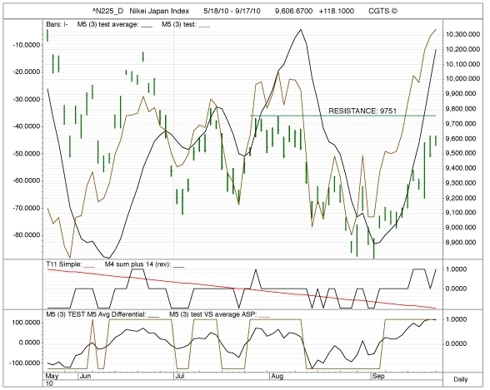 N225, NIKKEI: Might be making its high during this rally -- M5/M5 Average Differential (Bottom Pane, black line) seems to indicate this.  Note that the M4 Sum Plus (Middle Pane, black line) ticked up after it ticked down.  This is positive short-term.  This means that the sellers could not extend losses.  So this index might even go higher.  The rally has been feeble so far; it has not reacher resistance levels yet.  A decline before reaching resistance would be even more bearish -- although this chart is a Bear Market chart already, with lower lows and lower highs.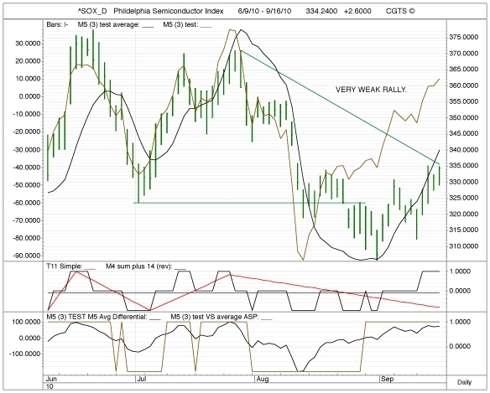 SOX, SEMICONDUCTOR INDEX.  Where is the rally here?  Semiconductors are a 'leading indicator' of a global recovery...and this rally has been pathetic.  Bear Market chart also.  M5 3 (Top Pane, brown line) is suggesting a rally will happen -- it still might, I guess.  So far, weak action.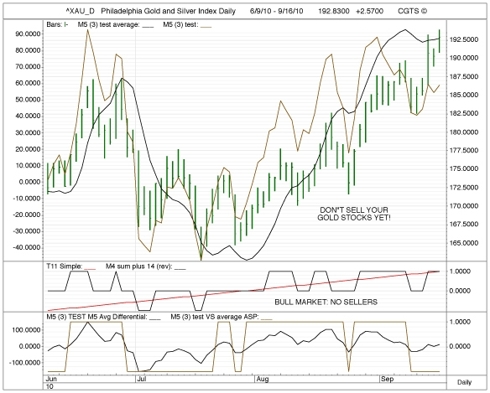 XAU, GOLD AND SILVER STOCKS: Don't sell your gold and silver stocks yet.  This is what a Bull Market rally looks like.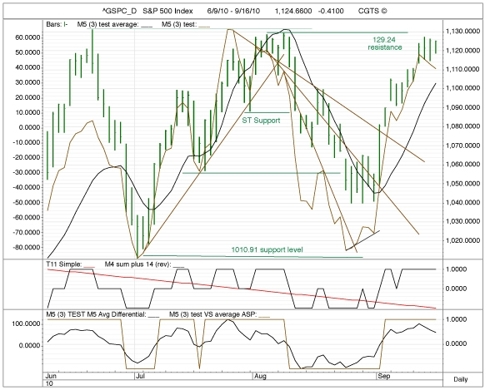 GSPC, S&P 500: Hesitating at resistance.  M5/M5 Average (Bottom Pane, black line) dipping down: precursing decline?  M4 Sum Plus is still ok (Middle Pane, black line).  We would expect the M5 Average (Top Pane, black line) to run up above everything when the rally tops.  This hasn't happened yet.  But it does look like resistance is building, and appreciation is harder to come by now.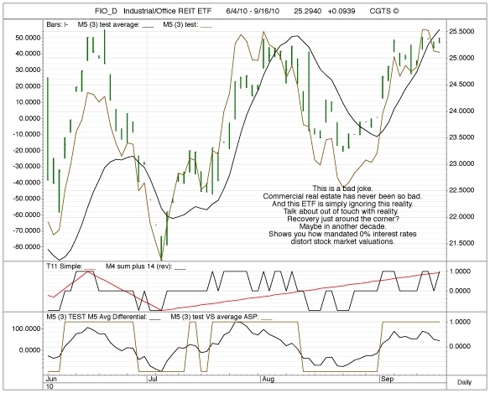 FIO, INDUSTRIAL/OFFICE REIT ETF: CRE is collapsing as bad as Residential Real Estate -- and this ETF is going up.  Why?  Shows how a maniuplated interes rate skewers valuations and makes for irrational markets.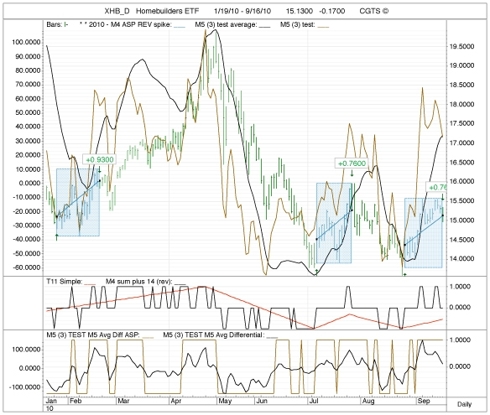 XHB, HOMEBUILDERS ETF: This is what FIO should look like, along with HGX above.  A weak rally ending; a new low very possible.  We're getting a sell signal of this one today.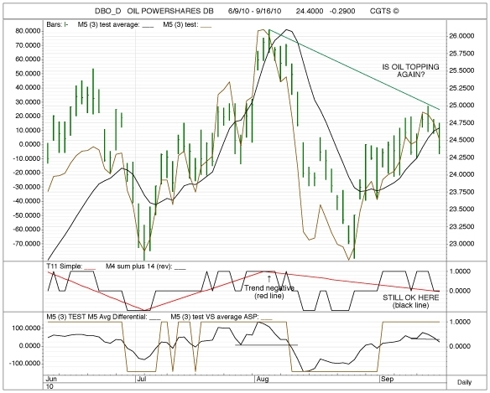 DBO, OIL ETF: Its always provacative to look at and think about oil and oil's relevance to the economy and to movements in the markets.  DBO is not really a positive picture.  It DID hold support at the last decline.  It has not broken resistance during this rally -- and may not.  M5/M5 Average Differential (Bottom Pane, black line) is suggesting the oil rally may be over.
TRADING SIGNALS
We continue to get sell signals (profit-taking).  We're not getting many buy signals at the moment.  And not too many short-sell signals either.  Many stocks are moving between a pretty tight trading range, meaning trading profits, while not always large, are productive.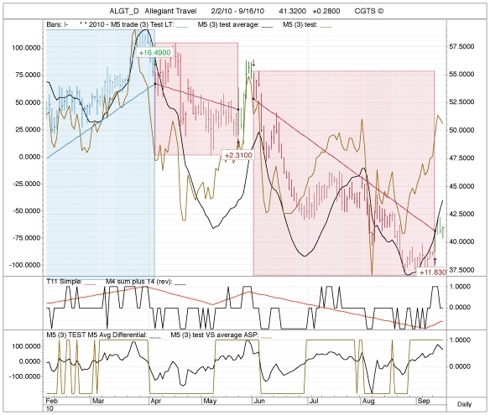 ALGT, ALLEGIANT TRAVEL: The good news is that a 'cover' signal has finally come.  The bad news is that it's still too early to buy this one.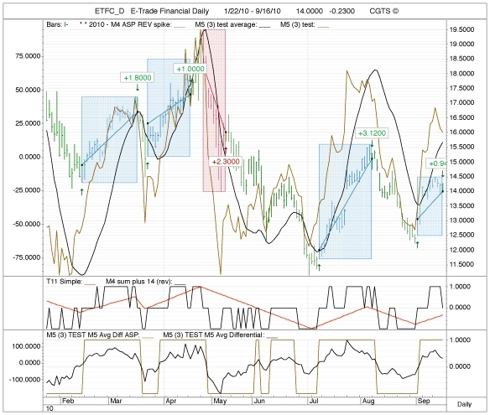 ETFC, E-TRADE FINANCIAL: Take profits.  Consolidation rally.  If it pulls back to support, and holds above support again (12.24 support), then trade her again.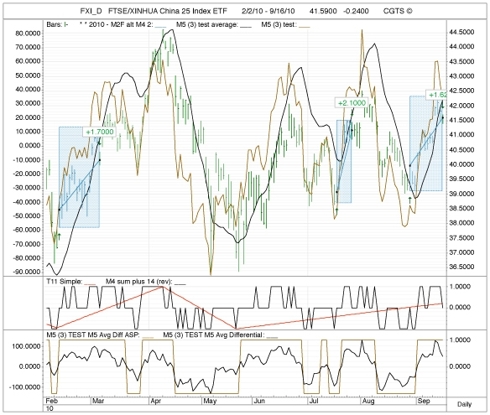 FXI, FTSE CHINA INDEX ETF: Take profits.  We are in a trading range market and will probably be so until 2019 or so.  Don't hesistate to take profits.  No one makes a killing during a Night-Cycle -- except insiders trading on government policy secrets.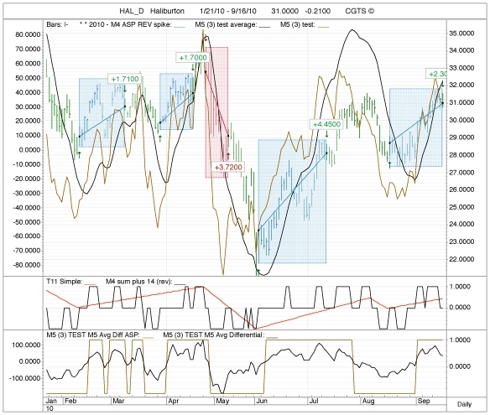 HAL, HALIBURTON: has hit its peak in this cycle trade.  It looks to NOT be able to break through resistance -- as it pulls back it must hold above 27.36 support in order to keep its ascending triangle pattern intact.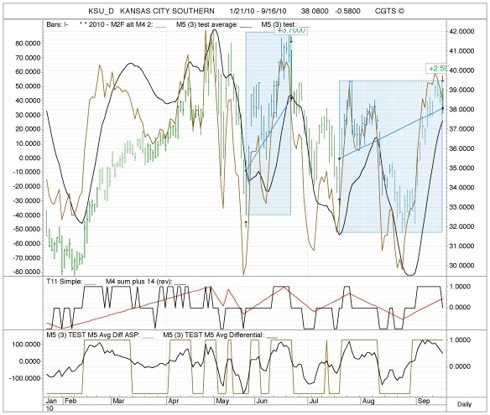 KSU, KANSAS CITY SOUTHERN: Good rally; take profits.  This trade escaped a horrible mid-section and still made money.  (NOTE: This is NOT an M4 Spike trade.  Hence, the sell signal M4 Sum Plus (Middle Pane, black line) gave in early August was not followed.  This is an M2/M4 Trade.)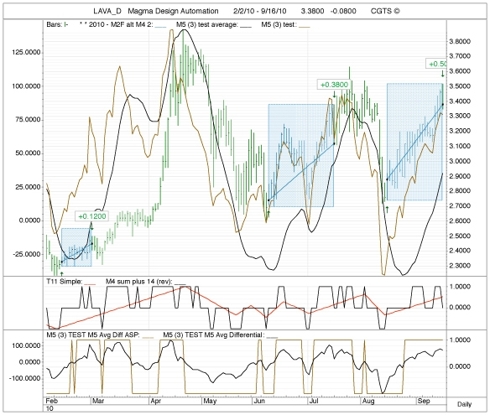 Another M2/M4 Trade.  LAVA, MAGMA DESIGN AUTOMATION.  This could go higher in fact.  We are getting a sell signal (a good gain) but all the indicators are suggesting this one might continue to climb.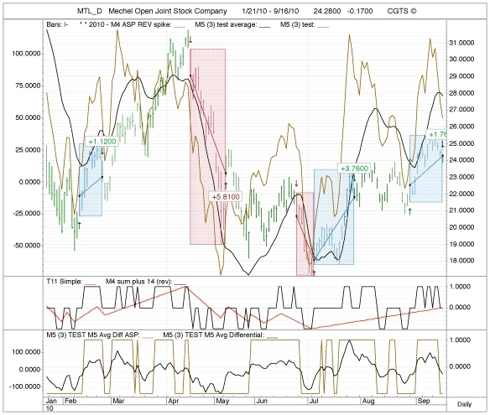 MTL, MECHEL JOINT STOCK COMPANY.   M4 Sum Plus Spike trade: looks to be peaking-out.  Take profits.  The chart has a pretty good pattern; so wait for a bottom to get back in.  21.48 is support by which the decline needs to be contained.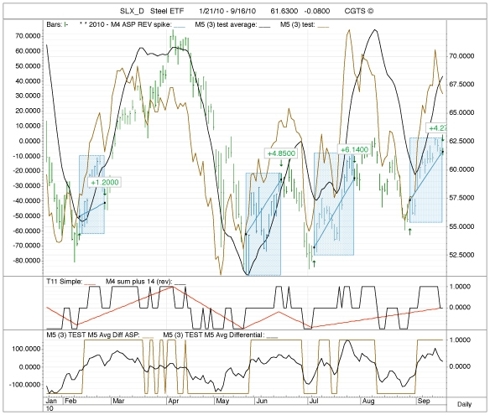 SLX, STEEL ETF: another consolidation trading range stock.  Take profits and wait for it to come down again.  Support: 54.7408.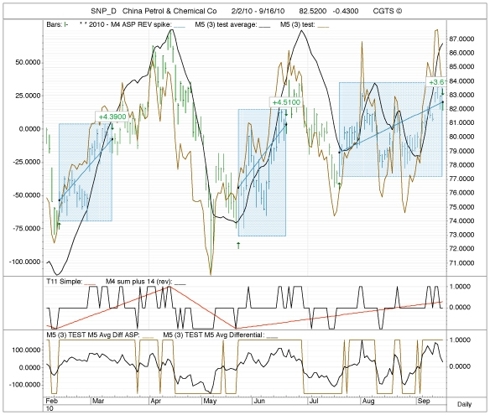 SNP, CHINA PETROL & CHEMICAL: Same story, trading range move.  Take profits and reload.  Support at 77.79.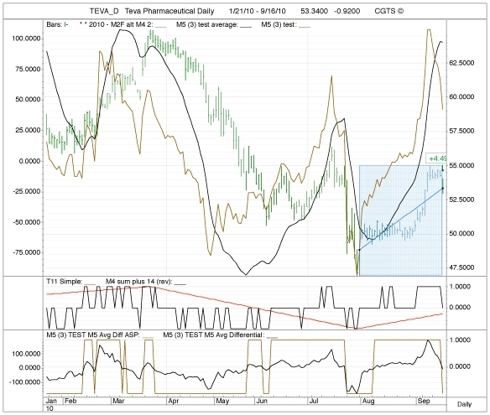 TEVA, TEVA PHARMACEUTICALS.  Could come down hard from here.  Lower lows and lower highs don't make this one attractive at the moment.  The Bottom Pane is negative in both ways.  A riverboat gambler could short this one -- but I'm not shorting it.
More information on the CGTS systems can be found at:
http://home.mindspring.com/~mclark7/CGTS09.htm
MICHAEL J CLARK
Clark's Gate Timing System
Hanoi, Vietnam
84 4 221 92210
Disclosure:
No positions to disclose.