CLARK'S GATE TIMING SYSTEM
  FOR: 20 September 2010, Monday
CGTS VIEW, MARKET MOMENTUM -- AND NEW TRADES
The markets are still agitating upward.  I'm not ready to call this a top, although we received a slough of trading 'sell signals' on Friday, many charted below.  These are trading sell signals, and do not necessarily suggest an end to the rally.  Our long-term trading systems are not giving sell signals yet.
We added issues to our database this weekend, almost 50% more issues, and it seemed to skewer our momentum indicators a bit.  A leap from 67% to 89% in the momentum trend doesn't really make sense on Friday's action.  Other indicators showed a similar jump.  We did add a lot of issues that have been performing well.  This will all work out over time.
These are some of the reasons I'm not sure we are at the top of this market -- could be.  We're trade-selling a LOT of banks today.  That tells us something, I guess.  What does it tell us? 
New trades: we're long one issue, Nano; and we're short two, Yahoo, and DSX, Diana Shipping.  See charts below.
The so-called Global Recovery got a jolt this week.  Fed Ex is closing 100 shipping centers and laying off nearly 2000 more workers.  Doesn't sound so good for the "global recovery".
MARKET MOMENTUM

MON

TUES

WED

THURS

FRI

SUMMARY

13-Sep

14-Sep

15-Sep

16-Sep

17-Sep

GSPC - S&P 500 Index

1121.9

1121.1

1125.07

1124.66

1125.59

 

 

 

 

 

 

A.  Trading Mom +

247

218

203

175

215

Trading Mom -

45

44

46

49

25

Bull %

56%

49%

46%

40%

49%

B.  Mom Trend +

285

291

293

294

394

Mom Trend -

76

70

69

68

47

Bull %

64%

66%

66%

67%

89%

C.  Advance/Decline +

277

243

225

194

237

Advance/Decline -

84

118

136

168

205

Bull %

63%

55%

51%

44%

54%

D.  Long Trade

168

170

171

138

178

Short Trade

30

35

35

36

15

Bull %

38%

38%

35%

35%

35%

E.  IT Trend +

222

241

251

253

342

IT Trend -

137

119

109

107

98

Bull %

50%

55%

57%

57%

77%

F.  M5 3 M5 Avg Dif +

288

288

273

272

346

M5 3 M5 avg Dif -

73

73

88

89

95

Bull %

65%

65%

62%

62%

78%

G. M5 3/M5 Avg Diff Top

 

 

 

 

17

M5 3/M5 Avg Diff Bottom

 

 

 

 

5

Bull %

 

 

 

 

77%

Average of Averages

56%

55%

53%

51%

64%

 

 

 

 

 

 

A.  "Trading Momentum" = M4 ASP +1 vs -1; +1 bullish and -1 bearish.

 

 

 

B.  "Momentum Trend" = M4 ASP (+1 - 0) vs (0 - (-)1); in BUY ZONE or SELL ZONE.

 

C.  "Advance/Decline" = M4 ASP tick up vs tick down = mosr recent move up or down;

 

D.  "Long Trade/Short Trade" = M4 ASP +1/ Int-Trend positive  vs M4 ASP -1/Int-Trend negative;

 

E.  "IT TREND" = Int-Trend positive vs negative.  Slowest to turn.  Most important long-term measure.

F.  "M5 3 vs M5 3 Average Differential" = Above zero bullish; below zero bearish.  Perhaps best indicator for intermediate term moves.

G.  'M5 3 vs M5 3 Average Diffential' = Those registering above +100 (top) vs those registering below -100  (bottom).
INDEX VIEW
GSPC is near the top of its range for this rally BUT it is fighting to go higher.  Note how it's trying to bend the M5 3 Momentum Indicator (brown line, Top Pane).  This is a positive.  It clearly wants to go higher.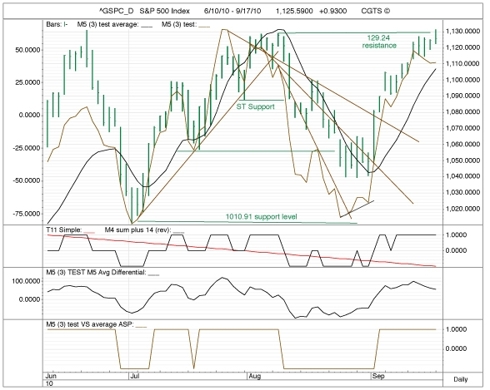 NDX: same story.  Momentum line bending back up.  This is a sign of buyers not wanting to give in to sellers.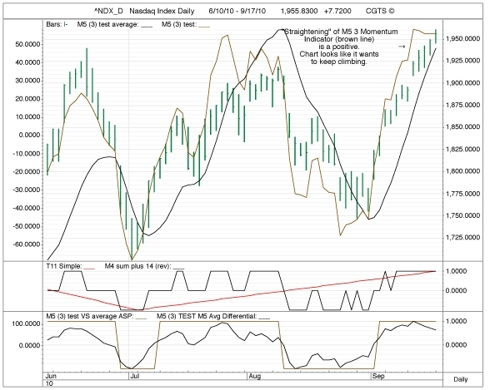 SMSI, Madrid Index: looks to be topping.  Note the M5/M5 Average Differential (Bottom Pane, black line) dipping hard.  We expect some selling here.  The extent of the selling can't be known at this point.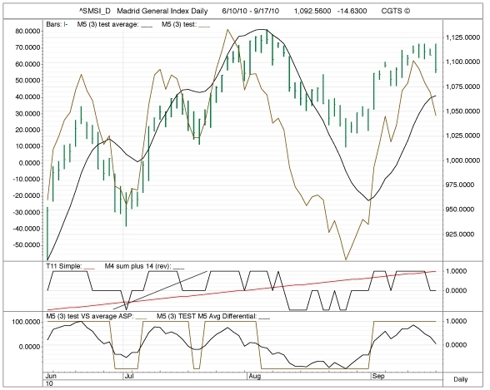 SSEC, Shanghai: Looks like this rally is ending.  M4 Sum Plus has broken down to -1.  This ususally means serious selling coming in.  M5 3 Momentum (Top pane, brown line) has really broken down.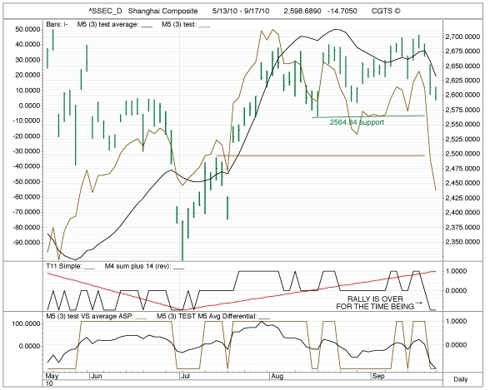 FCHI, French Index: we're getting a trading sell signal on this index today.  Not necessarily the end of the rally; but it usually means selling is coming.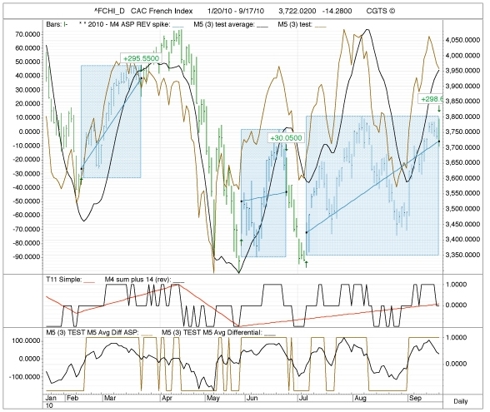 EPI, India ETF: Has rallied hard and doesn't want to give up.  Big money has been pushing it higher.  Is India really a great prospect for future economic dominance?  That's a different issue.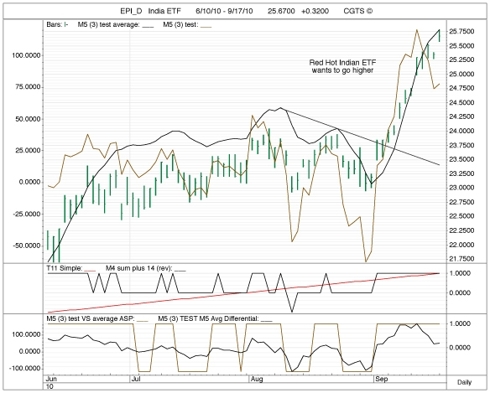 TRADING SIGNALS
A lot of sell signals today, and many bank stocks seems to be running out of gas.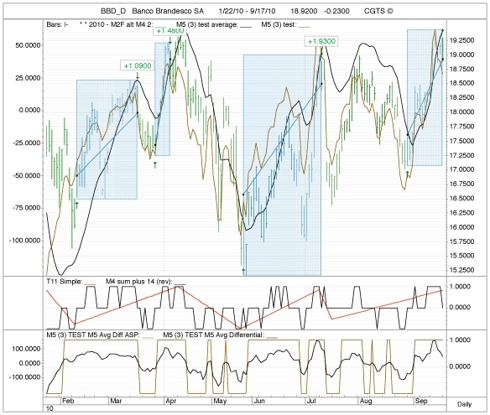 BBVA: Another South American bank -- take profits.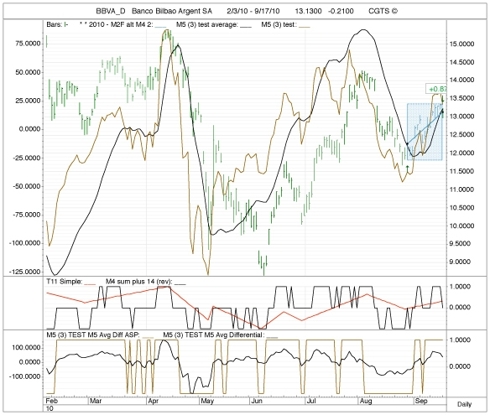 BIIB: Biogen.  It may struggle higher, but we follow this system.  Take profits.
BMO, Bank of Montreal: why so many banks?  Take profits.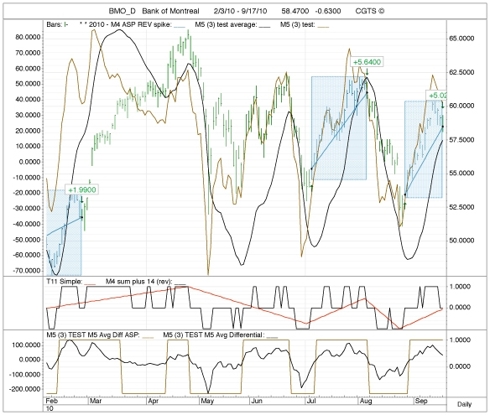 BWLD:  Has been very strong; take profits now and reinvest later.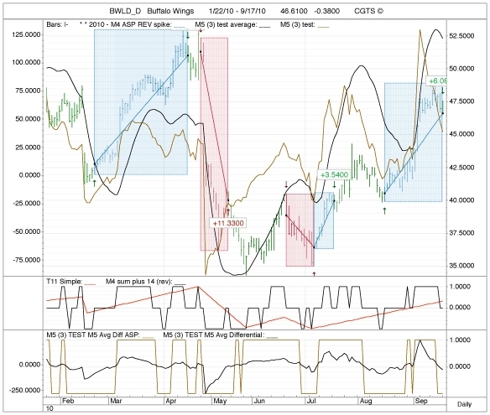 CORT: sell signal.  A 10% gain in two weeks of trading is a reasonable profit.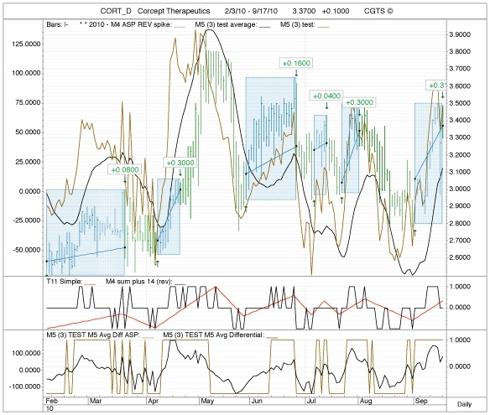 DSX, Diana Shipping: shortsell.  Shipping stocks really don't reflect a global economic recovery.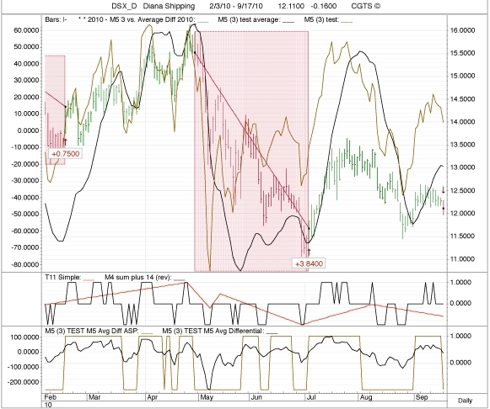 EIRL, Ireland ETF.  Cover shortsale.  I don't see this one making a quick recovery, as Ireland is now approaching Greece in terms of pain its going to have to go through because it took on way too much debt (America, England, and Japan, are you listening?)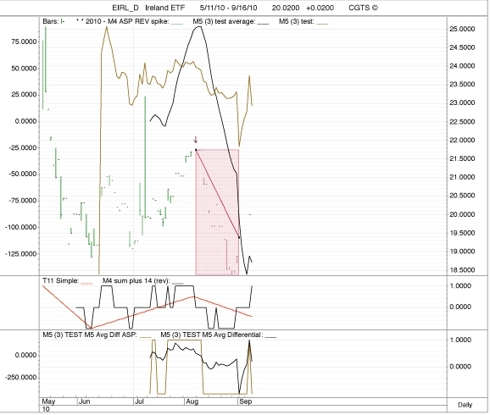 FDX, Federal Express, is not doing so well.  It's still down-sizing (see comments above) -- and it and UPS are both giving sell signals today.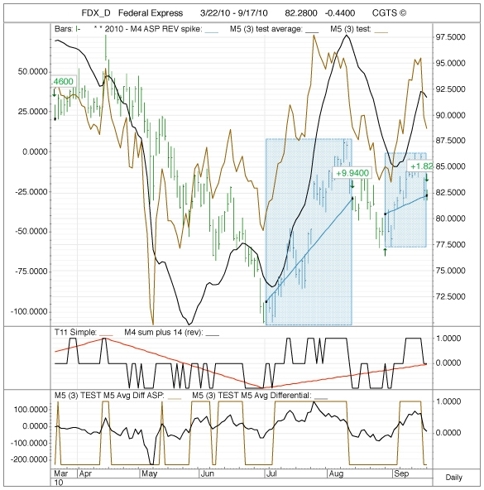 Another bank getting ready to turn down.  This is an ugly chart, a Bear Market chart, with rally plays (optimists recovering?) all the way down.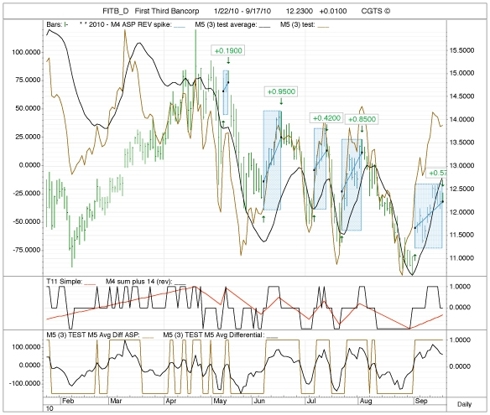 FXE, Euro vs Dollar ETF: What is this telling us?  Is the Euro/Dollar really topping again?  Maybe, maybe not.  (I think this may not be a real top, and just a trading pause.  We'll see.)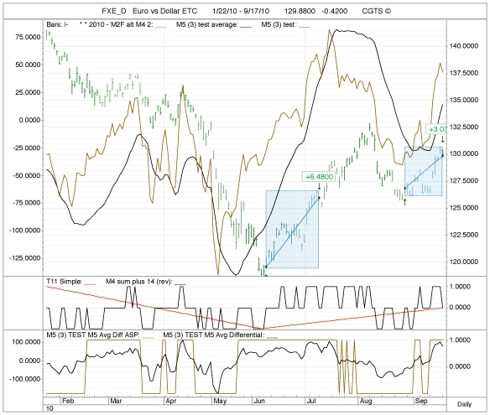 HK, Petrohawk Energy.  Close short position and take profits.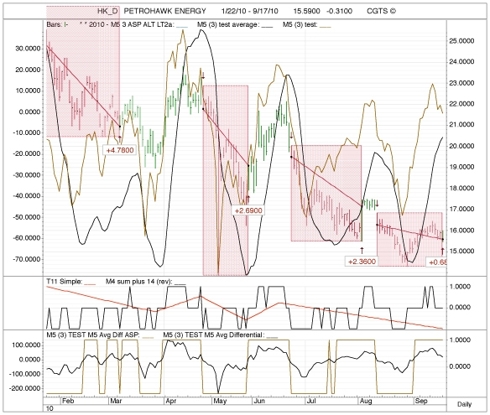 JPMorgan: Another bank on the sell signal list.  Looks like it's topping.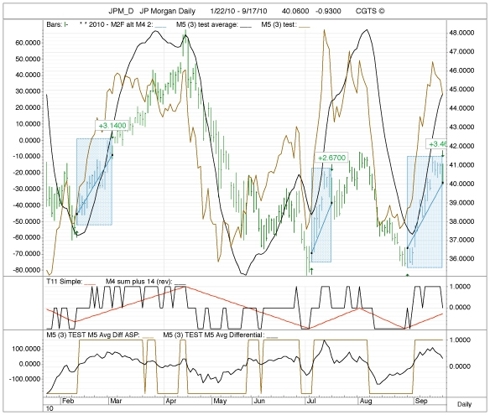 Nanometrics.  Buy.  Only buy signal on our list today.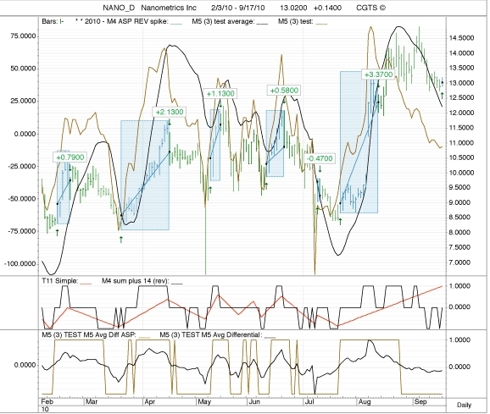 OCNW: Occam Network.  Held in long enough to catch the spike.  Now getting a sell signal.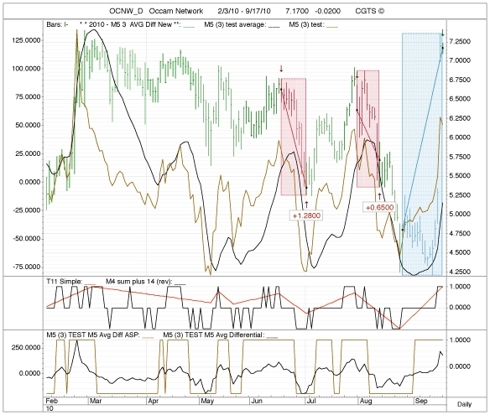 RBS, Royal Bank of Scotland.  Another bank.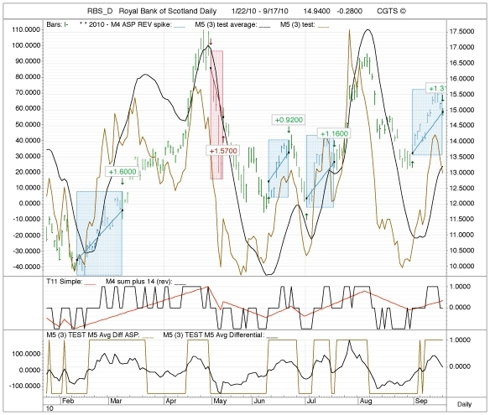 RIMM, Research In Motion: If you didn't get a chance to sell, you could get a bump up here to get a better price to get out.  Covering short positon but NOT going long yet.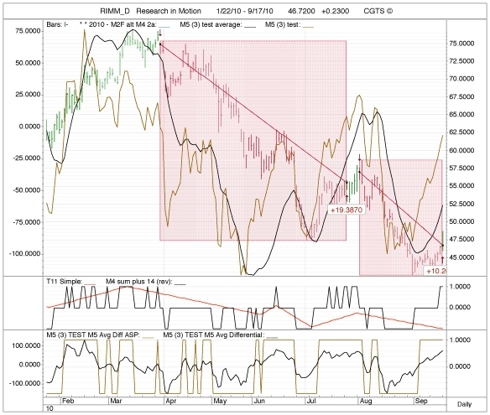 TEVA, Teva Pharmaceuticals.  Usually like this stock.  The chart looks a bit scary.  It could fall hard from here.  Take your profits and watch what happens.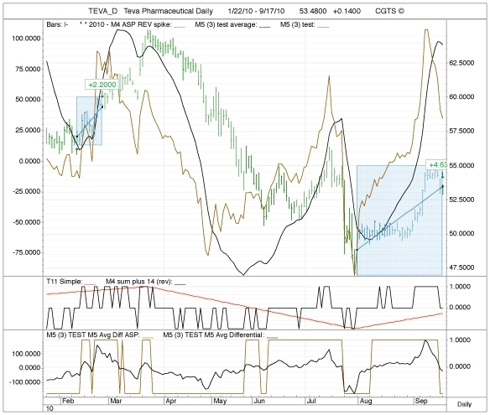 TSLA, the 'Car of the Future".  Take profits.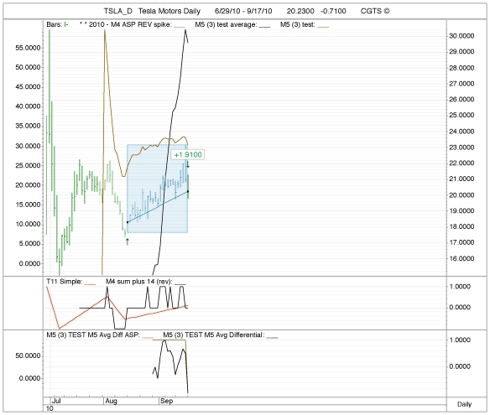 TWX, Time Warner.  The 'Media Company of the Past'.  Take profits.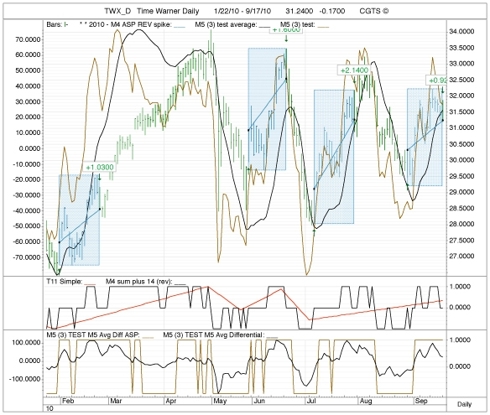 UPS, United Parcel.  Sell signal.  Is it a real top?  Not certain yet.  But our system says 'sell' so we're selling.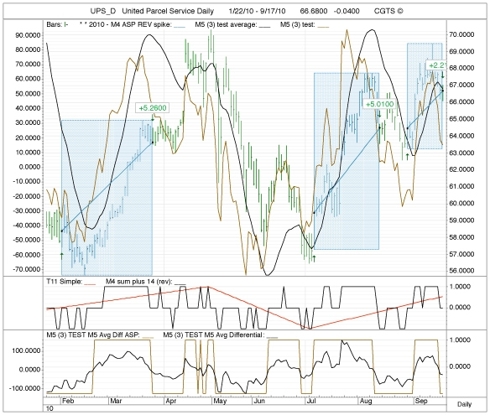 VLO, Valero: Bear Market chart, with profits to be made off Bear Rallies.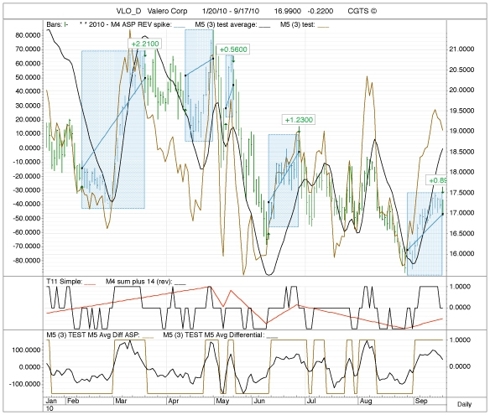 XES, Oil and Gas Equipment ETF: take profits.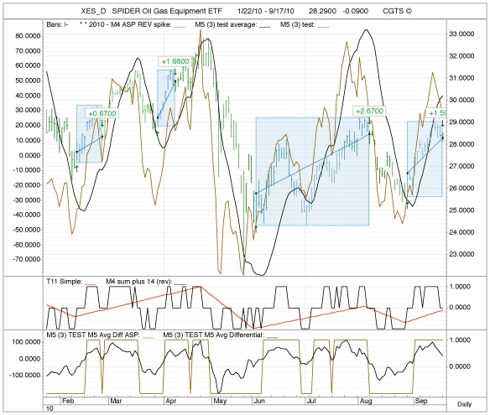 Yahoo: short-sell.  This is not a pretty picture at the moment.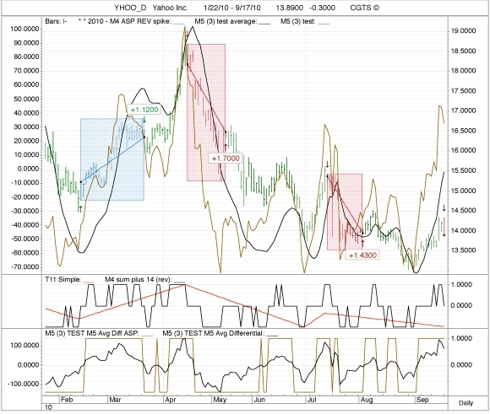 More information on the CGTS systems can be found at:
http://home.mindspring.com/~mclark7/CGTS09.htm
MICHAEL J CLARK
Clark's Gate Timing System
Hanoi, Vietnam
84 4 221 92210
Disclosure:
No positions to disclose.
Disclosure:
No positions to disclose.