Another week in biotech world begins and countless fortunes made already. Keryx Biopharmaceuticals (NASDAQ:KERX) announced very positive and promising results this morning that led the stock to rip into a 5 year high and at one stage a 100% gain. Some of their options were up 1,400%! What I found interesting about this was that despite results coming out before the open, the stock continued to surge throughout the day, with late profit-taking finally leaving the stock up 76% from yesterday's close.
Going on past experiences, I would expect a sell-off from tomorrow as investors look to sell and lock in profits (look at Sarepta's chart - blue circle - below for an example of profit taking after massive 300% gains post data release). This shows the moves that are possible in biotech trading - it's all about getting in on them before the moves begin that's the hard part!
(click to enlarge)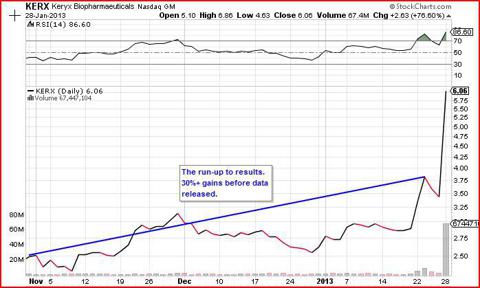 Click to enlarge
Update On Current Positions:
Sarepta Therapeutics Inc. (NASDAQ:SRPT) surged 14% after an outlook upgrade on Friday and I'm hoping that she holds onto those gains. There was a dirty slide from the start of 2013 until last week as investors sold and moved on to quicker moving biotech stocks. Sarepta has a very promising drug for Duchenne Muscular Dystrophy that the FDA could well give accelerated approval (NYSE:AA) to which could lead to an easy double in stock price. Timeline wise, the general consensus is that we'll have a decision in the next 1/2 months. Eteplirsen has been shown in trials (albeit with a tiny number of patients) to be very effective at slowing down the rate of degeneration and in some cases even reversing it. The FDA would face considerable public backlash and anger were they to slow down the production and distribution of this drug. One only has to read of twins Max and Austin Leclair to find it hard to imagine the FDA saying no to the first effective treatment of DMD that has had no adverse side effects.
www.huffingtonpost.com/2012/08/20/austin-and-max-leclaire-duchenne-muscular-dystrophy-eteplirsen_n_1812296.html
For those with belief in Sarepta's drug Eteplirsen (me) and with spare/extra money to invest (not me) these lows are great buying opportunities as the stock has bounced off the support line each time it has come close to, or hit it. Also, if my limited technical analysis skills are correct, each low has been higher since the post approval low of $21 at the end of November. This is pretty bullish.
I own their stock at $21 (bought twice at $15 in October and then again at $27 in November).
(click to enlarge)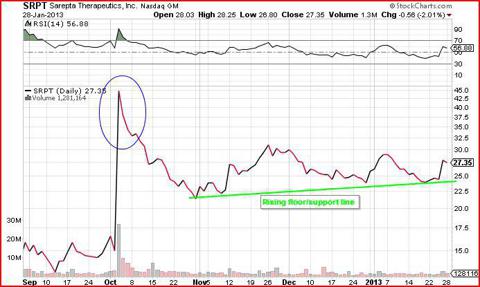 Click to enlarge
Ziopharm Oncology Inc. (NASDAQ:ZIOP) stock seems to be holding above the $4 floor - just about. I'm holding April $4 calls that will be in trouble if ZIOP breaks $4 and holds. They are due to release Phase III data in Q1, but volume is pretty low, showing that ZIOP isn't really on the radar of the biotech world yet. However, all this needs is a positive article to come out by someone respected and followed by thousands or else an positive initiation of coverage by some analyst. Bear in mind both these things could happen but be negative regarding ZIOP.
At the moment, it's clear I bought too early on this one, but I'm confident I'll still profit. Position is currently down around 20%-30% (I bought around the last little peak thinking the run up was on), but there's absolutely no reason this shouldn't run up into their release, and if they do, it's mucho dollars in the pocket for me. Expecting some short covering (people who were betting the stock would fall, buying the stock to exit their trade) to fuel the rise when it kicks off. However will be watching the $4 floor like a hawk this week and will get out if it breaks and holds under it.
(click to enlarge)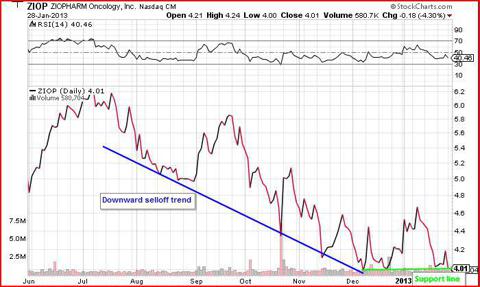 Click to enlarge
AVEO Pharmaceuticals Inc. (NASDAQ:AVEO) stock is looking steady and strong just below $8. I'm in trouble if it goes below $7.50 and stays there as I hold their February $7.50 call which will lose value if the stock price goes below its strike (which in this case is $7.50). No reason for that to happen though and while it doesn't, the Feb $7.50 call shouldn't fall below $0.70c (where I bought it). It's been flickering between here and almost $1 over the past 2 weeks which was giving me an unrealised gain of close to 30% at times which just shows how quickly your capital can grow if you're using enough so that 30% is a big rise nominally. For me taking a 30% gain just isn't worth the risk I take on because my positions are so small in the grand scheme of things. Which is why I'm happy to take on huge risk (which I have and do) in expectation of decent (60% to 200+%) reward.
In the run up to data release on February the 14th, AVEO could hit $10+ which would be the dream. Volume is not as low as ZIOP and I think it will continue to rise. Again, all it needs is some coverage for investors to notice how cheap it is here.
Questionable technical analysis on this chart here by me, I'm not sure if I've correctly identified the trends (anyone with some knowledge please feel free to correct).
(click to enlarge)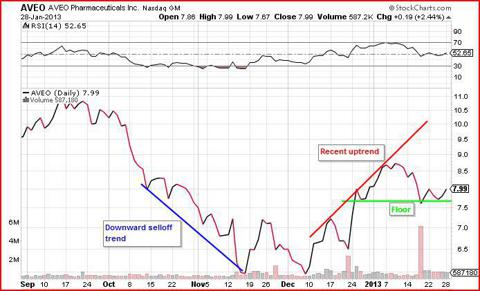 Click to enlarge
On both ZIOP and AVEO, I'm playing greed and irrationality. Just like with KERX, in anticipation of results, investors tend to buy into a biotech company in the 3-6 months prior to a data release. This increase in volume and buying sends the stock flying up which brings in more investors who want to make a quick buck. It's a self fulfilling prophecy of sorts.
Here is one example of greed and irrationality playing a stormer.
AP Pharma Inc. (APPA) has a PDUFA date with the FDA at the end of March in two month's time. The share price is up 50% in a month in what is a penny stock simply because awareness has increased due to several articles being published and volume has surged. I can't account for the circled sustained fall in share price (didn't think it would go under it's more recent low) other than that it was a few heavy volume days of selling and profit taking. It's clear how quickly APPA bounced back and is continuing it's run-up.
It's vital to note that nothing has fundamentally changed in the stock in the last month and no new information has come out regarding it's chances of approval and profitability. Awareness and knowledge of it have simply increased and the results are there to see.
(click to enlarge)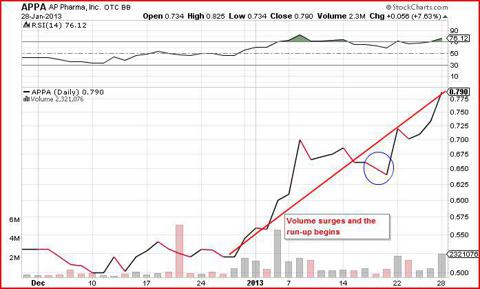 Click to enlarge
Now part of my strategy is that I don't plan to hold through any announcements or release of data. And I'm not the only person to do this as you can see a fall in the chart before the meteoric rise in both KERX's and SRPT's charts. Aside from the obvious cratering of a stock that would occur if results were bad, as I've said already a sell-off often happens anyway (Sarepta chart in particular) even in the event of positive results, as those who've caught the pre-release run-up, look to sell and lock in gains.
It's just too much risk in my opinion to hold through. Saying that, I was lucky that my naivety saw me hold through Sarepta's Phase II results in October and realise a gain of almost 200%.
This year though, I hope to have caught enough of the run-up in order to sell for a decent profit pre-event.
I'm looking at DCTH, DVAX, TSRX and CYTR calls for my next investments and will detail the background and plan for these trades on my day off on Wednesday.