By Mitchell Clark, B.Comm. for Profit Confidential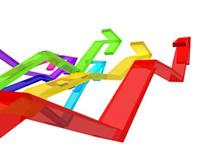 So many blue chips are pushing their all-time record highs. The Dow Jones Industrial Average has been leading the stock market breakout, along with the Dow Jones Transportation Average.
The Home Depot, Inc. (NYSE/HD) continues to be a powerhouse stock, more than doubling since October 2011. This position is in its own mini bull market, after a sustained period of sideways trading for 12 years.
This is how so many blue chips trade. They go through sustained periods of nonperformance on the stock market (still paying their dividends), and then they blast higher. It's a cycle, and you can see it in Home Depot's very long-term chart below. From 1986 to 1992, Home Depot's share price skyrocketed; then it was flat for four years. It plowed higher from 1997 to 2000; then it did nothing for the next 12 years.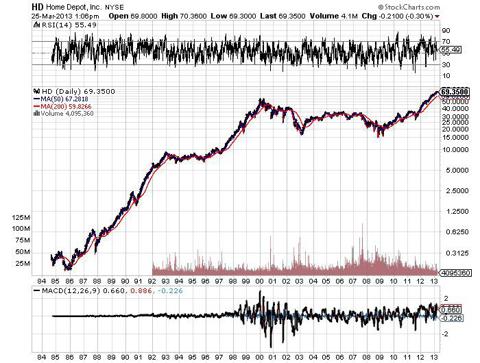 Chart courtesy of StockCharts.com
Countless blue chips trade like this. The Procter & Gamble Company (NYSE/PG) had an earnings miss just at the height of the stock market's bubble in 2000. The stock lost half its value and took about 10 years to break beyond its 2000 high.
One of many blue chips that stand out for their huge cyclical price trends is The Walt Disney Company (NYSE/DIS). From 1967 to 1973, the stock moved strongly higher with three share splits. Then it did nothing for the next 13 years.
In 1986, Disney took off on the stock market, appreciating consistently until the beginning of 1997. Then it did nothing until 2012, when it finally broke out of its long-term sideways pattern. Disney's long-term chart is below: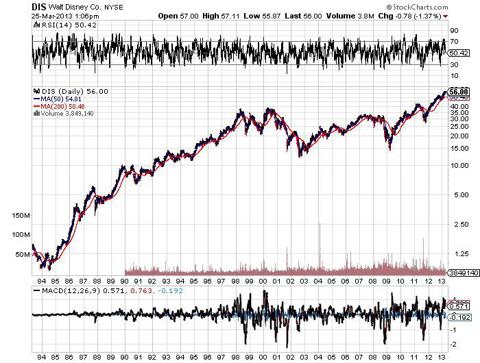 Chart courtesy of StockCharts.com
Powerful stock market breakouts in blue chips make me take serious notice. All the arguments for the stock market's recovery since the financial crisis are valid (huge increase in the money supply, artificially low interest rates, and so on). Disney and so many other blue chips have broken out of the stock market&… Read More