With better numbers from the U.S. housing market, the water heater business is on the upswing.
On the stock market, A. O. Smith Corporation (NYSE/AOS) is one of the leading manufacturers of residential and commercial water heaters and boilers. The company actually started as a small machine shop in 1874 in Milwaukee, Wisconsin.
What I like about this business is its consistency, both in terms of its operations and its performance on the stock market.
In its latest earnings report, company management said that business is getting better. First-quarter revenues grew nine percent to a record $509.6 million. The company's CEO said that business in the U.S. market is improving with new residential construction showing some life after five years.
A. O. Smith's first-quarter 2013 earnings were down to $39.0 million, as compared to earnings of $47.5 million on one-time charges related to the closure of a plant.
A. O. Smith upped its full-year guidance, recently announced a two-for-one stock split, and boosted its quarterly dividend by 20%. The company's stock chart is featured below: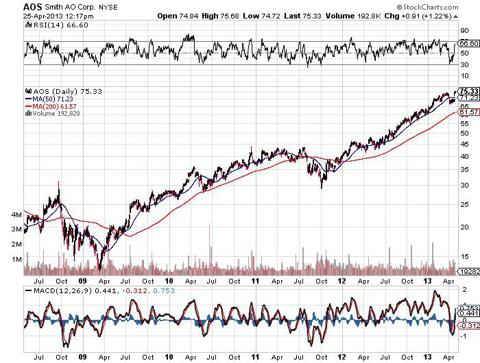 Chart courtesy of StockCharts.com
There is good news on the earnings front, and in many situations, it's with old economy stocks. (See "Great Old Economy Businesses That Isn't Full of Hot Air.")
As is always the case in the stock market, the business cycle exists, and some companies are much better at managing their business than others.