In a recent article of mine, "Alcoa's Short-Term Price Volatility Is Irrelevant; It's Time To Look At Future Growth", I provided a deep overview of Alcoa's (NYSE:AA) fundamentals and initiated a buy rating based off improving economic conditions in combination with the expected increase in the price of aluminum. As I stated in my previous article, it is clearly understood Alcoa's profitability is linked in one or more ways to the price of aluminum. And as a result, the volatility swarming commodity markets seems to steer individuals away from investments as such with the potential down side risk that may arise from this connection. The use of options with an underlying positon can effectively help avoid this. This article provides an overview to a different investment strategy that can be utilized to benefit off an increase in Alcoa's price over the next two years, yet help preserve your capital with only a minimal level of exposure to downside risk. Specifically, this options strategy caters to two different investment horizons ranging from approximately one to two years from now. For further detail on the company please visit my previous article and Alcoa's company website.
To clearly illustrate this strategy, I am going to use the one year price target I computed of $20. Note this is my price target for the end of December FY 2013 and while the expiration date of the options contracts I will discuss exceed this date, it is important to recognize American call options can be traded or exercised up to any point before or on the date of expiration. Please refer to my first article for details behind this calculation. This options strategy involves using a regular call option. Looking at figure 1 below, you will see Alcoa is trading at roughly $8.85 per share. Hence, at this market value per share Alcoa is nearly $11.15 from my price target, which suggests a significant upside.
Figure 1: AA's Five Year Price Graph
(click to enlarge)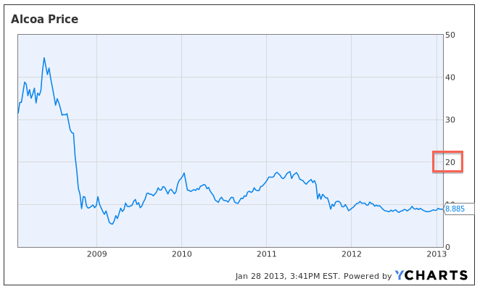 Click to enlarge
Initiating a long position in a single company provides exposure to ones capital that is not suitable for everyone due to a wide assortment of risks. There are many additional ways to benefit from the potential rise in Alcoa's price and in this scenario a call option is most appropriate. Below I have provided the most recently updated options chain for Alcoa call options expiring on January 18, 2014 and January 17, 2015, which can be easily at Google Finance. For both investment horizons, I am going to focus on the options contracts with a $10 strike price.
The closing price for one Alcoa call options contract expiring on January 18, 2014 at a strike price of $10 was $0.49, or the equivalence of $49 per contract. This provides extreme leverage for individuals striving to benefit from future rising prices in Alcoa's security market price, but do not want to suffer in the case there were to be a significant decline in its security market price. In other terms, by January 18, 2014 if Alcoa's security market price per share was below $10 and the investors still remained holding the contract, it would expire worthless and the investor would face a maximum loss of the premium he paid, which in this case was $49. As you can see, the potential leverage to be achieved can be significant, while an investors loss is capped at a maximum.
Figure 2: January 18, 2014 Call Options Chain
(click to enlarge)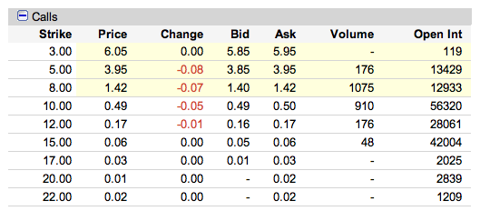 Click to enlarge
This next options chain for Alcoa extends the investors horizon by an another year, which you will see is priced into the premiums in contrast to the options chain expiring one year prior. Notice the variation in the premiums for the call options with a $10 strike price in contrast to the previous year. This takes into account maturity and from one view implies market participants may have a more bullish view of Alcoa's performance in FY 2014 as opposed to its performance in FY 2013. But from a broad perspective, the major difference is there is a $52 dollar difference in the premium for contracts with an expiration date of one year longer in maturity.
Figure 3: January 17, 2015 Call Options Chain
(click to enlarge)

Click to enlarge
If Alcoa's market value per share reaches $20 on or before January 18, 2014, the total profit for investors would be $951 per contract, and respectively $897 per contract for options expiring the following year. This assumes a $49 and $103 premium paid per contract for January 17, 2014 and January 18, 2015, respectively and excludes brokerage transaction costs. Note after Alcoa's market price per share exceeds the strike price of $10 it is classified as in-the-money, and due to the nature of being an American option can be exercised on or anytime before the expiration date. Therefore, investors will begin to profit as they surpass the value required to break even, which is simply the strike price plus the premium. The break even point for the call option chains for 2014 and 2015 are $10.49 and $11.03, respectively.
In addition two these two investment strategies, there is another alternative that is more conservative in nature and suitable for those interested in initiating a long position in the security its self. This strategy involves initiating a long position in the security and simultaneously purchasing put option contracts that correspond with your desired investment horizon. These contracts will hedge the investors position to a decline in Alcoa's market price per share. Given analysts expectations surrounding the future price of aluminum, the most suitable investment horizon for this strategy is roughly two years. Looking at figure 3 below, you will see the premiums for the $17, $15, $12, and $10 are all significantly high and this is because of all these options are currently in the money. Put options are inversely related to call options and principally exactly the opposite. For instance, if one were to purchase 100 shares of Alcoa at its current market price per share of $9 with the intention of holding the underlying position for quite some time, the investor would then want to purchase one put option contract with a strike price of $10 as the price of the security slowly increases. In this case, by waiting for the security price to increase closer towards $10 per share the premium for which you can purchase the put option for will decrease because it will be closer towards being out of the money.
Figure 3: January 17, 2015 Put Options Chain
(click to enlarge)

Click to enlarge
In conclusion, Alcoa has serious potential to provide investors with a substantial upside and utilizing options is just one method for investors to benefit from Alcoa's success.
Sources: The graphs and options tables used in this analysis were retrieved from YCharts and Google Finance.
Disclosure: I have no positions in any stocks mentioned, and no plans to initiate any positions within the next 72 hours. I wrote this article myself, and it expresses my own opinions. I am not receiving compensation for it (other than from Seeking Alpha). I have no business relationship with any company whose stock is mentioned in this article.