Recently Toyota announced that they would be introducing a hydrogen fuel cell vehicle in 2015 which would "shock" the US auto market. Assuming that to be true one has to wonder more about how they are going to do it than if they are going to do it. Toyota isn't stupid and to evolve transportation in a new direction would be a marketing coup even bigger than what they achieved with the extremely popular Prius hybrid.

The development of a cheap fuel cell vehicle that is priced competitively with internal combustion cars would be like achieving the holy grail of the current race toward a green energy economy. Even if they do that though a big obsticle still remains which is to develop a fueling infrastructure for the vehicles. Currently there are very few hydrogen refueling stations worldwide. Hardly enough to justify the introduction of a mass produced hydrogen fueled vehicle.

It will be interesting to see how this evolves and how Toyota overcomes that single largest obsticle. If they do it correctly I think it is possible. I doubt that they would be comfortable in assuming that the US government will build them a fueling infrastructure in the next 5 years and I also doubt that Toyota will take on the job of building a national hydrogen fueling infrastructure on their own.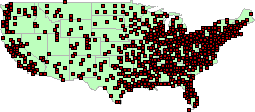 One alternative for them would be to partner with a maker of hydrogen fueling stations such as Stuart Energy (HHO) or Distributed Energy Systems (NYSEARCA:DESC). Then they could install a hydrogen fueling station at all of their car dealerships nationwide (map at left). This would create a national fueling infrastructure for their fuel cell vehicles while at the same time creating a new revenue stream for their dealers. In addition it would create a huge surge in the hydrogen market and the value of the hydrogen companies that they partner with.

I don't know that this is the path they will take but it does seem to be the only viable one open to them to both introduce an alternatively fueled vehicle to the US market while at the same time creating a fueling infrastructure for those vehicles. I will be watching Toyota closely over the next few years to see how this evolves.

Disclosure: No positions.