Here is what you need to know about Dara BioSciences, Inc. (NASDAQ: DARA)
There are 14,494,575 shares in the float with over 10% short. 2 million shares in volume can move this stock 10% in one day!
Buyers will get interested over 1.16 for a few reasons:
Price by volume level on monthly chart
Stock will be above the 20-, 50-, 200- day moving averages
Stock has not been above 1.12 in last 30 days
Trend reversal near 1.16
1.20-1.25 magnet area
DARA closed after hours at .98 today. An entry point around 1 is a good risk vs reward long play. A stop can be place at 0.90 and have enough leeway so you are not stopped out. Although I would accumulate a position on a hard washout under .9 if given the opportunity

I would sell shares at T1 33% @ 1.16, T2 33% @ 1.25, T3 move stop to 1.16 and let the rest ride. Lock in profits along the way to secure a winning trade!
The stock put in a hammer candle on nice volume (over 1 million) today. The 50 and 200 period moving averages (1.02, 0.87) are sloping upward on the daily chart. The MACD looks like it is about to crossover to positive as well.
Below is some information I dissected from the 10-K released today by the SEC.
"DARA BioSciences, Inc. is a specialty pharmaceutical company focused on the development and commercialization of oncology treatment and oncology supportive care pharmaceutical products.

We continue to have an internal clinical development program focused on KRN5500, a phase 2 drug targeted for treating cancer patients with painful chronic chemotherapy induced peripheral neuropathy (CCIPN) and we are pursuing out-licensing opportunities for DB959 which is targeted for treating diabetes and is outside the scope of our therapeutic focus.

We have two lead drug candidates in clinical development with cleared Investigational New Drug applications from the FDA:

1. KRN5500, a cancer support product for the treatment of chronic chemotherapy-induced neuropathic pain in cancer patients; and

2. DB959, a first-in-class drug candidate for the treatment of type 2 diabetes and dyslipidemia.

We are actively pursuing partnering opportunities for KRN5500 and out-licensing opportunities for DB959.

KRN5500 is a novel, non-narcotic/non-opioid intravenous product for the treatment of painful chronic chemotherapy induced peripheral neuropathy in patients with cancer. The drug has successfully completed a Phase 2a proof of concept study in patients with end-stage cancer and analgesia-resistant neuropathic pain where it showed statistically-significant pain reduction versus placebo (p = 0.03) using standardized pain test scores. There were no serious safety concerns although nausea and vomiting were a common occurrence. The FDA has designated KRN5500 a Fast Track drug, based on its potential usefulness in treating a serious medical condition and in fulfilling an unmet medical need. We have recently improved and simplified the formulation and manufactured new drug substance for the next clinical trial. We are working with the National Cancer Institute (NYSE:NCI) to design an additional clinical trial under joint DARA-NCI auspices. Since KRN5500 would complement our portfolio of oncology treatment and supportive care pharmaceuticals, we are looking to partner the drug with an established oncology development company to undertake and support the cost for the Phase 2b program.

On November 8, 2012 we submitted a request seeking Orphan designation for KRN5500 to the Office of Orphan Products Development at the FDA. The orphan indication we are seeking is in cancer patients with painful chronic chemotherapy induced peripheral neuropathy(CCIPN).

DB959 comes from a family of PPAR alpha/delta/gamma agonists licensed from Bayer Pharmaceuticals Corporation. DB959 is a first-in-class, small molecule, non-TZD PPAR delta/gamma agonist for the treatment of diabetes and hyperlipidemia. The drug activates genes involved in the metabolism of sugars and fats, thereby improving the body's ability to regulate both aspects of diabetes. DB959 has successfully completed Phase 1 trials, in which it demonstrated a good safety profile even when dosed at approximately 10 times the anticipated human dose. DB959 is outside the scope of our therapeutic focus and therefore is targeted for out-licensing to partners more able to sustain the prolonged timelines and significant costs involved in diabetes drug development.

We were incorporated on June 22, 2002. Our executive offices are located at 8601 Six Forks Road, Suite 160, Raleigh, North Carolina 27615, and our telephone number is (919) 872-5578.

We have incurred significant net losses and have had negative cash flows from operations during each period from inception through December 31, 2012 and have a deficit accumulated during the development stage of $47,027,581 at December 31, 2012. Management expects operating losses and negative cash flows to continue through 2013 and the foreseeable future."
They have $7,044,827 in assets, $2,038,862 in liabilities, $5,005,065 in working capital and EPS of -0.60 as of December 2012 (-1.20 EPS in 2011). They spent $7,021,194 on operating expenses in 2012. Oh, they have 18 employees and about 170 common stock shareholders of record.
"If we issue additional shares in the future, it will result in the dilution of our existing shareholders. Our articles of incorporation authorize the issuance of up to 75,000,000 shares of common stock with a par value of $0.01 per share. Our Board of Directors may choose to issue some or all of such shares to acquire one or more products and to fund our overhead and general operating requirements. Our stock price could be volatile and our trading volume may fluctuate substantially.

On November, 2012, a suit was filed in the US District Court Washington DC naming DARA as a defendant. Plaintiff in the suit is GlycoBioSciences, Inc. Also named as defendant is Innocutis Holdings, LLC, Plaintiff alleges that defendants' distribution and sale of Bionect infringes on certain of plaintiff's patents. Innocutis is required to indemnify us in connection with this lawsuit."
DARA 60 Minute Chart - notice the 1.12 high from March 7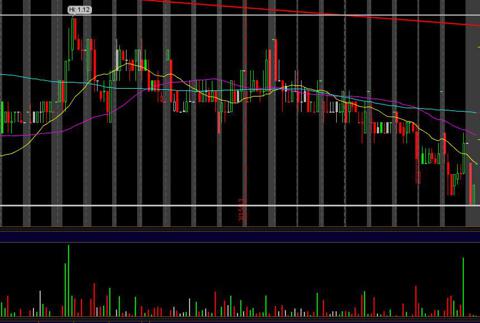 DARA Daily Chart - notice 1.12 and 1.25 price levels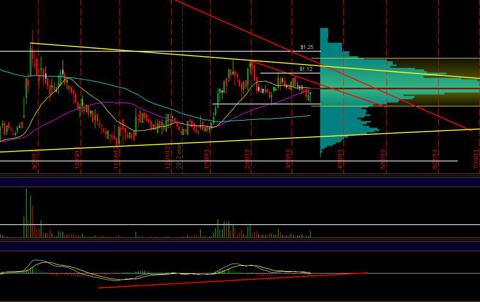 DARA Weekly Chart - Price By Volume (PBV) over 1.25 is thin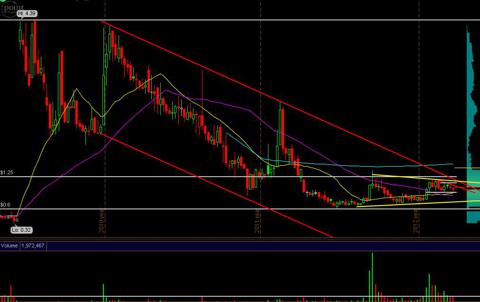 DARA Monthly Chart - this could hit 1.40s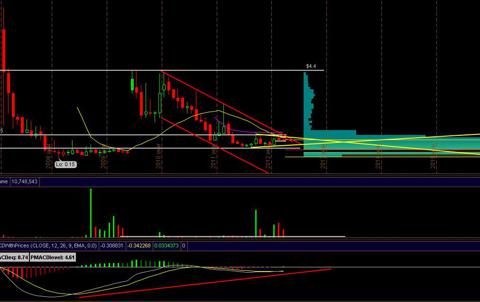 Happy Easter! Enjoy the long weekend!
Article written by Matthew Eagen
3/28/2013
MatthewEagen.com
Disclosure: I have no positions in any stocks mentioned, and no plans to initiate any positions within the next 72 hours.