According to my indicators, the markets have a bearish bias on the short, intermediate, and long-term timeframes. A short-term signal entry revealed itself on 4/17, was confirmed (weakly) on 4/21, and with the close of markets on Friday, 4/25, reversed back to cash for a slight loss of -1.07%: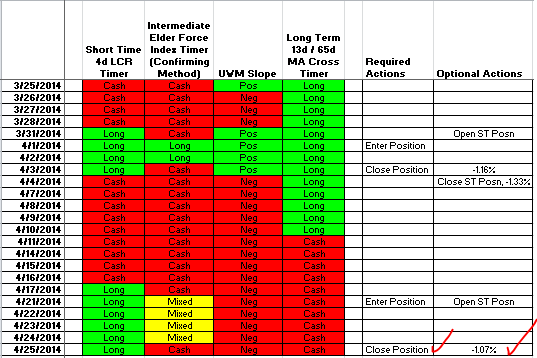 Even though the short-term LCR timer is indicating "Long" the reversal of the Elder Force Index timer back to "Cash" simply shows there is not a price-volume powerhouse that is normally present to move the markets higher. The reversal back to a "Cash" status from "Mixed" indicates that all internal signals within the Elder timer (price, volume, exponential and simple moving averages) are all now confirming that cash is where I want to be.
This isn't to say that I am going to open a position in QID, SDS, and the like in response to the reversal. Not yet, at least. My time frame for holding positions is longer than a day, and with a travel week ahead of me, I'm forced into end-of-day analysis. The market is too choppy for me to participate.
So, with the LCR table slipping back into a weaker position, I'm staying on the sidelines today:

Despite the sidelines, I keep track of the strongest stocks according to my long-term method. For reference, a column description of the images that followcan be found at the following location, the link having been shortened and which points to my Dropbox location: http://goo.gl/jtFdTp
Here's my "greenfield" presentation for my leaders: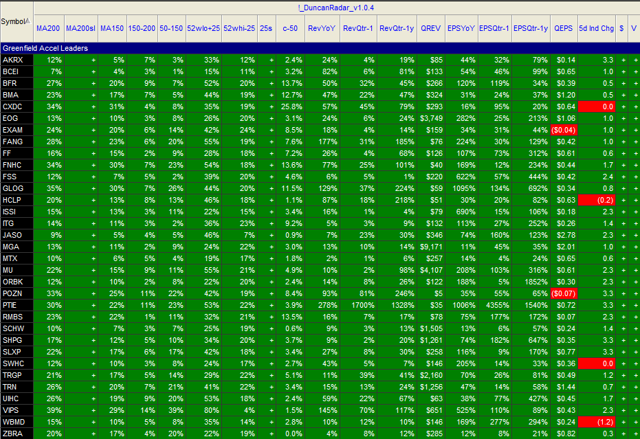 Quality dividend stocks that make the cut are as follows:

Whether these are trading at fair value is up to you to decide.
Some other stocks that I am watching are what I consider "on sale". These have great accelerating EPS, revenues, and/or dividends on a YoY and/or trailing basis, but are below their 50d MAs. These often can be good entry points, especially for dividend paying stocks, as it allows you to increase total return.
Here's my Dividend Leader list who are on sale:

I personally believe that the list above offers the greatest potential of total return if they continue with solid fundamentals.
As with all my postings, remember that you are responsible for your own investment decisions and I am not. Please do your own diligence, and please take ownership for your actions.
Disclosure: I have no positions in any stocks mentioned, and no plans to initiate any positions within the next 72 hours.