As I'm sure can be inferred, the action on May 15th kicked me out of my initial trial balloons and back to cash, with slight losses in all positions. My primary indicator, the set of long-cash ratio (LCR) moving average slopes, have all reverted back to a downward movement on all measured timeframes: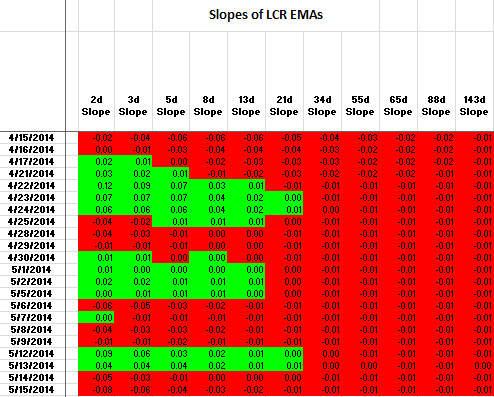 As you can see, May 14th actually signaled a problem, but with my travel schedule, I couldn't get to the analysis until the 15th. Hence, I exited during the day on the 15th. My position size in SPY was only 25% of the account, and the result was a loss of nearly -1.5% from my entry, or slighly less than 0.4% overall.
All of my timers -- short, intermediate, and long-term -- are in cash.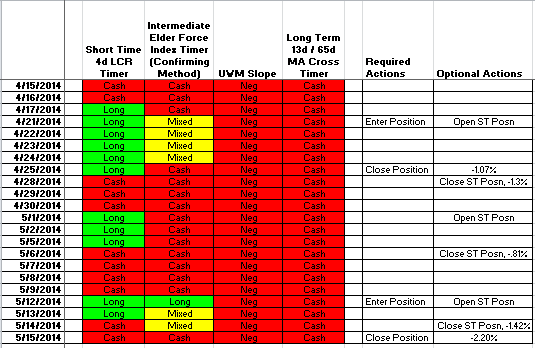 In the table above, the leftmost column is the short-term timer and is simply a 4d EMA on the LCR. The next column is intermediate in length, and it requires a number of conditions to be true. As you can see it appeared we were on the right path on 5/12, so I bought a trial position, but no such luck. The fact that the slope of the 65d MA on the ETF UWM is negative is my canary -- when this is negative I know we're not moving upwards in terms of small caps (which I feel are required for any sustained long-term gains). The Long Term 13d/65d cross is still negative, and this is a problem for any sustained uptrend. We simply are not there: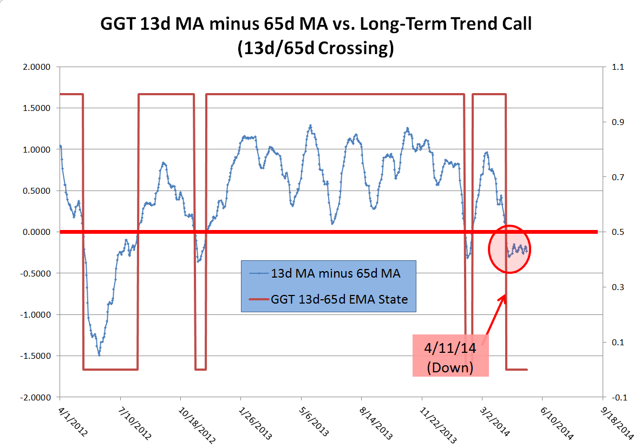 For now I'm sitting pat and keeping my powder dry.
Disclosure: I have no positions in any stocks mentioned, and no plans to initiate any positions within the next 72 hours.