In this articles, I would like to continue the previous instablog and perhaps some friends were waiting for articles that i have pledge to publish earlies regarding the technical anlaysis using Stochastic Slow Oscillators (NYSEARCA:SSO).
SSO is an oscilators telling us whether or not the shares is overbought or oversold. The shares is oversold when the SSO below the 20 level and overbought above 80. ( Some aggressive traders might set the overbought and oversold level at 30 and 70 respectively,I personally will be more comfortable with 20/80 level ).
Below the MSFT Japanese candle stick charts with SSO Indicator.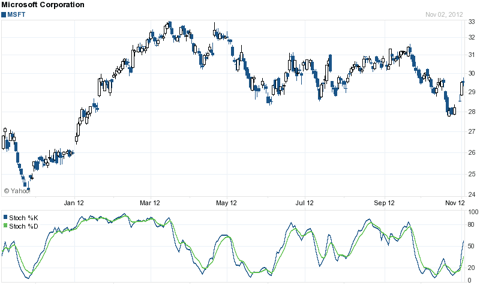 Beside indicator for overbought and oversold , SSO also provide indication for the reversal signal of the stock movements as follows:
1. SSO crossed below 20 level, the stock prices will reverse to rally after prices correction /downside moves
2. SSO cross above 80 level, the stock will reverse down after the rally.
Please note that it is require an down moves (lower high and lower lows) for the SSD to provide a reversal signal to rally and vice versa.
Based on the above rules, you want to enter buy when SSD cross below the 20 level and take profit when SSD crossed above the 80 level, as simple as that. You can chose the time frame whether in daily basis or weekly basis to enter and exit but one things you should bear in mind that only buy stock with solid up trend. Check back on my Instablogs on how to determine trend with simple classic dow theory and trend line.
Hope the above is useful for those are new in technical analysis.
See you again next time,
Good Luck in your investing ..
Disclosure: I am long MSFT.