I'm very surprised about how in this financial crisis and luck of money we can see expensive stocks trading at so high PE as BIDU.

I was monitoring BIDU like long term investiment around 100 USD, more than 3 times less of current prices in area 320 USD.

Now, at assuming a 4,56 USD eps, at 100 USD the pe was an acceptable 22.
Now it is 70!



Now I ask me, but if we still are on a bottom formation in the U.s. indexes and still we need to generate the long term buy signal, where will go BIDU when the markets really will become bullish? I could imagine BIDU at 1.000 USD time ago, but I still see a slow grow of earnings, while GOOG as much more solid and constant EPS and is still not suffering so much this crisis that is near the end.

This is the EPS of google



Average EPS for the past year is 20.50 usd

At 250 USD was trading at a pe of 12! was extremely cheap, imagine how much was the fear on world crisis. And BIDU now just 3 months later is alread at 70 of PE.

GOOG now trade at 430 USD so around 22 of PE, always acceptable. I can imagine google to arrive around 7 USD per quarter profit in the next 3/4 years that means that we can see an increase of price from those level of 580 USD and if we add a PE of 30 we can can see new record price above 700 USD.

This is the spread chart of buy BIDU and sell GOOG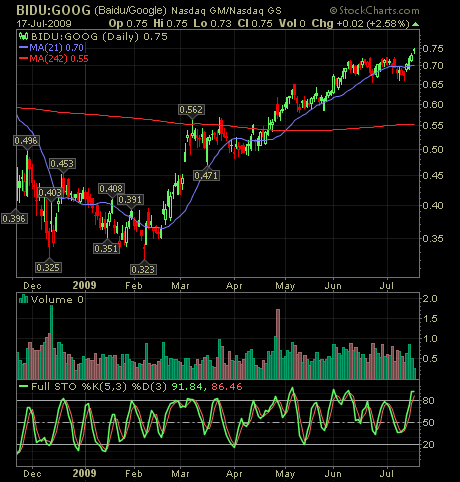 Buying in february Bidu and shorting GOOG could mean to have now money doubled in just 6 months!
Just a bet of 10% of portfolio in this strategy was an impressive 10% return.

However, I couldn't be so much stimulated in such operation because of the slow growth of BIDU eps, so today I just am surprices about how expensive is BIDU and how investors are just putting money on Brasil, Russia, China, India stocks may be with again few consideration about what they are buying at so high PE.
That's all,
see you next post!
Danny Devito
@ investingformula.blogspot.com