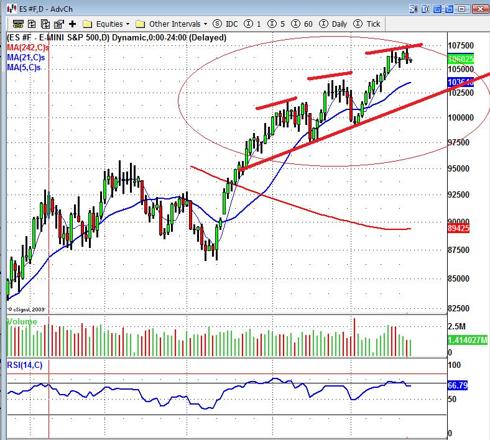 Click to enlarge
My idea of a triple top ascending, or the 3 little indians pattern, is still unchanged.
We have seen today the first red candle, so bearish close with a close much lower than open. Be carefull so if Sp500 will not conquist again 1070 level.
Key support remain area 1015/1020 below that the pattern will start to work.
I also note that the 1 year average start to raise so the rotation is starting to work.
Is the perfect time for a wealthy correction and a touch of the average in area 895 at least, but the time will tell us if this will happen and if that level will be sufficient or we could see some % point below that area.

I will monitor this pattern, plus China index to have a sentiment and a clear sign of markets trying to make the real inversion everybody is waiting, with a sense on my view.
We do not have anymore MSFT at 14 usd or EBAY below 10 USD. We are high now. And a lot of zombies and techinically in bankrupt companies are more than doubled with debts still higher than capitalization... to don't say 30/40 times the net profits if they are in profit (Ford is an example).

That's all. Waiting for new ideas, but with market at 1070 hard to think to some bullish idea.
I've one chinese stocks soon I will promote, but still looking for the optimal entry point. May be this stock can overperform, but I prefer to wait 1/2 weeks to understand what is going on on SP500 and China first. I wanna see if the pattern will fail or not.

Comments wellcome. Bye.