Wednesday saw a confluence of news items that helped propel the price of gold higher. The FOMC minutes released today were more positive than predicted regarding further quantitative easing, meaning that the Fed directors are worried about the U.S. economy.
There was also more inclination in Europe to add more liquidity to the financial system and to help flailing, failing economies. This was tempered by statements from both Greece and Spain that essentially said that those countries need more time to put their domestic houses in order. For once, Germans did not pour cold beer on the movement, however - a good sign.
Both the U.S. and European drifts point toward stimulation, which indicates more expensive gold and more inflation. Stimulation depresses the value of a country's currency. Many critics are saying, in fact, that the lack of inflation - in some economies deflation - is at the core of the world's economic crisis.
The fear of more easing uncoupled gold and U.S. Treasury bonds, the latter of which plunged while gold soared. They had been shadowing one another for a few months.
Finally, there was a lot of upward technical pressure that helped gold momentum. (More on that below.) An interesting aside on gold: prices tend to push up after a Presidential election regardless of which party wins.
Silver also kept its momentum, perhaps playing catch up after a soft summer, as well as increasing industrial demand. The world economy gives us mixed signals, but the price of all precious metals minus gold tells us about anticipated production.
As always, wishing you good trading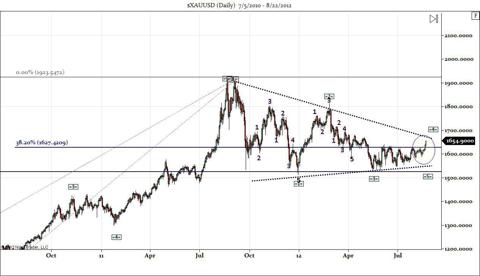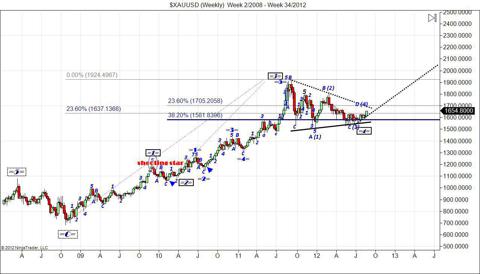 Disclosure: I am long GLD.