The 17.6 Year Stock Market cycle is a new book by Kerry Balenthiran that is being published by Harriman House on 25th February 2013.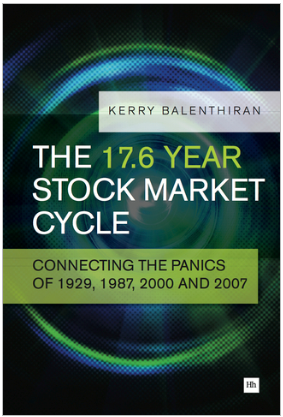 From the introduction:
"A cycle is a sequence of events that repeat over time. The outcome won't necessarily be the same each time, but the underlying characteristics are the same. A good example is the seasonal cycle. Each year we have spring, summer, autumn and winter, and after winter we have spring again. But the weather can, and does, vary a great deal from one year to another.
The identification of a 17-18 year stock market cycle is nothing new, but I have discovered a stock market cycle consisting of increments of 2.2 years that I have extrapolated back over 100 years. I have called this cycle, rather modestly (and, after all, if has to be called something), the Balenthiran Cycle and that is the subject of this book."
Contents
Introduction
Commodity Cycles
Business Cycles A Historical Perspective
Business Cycles A Modern Psychological Perspective
Balenthiran 17.6 Year Stock Market Cycle
Part I: Bull Market 1982 to 2000
Part II: Bear Market 1929 to 1947
Part III: Bull Market 1947 to 1965 and Bear Market 1965 to 1982
Part V: Bear Market 2000 to 2018
How to Trade the Balenthiran 17.6 Year Stock Market Cycle
Conclusion
Buy The 17.6 Year Stock Market Cycle from amazon.com:
Disclosure: I have no positions in any stocks mentioned, and no plans to initiate any positions within the next 72 hours.