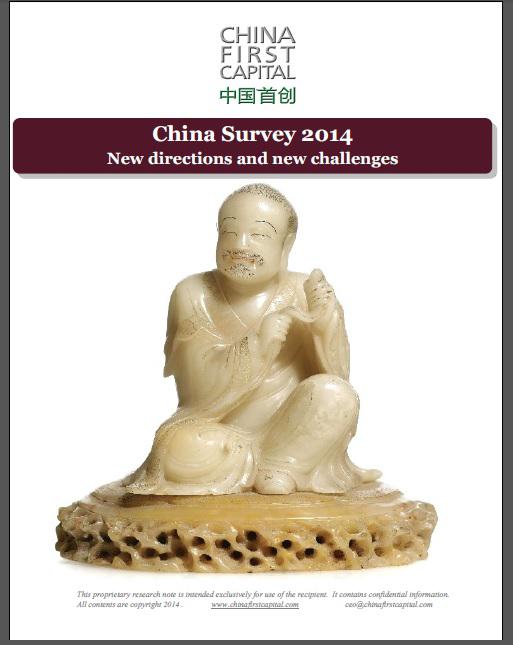 Hong Kong, Shenzhen, China, August 5, 2014
China's thirty year transformation into a global power is entering a new phase, with a set of challenges the country has yet to solve. The economy and society have both reached levels of wealth and development that were unimaginable 30 years ago. How can continue to China push forward, against deep-seated problems in generating real innovation, in sorting out land ownership, in attracting and rewarding global investment flows?
These issues are examined in detail in the new research study published by China First Capital, a China-focused global investment bank with a six year history advising some of China's largest private sector companies, SOEs and global Fortune 500 companies.
The new report is titled "China Survey 2014:The Rise Continues, New Directions & Challenges". Copies may be downloaded from the Research Reports page of the China First Capital website..
"China's economy remains vibrant and fast-evolving," comments Peter Fuhrman, chairman and founder of China First Capital. "Many of the famous China corporate successes of recent years- KFC, P&G, Coca-Cola Company -- are finding it harder and harder to keep winning in the China market. As they lose share, other companies are gaining, both domestic and international. Our report looks at this transformation through the vantage point of our experience working in China alongside some talented CEOs."
"Investing successfully in China, either through the stock market or through M&A, also remains challenging," Fuhrman continues. "But, the effort can be repaid, since no other country can rival China today in terms of both the number and scale of money-making opportunities. "
The new China First Capital report discusses these broad trends, and also examines the following in depth:
is China's investment community (PE and VC firms, stock market investors over-allocating now to mobile services and online shopping;
an assessment of the serious challenge facing traditional shopping mall operators and retailers mainly because of competition from soon-to-IPO Alibaba's online shopping giant;
a sober analysis of actual disappointing state of China's high-tech industry;
how China triumphed over Indi and won the battle as the world's best and biggest Emerging Market,
why 3M may be the most successful American company in China, but flies so far beneath everyone's radar.
Some of the report's content have previously been published on Seeking Alpha and on China Private Equity blog.
"Our core conclusion is that China needs to become more innovative, generate more globally-important technology breakthroughs, " China First Capital's Fuhrman summarizes.
"Among US and European investment banks here, China First Capital has especially deep roots in China, functioning more like a local domestic firm, and not a multi-national
one. We see China's strengths up close, as well as some of the less obvious obstacles, the interplay of tradition and modernization, the enduring impact of Confucian traditions.
It gives us a deep level of confidence that despite the challenges of the past and present, China's rise will continue."
China First Capital is a China-focused international investment bank and advisory firm for private capital markets and M&A transactions in China. China First Capital has a disciplined focus on -- and strives for a leadership position in -- four distinct business areas.
These are:
- Private placement and equity financing for China's high-growth entrepreneur-led companies;
- Private equity Secondaries, buy-side and sell-side representation for acquisitions
and early liquidity events;
- Strategic M&A transactions, domestic and cross-border;
- Restructuring, financings and advisory for China's State Owned Enterprises.
China First Capital serves a distinguished group of clients, including industry leaders in China, both private sector companies and SOEs, as well as global corporations actively expanding within China.
China First Capital's research and analysis on China, its capital markets and private equity industry are often featured in international media including The Wall Street Journal, Financial Times, The Economist, New York Times, Washington Post, Bloomberg, China Daily. China First Capital's chairman Peter Fuhrman is an occasional columnist for Seeking Alpha and three prominent Chinese-language business publications, 21st Century Business Herald, Caijing and Forbes China.


For up-to--date commentary and analysis, visit: chinafirstcapital.com/blog


For more information, contact:
Email: info@chinafirstcapital.com
Phone China: +86 755-86590540