I've been at a loss to write much about the U.S. economy over the past few weeks. What's the point? How much of the big picture has really changed besides the fact that the U.S. continues to dig itself a deeper ditch of debt, delusion and self-destructive policy?

This won't be a real recovery until business investment and payrolls start expanding again. Both continue to shrink.

Take a closer look at last week's GDP report. Two of the most important takeaways were hardly reported: 1) Business investment fell again. 2) Investment over the past year has collapsed at the fastest rate in at least 62 years.

From an invesment perspective, there's nothing to debate: this *has* been a Great Depression... and The Depression continues.

Investment has evaporated in the United States to an extent not recorded since 1947 (as far back as quarterly figures go) and on an annual basis not since 1942. Nonresidential fixed investment (business spending on factories, offices and equipment) has collapsed 20% over the past year, capped by a 1.8% drop* in the quarter that ended in September, according to the GDP report.**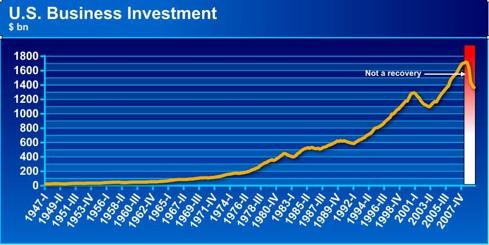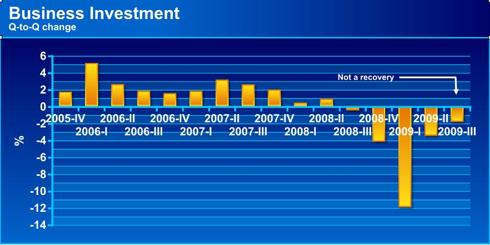 The monthly report on job payrolls, due Friday, will show ongoing reductions in employment.

Growth in investment and payrolls -- or at least stabilization -- would be both a real sign of a genuine recovery and a necessary ingredient. It would reflect the start of a self reinforcing expansion: a virtuous cycle or positive feedback loop of rising private-sector spending, employment and incomes. That's the definition of a recovery.

Investment won't start growing again until prices for the huge excess of unused factory capacity, office space and housing are allowed to fall to the extent necessary to clear the Super Glut and until future after-tax returns on investment look a lot better than they do now (especially relative to potential returns abroad).

The possibility of Washington piling on more cost-inflating, profit-deflating, investment-return-killing policies -- from "cap-and-trade" to health care to union card check -- doesn't help, to put it mildly. It makes it only rational for many businesses to keep cutting, just stay put or invest outside the U.S. until the rainy days end or look close to ending.

Absent a major policy course correction that makes the encouragment of businesses investment a priority, a reversal that stops gumming up the economy's innate ability -- and need -- to clear the ruins before it rebuilds, prospects for a real recovery will not improve.

We might have to wait until the run up to November 2012, or at least November 2010.



---
*seasonally adjusted annual rate

**Note: I use the non-inflation adjusted numbers, because the inflation adjusted (chain weighted) investment figures in the GDP report only go back to 1992. The inflation adjusted results for the third quarter are even worse, by the way, showing a 2.5% drop in investment.