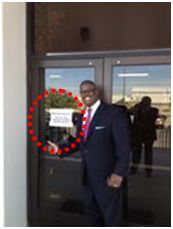 I have to give a shout out to Canada Nevada Business Council for being a gracious host. I had the honor of keynoting a gathering of business people yesterday in a luncheon that also featured Herman Cain. I learned a lot from those folks that actually create jobs.
The funniest moment was a visit to one of the largest printing operations in the state where a sign on the door doubled me over with laughter:
"Welcome Charles, You are now entering a building built by Obama."
Jobs Friday is Here!
Carlos Guillen
With so much dependent on jobs creation, Jobs Friday has become a highly intense and awaited day by many on Wall Street, Main Street, and Pennsylvania Avenue. It is indisputable that many Americans are continuing to suffer from the consequences of the most recent recession, and with the upcoming presidential elections highly dependent on job creation, everyone waits for the monthly government jobs data with high anxiety, and equity markets have become much more sensitive to the results than they normally are. This is the case so far in pre-market stock activity as the jobs data came in rather encouragingly. The latest numbers were overall positive as they showed that many Americans moved into the labor force and the unemployment rate dropped.
According to the latest data from the Department of Labor, the unemployment rate in September clocked in at 7.8 percent, landing lower than the Street's consensus of 8.1 percent and decreasing from the 8 percent plus range that had lingered since February 2009. It is indisputable that the unemployment rate is still painfully high, but on the surface, this is a bit of a relief.
On the other hand, non-farm payroll employment in September (derived from the establishment survey) increased by less than expected. The report showed that the increase in non-farm payrolls was 114,000 while the Street's consensus called for a gain of 120,000. This was a bit of a negative surprise given that this past Wednesday, According to ADP, 162,000 private sector jobs were gained during September, which landed higher than the Street's estimate calling for a gain of 133,000 jobs.
In all, investors were encouraged with the jobs data as a whole as reflected by the sharp upturn in pre-market activity in stocks, with the Dow Jones Industrial Average futures indicating 50 points higher. However, this enthusiasm may fade as the reality still stands that the employment backdrop will not improve for at least the rest of this year and perhaps even into 2013.
Mitt-Mania
David Urani
Well, if you didn't already assume it, now you know; the market is rooting for Mitt Romney to win next month. Mitt blew Obama out of the water in the first debate, and he did it largely by pushing a less restrictive business environment and lower tax rates. The 81 point Dow rally yesterday largely reflected the increased probability that those principles win out over the next month on the campaign trail. Wall Street knows that no matter whether you're Apple or the corner barber shop, having the highest corporate tax rates in the free world (or likely in the case of the barber shop an increased $250k+ tax individual bracket) and weighty healthcare costs just doesn't foster success. Although I think most traders probably still project the president winning re-election, the odds have turned decidedly less in his favor.
Need more evidence that yesterday's session was a Romney-Rally?
* Coal stocks (ACI +7.9%, ANR +6.8%, BTU +4.2%, CNX +5.6% WLT +4.1%) surge after Romney pledges to rein back the EPA on the industry and gives support to clean coal.
* Hospitals (HCA -2.1%, THC -1.9%, LPNT -1.2%) fall after Romney promises to repeal Obamacare.
* TSLA down as much as 4% intraday after Romney calls it out by name for receiving too many subsidies.
It's a wonder Mattel (NASDAQ:MAT) didn't get crushed after Mitt threatened to fire Tickle Me Elmo (kidding). Of course the idea is that Mitt has a chance now, which seemed like only a pipe dream before. And thus, his policies are suddenly in play for related stocks.
Just for fun I compiled the daily odds of a Romney election according to Intrade and mapped that against the Dow. It's certainly not an exact science, but as it turns out, Wall Street may have been starting to gear up for the election for the past few weeks.
(click to enlarge)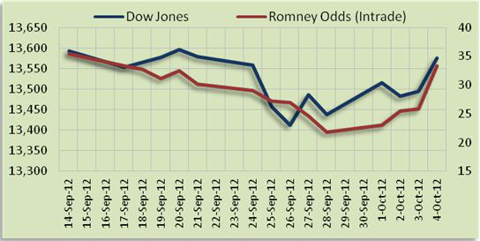 Click to enlarge
---