I can't light no more of your darkness
All my pictures seem to fade to black and white
I'm growing tired and time stands still before me
Frozen here on the ladder of my life
-Elton John
It's much too late to save myself from falling
I took a chance and changed your way of life
But you misread my meaning when I met you
Closed the door and left me blinded by the light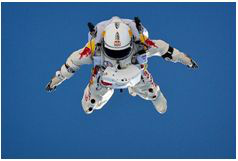 Yesterday was an interesting session that saw a planned freefall temporarily aborted while an unplanned freefall took stocks on a mystery dive, and all of a sudden, President Obama's support among women tumbled hard and fast.
Felix Baumgartner, the extreme athlete, postponed his 23 mile freefall because of strong winds.
There are many risks with this stunt without dealing with winds that would certainly doom it out of the gate. Of course, those involved say it's anything but a stunt because it will tell us something about spacesuit technology, and ways for pilots to survive accidents. It also will go a long way toward gauging how morbid the nation has become. It's clear a giant and unnecessary wreck on the final lap of Talladega is no longer enough to sate blood lust for destruction and mayhem. Anyway, I'm tuning in whenever the winds die down and the former parachutist from Austria lets it rip.
I'm not sure what sponsor Red Bull will do for an encore, but for a moment, I thought the maker of energy drinks was behind the slip in stock prices yesterday.
Stocks strolled out of the gate without a real agenda other than marking time ahead of the official start of the latest earnings season. Then out of the blue, Dow down 10 became Dow off 61 points, and it only got worse after that. Selling never got anywhere near breaking the sound barrier nor was there ever any danger of death, so Red Bull was ruled out as a sponsor. Yet, something was up, and it's still unclear as to what exactly that something might have been. Sure the timing seems to coincide with a report from the American Security Council Foundation that Iran could produce enough uranium for a bomb in just two months. Turning that uranium into a bomb would take longer, but somewhere there has to be a point of no return.
While Felix Baumgartner & Co has exercised caution in a reckless endeavor, there is no doubt the rulers of Iran would endeavor to be reckless with the power of the bomb.
Then there's the sudden freefall of President Obama in presidential polls. It was only a week ago the election was a foregone conclusion, and the first debate would be the cherry on top, but a not-so-funny thing happened on the way to the coronation; people are responding to the drubbing Obama took. They are seeing a lack of preparation and inability to defend the last four years of his performance. I will say the wild swings in these polls underscores the fact people aren't thrilled with either candidate. But, in the last week they seem less thrilled with the incumbent.
The freefall in official unemployment hasn't helped, and maybe it's hurting as it's the kind of anomaly that maybe ranks up there with the Big Bang. There is a common thread, however, with the latest presidential polls and trends in the stock market, a serious lack of enthusiasm.
Taking One for the Team
"A man becomes preeminent, he's expected to have enthusiasms. Enthusiasms, enthusiasms... What are mine? What draws my admiration? What is that which gives me joy? Baseball! A man stands alone at the plate. This is the time for what? For individual achievement. There he stands alone. But in the field, what? Part of a team. Teamwork ... Looks, throws, catches, hustles.
Part of one big team. Bats himself the live-long day, Babe Ruth, Ty Cobb, and so on. If his team don't field... what is he? You follow me? No one. Sunny day, the stands are full of fans. What does he have to say? I'm goin' out there for myself. But ... I get nowhere unless the team wins."
Robert Deniro as Al Capone in "Untouchables"
People are pulling gobs of money out of the stock market and plowing it into bond funds among other perceived "safe bets." The fact is in this climate most people don't believe a man can become preeminent. Instead masses are growing tired as time stands still before them, frozen on a ladder that's being sawed in half for the good of humanity. Just like a great baseball team, everyone has to have skin in the game, giving it maximum effort so we all win - we all enjoy the fruits of winning, because we deposited the sweat.
I can only hope we haven't crossed the point where Elton John wrote "it's much too late to save myself from falling."
Too Cautious ... Too Afraid
The bottom line is that free falls come from a lack of conviction, which in turn comes from a lack of leadership coupled with self-doubt. We discovered yesterday that even a modern-day Evel Knievel has limits to being stupid or brave. On the other hand, American investors have been cautious to a fault. In the past week household names like Disney (NYSE:DIS), Google (NASDAQ:GOOG), and Wal-Mart (NYSE:WMT) saw their shares touch all-time highs. It points to the craziest of all ironies ... when those bonds go bust so many that thought they found a bomb shelter are going to be blown away.
The World is on Fire ... Part 89
I continue to argue the biggest part of the value proposition with respect to investing in the stock market is the fact the rest of the world has fallen in love with capitalism and upward mobility. It may seem old-fashioned or uncouth in America but not for those that never savored free-markets to the degree it is enjoyed today.
Old Bellwether Flies High
Alcoa (NYSE:AA) unofficially got the third quarter earnings season kicked off yesterday after the bell. The Company beat on both the top and bottom lines, but it was the Company's expectations for China and its other end markets that propelled the stock higher. Management still expects growth in aluminum demand to double between now and 2020, but its growth projection for 2012 was decreased to 6% from 7% previously. This shouldn't come as much of a surprise as China has not been growing at the double-digit pace it used to. The 6% rate is still relatively strong and points to the fact that Chinese demand isn't all of a sudden going to collapse, but it just won't be as strong (for now).
Yummy Earnings Results
Yum Brands (NYSE:YUM), parent of KFC, Taco Bell and Pizza Hut posted earnings that beat the Street and quailed scuttlebutt the Chinese stopped eating.
The Street cheered the 22% increase in sales in China and same store sales were up 6%, but I think growth around the rest of the world speaks more to the Company's potential and overall potential for American businesses doing business around the world.