Carlos Guillen
While yesterday's stock market action was quite encouraging, the question now is if the Dow Jones Industrial Average will be able to top the resistance at the 13,600 level. With just about 50 points from reaching the mark, it is very likely that this may happen. However, given the manner that Dow futures are currently trading, it appears that stocks will go nowhere during today's trading session.
Part of the reason investors may be taking a cautious stance during today's trading session stems from the rather tepid outlook a major tech bellwether provided yesterday after the closing bell. Yes, Intel did report better than expected earning per shares for the third quarter, delivering non-GAAP earnings of $0.60 per share, above the Street's consensus of $0.50, but we should note that back on Sept 7, the Company lowered its revenue guidance to $12.9-$13.5 billion from $13.8-$14.8 billion, which at the midpoint was a $1.1 billion reduction. However, the more significant item was that, on top of the fact that revenue declined 5.5% on a year over year basis, management saw even more weakness in the December quarter. As it stands, Intel forecasted revenue in the fourth quarter to land in the range of $13.1-$14.1 billion, which has a midpoint a bit lower than the Street's consensus of $13.74 billion, and according to management, the PC business in the fourth quarter will grow half of the seasonal norm. It is clear that the macroeconomic sluggishness and the slowdown in enterprise spending are taking a toll not only on Intel but also on the semiconductor industry as a whole.
Perhaps giving some solace to investors in pre-market activity this morning is housing data that came in much better than expected. In particular, building permits came in at 894,000, increasing 11.6% month to month and landing above the Street's estimate of $810,000. Given that building permits is a proxy for future construction and a leading economic indicator, the better than expected result is clearly indicating that the housing industry is improving in the near term. This may give equities some support, but probably not that much.
With stocks reaching resistance levels, investors will need some solid data pointing to stronger economic drivers to push equity markets higher. This will be a difficult feat given the uncertainty in Europe and still slowing growth in China.
Housing Starts
Housing starts for September clocked in at 872k annually adjusted, which was well above the 765k consensus estimate; permits of 894k also beat the 810k consensus. That represents a 15% increase month to month for starts, the biggest jump since last March. Regionally, it was big gains in the South and West, the two biggest regions, which both increased by 20%, that drove the numbers. The Northeast was down 5% and the Midwest was up 7%.
This is an encouraging result that indicates the momentum for housing was able to continue during the month. I will say that headed into fall some seasonal adjustment may have come into play that exaggerated the gains but certainly the results indicate that construction is following through very well.
I do also wonder, to an extent, if the Federal Reserve's mortgage buying program implemented last month had an effect on builders' construction plans.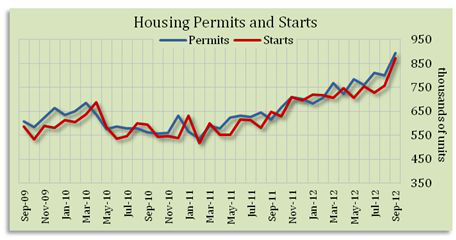 Earnings Takes A Step Back
David Silver
Earnings season continues this morning and the companies that came out after the bell yesterday and before the market open this morning left much to be desired. We are going to concentrate on four large companies, all of which I am sure we are all familiar with.
The first is Intel (NASDAQ:INTC), which kicked off tech earnings season, and even after a warning back in the beginning of September, the results left the Street disappointed. Revenue was actually slightly above the Street's expectations, while earnings per share handily beat the Street's estimates. However, the story of the earnings season thus far has been expectations, and the Company is being affected by slower PC demand and the growth of tablets and smartphones. The stock was down in the aftermarket and is indicating a weak open this morning.
(click to enlarge)

Click to enlarge
Next is Big Blue, no not the New York football Giants, but IBM. The Company reported declining third-quarter revenue in each of its major segments, including a double-digit dip in hardware sales, the latest indication that businesses could be cutting back on technology spending. IBM only backed its full-year earnings view rather than raising it for the first time this year, adding to investors' disappointment.
(click to enlarge)

Click to enlarge
The next financial firm to release earnings this quarter was Bank of America, the second largest U.S. bank in terms of assets. On the last day of the quarter, Bank of America disclosed plans to settle financial crisis-era litigation over its acquisition of Merrill for $2.43 billion. The bank said it would take a $1.6 billion charge in the third quarter to cover costs of the settlement and other litigation, along with other charges. An improvement in credit quality allowed Bank of America to release $2.3 billion from its loan-loss reserves, helping its bottom line. The net charge-off rate was 1.86%, compared with 2.17% a year earlier and 1.64% in the prior quarter.
(click to enlarge)
Finally, we have one of the world's largest food and beverage companies, PepsiCo (NYSE:PEP). A day after rival Coca-Cola Company (NYSE:KO) reported earnings that were relatively in-line with forecasts, PEP announced earnings that fell short. Organic revenue improved 5% year over year, while currency represented a significant headwind. Unlike KO, the Company saw operating margins expand. The company also backed its full-year guidance.
(click to enlarge)

Click to enlarge
https://www.wstreet.com/user/register.asp?source=3
(click to enlarge)

Click to enlarge