Question of the Day
As the October 17 deadline looms closer, do you think
President Obama will blink
Speaker Boehner will blink
No one blinks and the US defaults
The market is cautious, but most professional investors suspect a deal will get done to bring the latest chapter of the DC madness to a (temporary) close. I continue to see a deal that looks like this:
> Continuing resolution
> Higher debt ceiling
> Continuation of sequestration
> Continuation of Obamacare
Maybe there could be something about the medical device tax, which negatively impacts several Democratic districts and everyone directly and indirectly, with fewer funds for research and development. That's the only wildcard I can see at this time.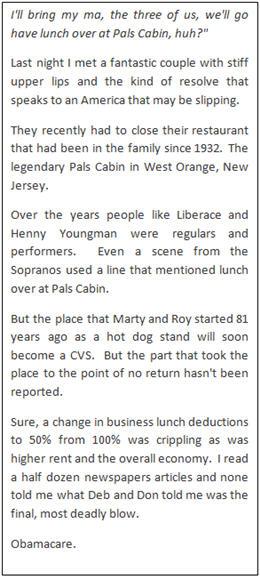 Both parties are taking it on the chin.
70% of respondents blame Republicans for the madness, while President Obama's job approval has plunged to 37%-ouch! There have been miscues on both sides beginning with the first salvo from the house that should have focused on delaying the so-called individual mandate.
Since then, Reid has rejected all kinds of commonsense good stuff passed by the House and President Obama resisting a piecemeal solution seems as intransigent as any demand others are making. On that note, yesterday Washington DC took on Washington DC.
Local elected leaders took national leadership to task with Eleanor Homes Norton reportedly dressing down President Obama for rejecting a House bill that would allow the District to fund itself beyond October 17. She's a tough woman that always speaks her mind, so I'm not surprised she was boisterous and strong, but everyone seemed shocked she took what some are calling a "parochial" approach with the Commander in Chief.
She wasn't alone. Reportedly Mayor Vincent Gray took on Harry Reid over the same topic pulling no punches in a desperate bid to save his constituents from maximum pain that the White House has been using to score the ultimate pyrrhic public relations victory. This is the same mayor that cared enough for the poor people in his town to veto a bill that would have unfairly made Wal-Mart fork over higher minimum wages.
Both sides are self-destructing.
I think when it's all said and done John Boehner will say he fought the good fight but didn't have the troops. One thing Republicans have going for them is Obamacare is a disaster and the less they point it out the more it can reveal itself. Each day I hear more and more stories (see sidebar) about its destructive path. In the meantime, the economic recovery is so flaccid there is no doubt it will be blamed on Washington DC shenanigans instead of policies that are actually designed to cripple our unfair economic system.
In the meantime, Shelia Jackson Lee is strongly hinting that Martial Law should be declared by the White House. Perhaps one side is actually self-destructing more rapidly than the other.