The Federal Reserve meets this week to discuss policy and they will not need anything close to two days to figure out that the economy isn't anywhere close to firing on all cylinders. On the contrary, the country is moving backwards. The notion of inflating assets, work rolls and incomes has come up horribly short though not for lack of effort. The monetary policy has been as accommodative as possible. They have old tricks and new tricks and while it's helped banks and the insatiable appetite of federal government spending, the spark to a virtuous cycle is still elusive.
The biggest obstacle for Fed policy has been White House policy and the creation of the welfare state.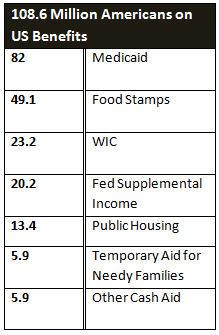 According to the Census Department more Americans are receiving means tested checks from Uncle Sam than going to work full time. You really have to let that marinate... and then you have to weep. There really isn't much the Fed can do other than push the boundaries of economic sanity for all their money pumping isn't hitting Main Street in part because it's being crowded out by the benevolence of an administration that figures it can dole out more money, faster to the masses and gain their allegiance in the process.
The Federal Reserve only has indirect routes to the public and hasn't begun offering cell phones yet.
Not only do the 108.6 million Americans receiving means tested checks dwarf the 101.7 million working full time, when you add social security, Medicare and veteran benefits the number swells to 151 million (I know people worked for those benefits but the math still doesn't add up when you compare what's put in to what's paid out and this must be fixed).
It's not just the limits on the economy that result in the development of welfare nation but the mindset that comes with people levered to their mailbox for existence. Even as food stamps and other benefits are being promoted as a source of pride it's an anchor that erodes pride and the work ethic and hampers economic growth. It's gotten so enormous the left has shifted strategy of higher taxes to fund its nonstop growth to trying to get corporate America to directly pay for the insanity via high minimum wage (making the term an oxymoron). It's an economy and ethical crisis that's only going to get worse.
Criollo Populist Industrialization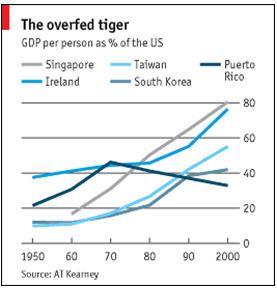 It's not getting a lot of press but the ticking time bomb that is Puerto Rican debt is yet another one of those cautionary tales with several morals including how the welfare state can sap the underlying strength of a city, state, nation or proud island of 3.5 million people. The island became an American property as a result of winning the Spanish American War and has since been uniquely positioned.
Its economy grew 17% annually from 1940 to 1945 but slipped after WWII was over. During that time a form of indigenous capitalism was sweeping through Latin America leading America to issue Operation Bootstrap to pump up to the Puerto Rican economy. The consequence was tax-free status and a flood of federal transfer payments.
Initially the cash felt great (the goal of the Fed), igniting the island's economy but it masked problems that later became entrenched and irreversible. Check out the chart which shows the initial response to taxpayer funds pouring in along with tax breaks for manufacturing and no tax burden. It didn't take long before the island stopped feeding itself and soaring unemployment belied the higher living standards. In addition the murder rate exploded to 23 per 100,000 in 1990 from 11 per 100,000 in 1950.
(click to enlarge)

Click to enlarge
The debt issue of $87 billion is part and parcel of other factors of artificial stimulus but the human toll is even more dire. I always feel some kind of deal will be struck and bond holders will be caught holding the bag but the nation that allowed its growth to be hijacked by well-meaning policies may never get back its old spirit. This is happening to America at large. People are being sucked into a society that asks less of them while rewarding and encouraging mediocrity.
The pool of earners continues to shrink as the demonization increases.
The equation is unsustainable and in my mind un-American particularly when sold as fair and smart.
September Capacity Utilization landed at 78.3% vs. 78.0% consensus; August was revised to 77.9% from 77.8%. September Industrial Production increased 0.6% vs. +0.3% consensus; August was unchanged at +0.4%
(click to enlarge)

Click to enlarge
Biogen Idec beat this morning on earnings by $0.25, beat on revenues; raised FY13 guidance. The company reported Q3 (Sep) earnings of $2.35 per share, excluding non-recurring items, $0.25 better than the consensus estimate of $2.10; revenues rose 31.9% year/year to $1.83 billion vs. the $1.78 billion consensus. Co issued guidance for FY13, raised EPS to $8.65-8.85, excluding non-recurring items, from $8.25-8.50 vs. $8.62 the consensus estimate; raises FY13 revenues to +23-25% to ~$6.79-6.90 billion (from +22-23%) vs. $6.82 billion consensus estimate.
(click to enlarge)

Click to enlarge
Burger King beat by $0.02 on the bottom line, with adjusted revenues up 8.1% to $275 million (actual revenue was down 40% due to a major refranchising effort), above the $265 million consensus. Comparable store sales were up 0.9% although the US/Canada declined by 0.3%. So it was a nice beat, but driven by overseas while the US lagged; we have to say, it's a trend that's been quite consistent for the fast food restaurants this quarter. Of course one of their big new products, low calorie "Satisfries" just was revealed late last month and may provide some momentum looking forward.