Question of the Day
There's a lot at stake. What should happen to the fate of Fannie and Freddie?
· Remain Public with all profits funneled to the federal government
· Remain Publicly traded with normal returns to investors
· Unwind and create private competition
Hosting Varney & Co 11:00 AM-1:00 PM
The great Fannie Mae heist continues to be one of the most intriguing stories not told in the press. Consider all the moving parts:
 
Government Bailout
Printed Money
Forced Out Competition
Housing Recovery

Consider all the players:
 
Individual Investors
Federal Government
Federal Reserve
Taxpayers
US Economy

There are parts of the bond market and parts of the Federal Reserve that I still find quite perplexing; especially actions by the Fed that I cannot wrap my mind around. The fact is that of all the experts opining on the Fed, I bet 1% honestly understands the inner workings, and they never give us all of their information. It is like members of a secret society protecting their turf, even those that have left in disgust or frustration. So, we continue to get the most basic explanations regarding the Fed and policies like, (QE) Quantitative Easing.
What we know is there have been three rounds of QE, each with its own idiosyncrasy, though they have all shared the same stated goal of jump-starting the economy.
QE1, November 25, 2008 to March 2010, announced it would pump $500.0 billion into the banking system hoping to lower mortgage rates. By the end of the program, the Fed owned $1.25 trillion of mortgage- backed securities and $175 billion in agency MBS and the 30-year rate drifted to 5.0% from 6.25%.
QE2 was launched from November 3, 2010 to June 30, 2011, and $600.0 billion of long-term US Treasury debt was purchased to further pressure short-term rates, which sparked an increase in money supply, and assisted the housing market. Mortgage rates decline from 4.80% to 4.35%.
QE3 is the most misunderstood version of extraordinary measures taken by former Fed, Ben Bernanke, pumping in $85.0 billion a month in purchases split between US Treasures and agency MBS. This did little for mortgage rates, which dipped from 3.75% to a low of 3.31%, but have been ending higher and seem out of the grip of the Fed.
I keep going back to the fact that the Fed has been buying agency MBS as the most compelling part of this scenario. (No, the Fed has not been buying stocks and in fact, the Fed does not really "print" money, as its purchases are made with accounting gimmicks and use of credits.) QE3 began September 13, 2012, not too long after Fannie Mae took its last drawdown out of the pool of $200.0 billion in the first quarter of 2012. That final dip into the bailout pot sent the total to $116.1 billion in taxpayer funds.
A couple of weeks ago, Fannie Mae made another payment bringing the total to $121.1 billion. Yes, the American taxpayer has been repaid, but how the heck did fortunes of Fannie Mae reverse so quickly?

From what I can discern, the Fed was buying mortgage-backed securities that originated from government-sponsored entities, largely Fannie Mae, which has been a boon for them to dump certain junk while keeping better and quality assets. Sure, the housing market has improved and delinquencies are easing. However, there are parts of the equation that no one can explain as free market. Of course, the so-called free market is missing that key component of competition, as this administration have forced many players out of the space, leaving fresh originations for single-family mortgages all to Fannie Mae.
A component of many deals involving Fannie Mae paper is the obligation, or an option to buy back after 24 months, the non-performing mortgages. We could see large chunks of payouts because of this, but in the meantime, it has been remarkable. But in the process, there is even less competition in the mortgage arena, and the Fed has begun to wind down this (final) version of QE. The hunch is jobs will materialize and wages will begin to head higher. Sparking that elusive virtuous cycle:
The biggest winner would be Fannie Mae, but who would get to enjoy this cash machine?
(Note: Japan invented quantitative easing, added even more bells and whistles, and with the election of Shinzo Abe, they might see a turnaround after two lost decades and 15-years of deflation. Finally, wages are up in Japan for first time in 22 months, coinciding with inflections in production and retail sales. )
Why Fannie Mae is an Amazing Asset
The Great Fannie Mae Heist is about money and power ... plain and simple. It has become a money machine and everyone wants to control it. The composition of mortgages is a critical reason Fannie Mae is poised for a brighter future.
History of Housing Boom
During the Clinton administration there was a reiteration of the Community Reinvestment Act that pressured lenders to make dangerous loans. The risk was eased somewhat when Franklin Raines changed the rules at Fannie Mae, allowing it to become a buying of junk mortgage-backed securities. The stage was set.
The housing boom began in 1998; but ramped up as the US stock market melted down. By 2003, the dynamics of loans offered began to change dramatically, as traditional mortgages and lending standards would have derailed the boom.
Sub-Prime mortgages were 4.5% of the total, (subprime backed by MBS 1.4%) and in 1994, they grew to 20.1% and 16.2% respectfully, by 2006.
Alt-A (alternative) loans were less than Prime, but greater than sub-prime. These loans were 98.7% fixed in 1998, and by 2004, 64.3% were adjusted with several different versions. By 2007, the industry saw that it was in trouble and began to ask for more documentation -demand for FICO scores above 741, which surged, while fixed rates bounced back to 27.6%. It was too little, too late.
| | | |
| --- | --- | --- |
| Growth of Mortgages | 2001 through 2003 | 2003 - 2006 |
| Agency | 95% | -60% |
| Sub-Prime | 94% | 94% |
| Alt- A | 54% | 340% |
Key Risk Products
Declining Risk at Fannie Mae
Back to reality for Fannie Mae, which has seen a strong rebound in Fixed-rate mortgages?
| | | | | |
| --- | --- | --- | --- | --- |
| Composition | 2013 | 2007 | 2006 | 2005 |
| Fixed | 97.6% | 90.1 | 83.4 | 78.7 |
| Adjusted | 2.4% | 9.9 | 16.6 | 21.3 |
| Alt-A | 1.3 | 16.7 | 21.8 | 16.1 |
| Sub-Prime | - | 0.7 | 0.7 | 0.0 |
| Interest Only | 0.2 | 15.2 | 15.2 | 10.1 |
| Negative Amortization | - | 0.3 | 3.1 | 3.2 |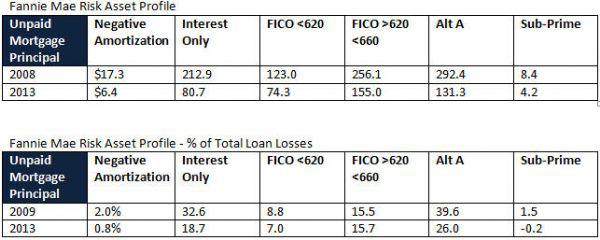 Improving Housing Market
I think home prices bounced back too quickly, but as they settle and rates inch higher, there should be a greater sense of urgency from fence sitters. If the housing market gains Main Street traction, we could see a couple of fantastic years of growth and orderly price improvement.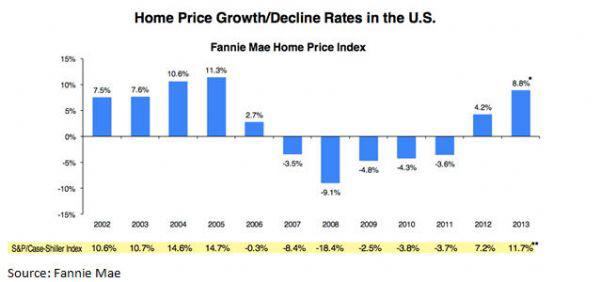 Either $0.00 or $30.00
Fannie Mae share price, which climbed from $0.09 to a recent high of $5.44 has struggled of late, plunging to $3.55 at the close Friday. The reason for the plunge is a proposal announced by Tim Johnson (D-SD) and Mike Crapo (R-ID) to unwind government sponsored enterprises (now in conservatorship) to allow the private sector into the mortgage arena. These entities would have the explicit backing of the government on loans paid for and through a FDIC type of arrangement.
It's a toss-up as to how this all unwinds, but members of the powerful Senate Banking Committee, including Elizabeth Warren, who opposes the unwinding.
In the meantime, there is a serious battle brewing over how much current shareholders in Fannie Mae (and Freddie Mac, together with its counterpart, should receive, as a total of more than $200 billion covering the $188 billion in bailout was paid.
Investors want their share of profits, but I read where one Congressman said these GSEs should pay 50 times the bailout, covering for risks taken by taxpayers.
I am not sure how it is all going to shake out, but a friend says that the short interest on Fannie Mae is rocketing like nothing he has ever seen since the Lehman days. The stock is "hard to find," so shorts are paying hefty premiums because they see this stock going to ZERO. On the one hand, bulls see entities too big to dismantle, eventually sharing profits with shareholders, making this stock worth at the very least $30.00 a share.
This is a drama to watch ... the implications are amazing from government reach and manipulation, to shareholders rights, to lower rates and the role of the Federal Reserve.
Stay tuned!
Keeping Powder Dry
I didn't like Friday's close, so I'm not chasing out of the gate for investments and would rather see how the market acts as the session moves on. The major indices need to digest gains and even if that doesn't mean a traditional correction it could mean moving sideways for a while as a tug-o-war plays out.
The good news is there aren't a lot of unknowns. Sure, there are dark clouds from policy (health care law), geopolitics (Putin), and valuation (biotech sector), but we know where the Fed is coming from and the war on success has been stalled and could be stalled even further come November.
Everyone should have a fair amount of cash. The next breakout could be huge and bring on that parabolic move that is typical of a truly overbought and overvalued market ... we are NOT there yet. I'm looking for the breakout to lift the Dow to 17,000, so keep your powder dry for the moment but be prepared to take advantage.